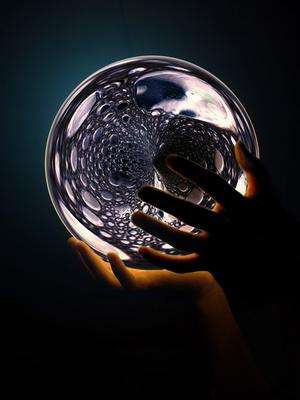 A crystal ball [File photo]
The year 2016 seemed to mark a watershed in human history. With Brexit, the idea of the future of Europe being an inevitable ever-closing union seemed over. Europe was not only facing mortal flaws, but the tide was even reversed. And, with the election of Donald Trump as American president another milestone was reached.
As a result, 2017 opened with anticipation of much worse. Would the U.S. turn into a dictatorship? Would Britain turn racist? Would the tide of populism cross from the Anglo-Saxon world to a greater Europe?
Well, it turns out there was no cause for panic and hysteria. The structural forces are stronger than individuals. Brexit didn't turn Britain into apartheid-era South Africa. In fact, from what is observable, much of the relationship existing between Europe and United Kingdom will remain.
The forces of economics are too strong for a clean break. Britain cannot afford to live without European markets, nor can Europe afford to live without British military power in times of growing uncertainty.
Likewise, in the United States, the checks and balances are in place. And while Trump continues to display instinctively his lack of understanding of trade, the majority of the administration has now been taken over by the traditional Republican foreign policy and financial establishment.
But, that said, the job of a columnist is to predict the future, even at the risk of failure. So, I'm going to highlight a few observable trendlines, which policy makers should be wary of in the coming year.
First, Europe is heading towards conflict. It might not seem evident yet; however, the condition of Europe is unsustainable, as it is. Mass migration from Africa remains seemingly unstoppable, and the majority of European policy makers remain incapable, incompetent, and more importantly, ideologically unwilling to do anything about it.
That, in turn, has resulted in a slowly rising backlash. Austria has a center-right government with a far-right interior minister, and Hungary, Poland, and Czech Republic are locked in a fight over immigration with Brussels. Eurosceptic parties have seen a massive rise in their membership across France, Netherlands, and Italy, just as crime continuously increases in Germany, Belgium and Sweden.
A society needs order, most of all, not chaos and anarchy. Everything from trade to geopolitics comes second to that. Europe is completely anarchic now. Add to that, American plans of sending lethal weapons to Ukraine to counter Russian aggression, and the possibility of a war in Europe is not as unlikely as it might have been even a decade back.
In Asia, the North Korean crisis is a regular staple. However, there are other factors drawing more immediate attention. The rise of jihadism in Indonesia, and Philippines, as well as the Rohingya crisis right next to the border of China and India is the next breeding ground of Islamism. The destructive war in Yemen is going on with no signs of end, and the Iran-Saudi proxy war will only increase, instigated by other major powers.
And finally, there's always the ever-looming threat of the U.S. and China or China and EU stumbling into a trade war.
What's the good news, then? Is there any cause of optimism? There is. Importantly, the overall economy is getting better all across the world. And with the supply chains now linking the world, protectionism is a pipe dream, unachievable in the long run. The global economy is going to integrate even more. Competition will push developments in space and artificial intelligence. Great power wars will still be unlikely, and deterrence will continue to work.
Those are not simple things, nor should they be taken for granted. It takes multiple parties to maintain peace and work for development. However, as always, structural forces continue to show their resilience. This new year, therefore, there's cause for cautious optimism.
Sumantra Maitra is a columnist with China.org.cn. For more information please visit:
http://www.china.org.cn/opinion/SumantraMaitra.htm
Opinion articles reflect the views of their authors only, not necessarily those of China.org.cn.