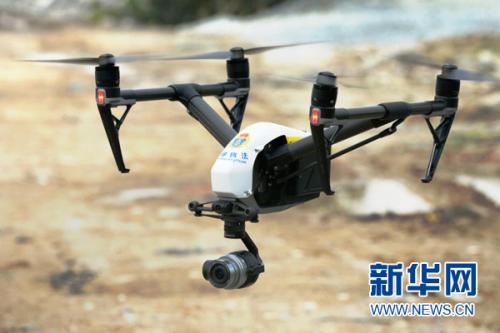 Aerial drones are taking over many functions in farming, industry and environmental protection, and China leads the way. [Xinhua]
Held on November 29-30, the 2017 National Drone Show in the Walter E. Washington Convention Center in the American capital, informed the world the big winner in the global drone industry is China.
There's no doubt China has achieved a dominant status in manufacturing of consumer drones with a new generation of homegrown entrepreneurs creating world-class unmanned aerial vehicles (UAVs) by developing their own technologies.
It's estimated the drone industry will be worth US$50 billion by 2023. The United States, China, Israel, Switzerland, Russia, Japan, Korea and dozens of other countries including India and Pakistan, irrespective of their economic situation, all are in a dogfight for large chunks of the global drone market.
However, China has quickly emerged as a technology superpower to rival the United States in drone manufacturing. In fact, Chinese drones now rule the skies.
China is one of the biggest manufacturers and buyers of drones globally. According to Dronelife.com, more than 500 drone manufacturers exist globally. Of those, some 400 are Chinese.
In recent years, the Chinese drone market has seen a compound annual growth rate of more than 100 percent. The market research firm International Data Corporation (IDC) says more than half of commercial drones in the United States come from China. Sales of commercial-quality drones in China are expected to hit 950,000 units by 2019, a rise of about 300 percent over four years.
Founded in 2006 in an apartment in Shenzhen by Frank Wang, China drone king, DJI-Innovations now makes almost two-thirds of the world's civilian drones, according to an estimate by Frost & Sullivan. Better products at lower prices are helping DJI to take control. Phantom drones and Mavic Pro have established DJI as the undisputed leader in the consumer drone market, compared to the California-based 3D Robotics Company or U.S. venture capital firm Accel or French drone maker Parrot.
According to Forbes, DJI claims a 70 percent share of the global market, with Europe and North America its biggest customers. DJI's remarkable success has inspired others to invest in the sector.
Shenzhen Zero UAV Technology, commonly known as Xiro, Beijing-based EHANG, Guangzhou-based XAircraft and Hong Kong-based Yuneec are other important domestic players.
Chinese e-commerce giant JD.com is already using a large network of drones in Shaanxi and Sichuan provinces. On December 4, 2017, Liu Qiangdong, founder and CEO of JD.com, announced plans to build 185 drone airports in Sichuan in order to promote logistics services in rural areas.
China's two largest internet companies, Alibaba Group and Tencent Holdings, lead the world in e-commerce, mobile payments, social media, and online gaming. Xiaomi launched Mi Drone with a 4k camera in May 2016. Tencent launched a foldable 4k Ying drone in October 2016 that streams video.
Commercial drones are now being used in China from agriculture to mining to cinematography to counter rising labor costs. Drones help farmers improve the efficiency of spraying, save costs, and increase the use ratio of chemicals, which is more environmental-friendly.
DJI-Innovations presented its MG-1S drone, an octocopter, or eight-rotor drone, which is water-resistant and can spray pesticides and liquid chemical fertilizers.
Drones are also heavily used in photography, filmmaking and media sectors. The IDC estimates that camera drone shipments in the Chinese mainland will hit 3 million units by 2019, up from their prediction of 390,000 shipments in 2016.
On December 7, 2017, almost 1,200 drones had performed a spectacular light show in Guangzhou in southern China's Guangdong Province, forming the Chinese ideograms for "innovation", "open" and "fortune." Earlier this year, the southern city hosted the Lantern Festival, when 1,000 drones set a Guinness World Record for the largest number of the aerial vehicles to simultaneously perform together.
Perhaps drone performances eventually will replace fireworks in the business of night sky illumination since noisy fireworks are notorious for producing air pollutants.
The use of pollution-detecting hi-tech flying machines has helped Dongguan, a city in southern China's Guangdong Province, which is a home to more than 300,000 factories, to identify and punish those causing pollution, and cut the number of smoggy days.
The news site zjol.com.cn reported on December 10, 2017 that around 600,000 drones are in operation in China in many sectors, including mineral exploration, traffic administration, disaster surveillance and agriculture.
Last September, the Chinese Academy of Aerospace and Aerodynamics developed China's largest CH-5 drone or "Caihong (Rainbow) 5" for reconnaissance, surveillance, patrols, target positioning, and strike missions.
Yet, civilian drones are not without their problems. In 2015, the Civil Aviation Administration of China (CAAC) introduced provisional regulations prohibiting drone flights in restricted areas. However, recent reported multiple illegal aerial incursions into restricted airspace by drones have raised concern over public safety, re-igniting the debate about China's management and regulation.
On December 14, 2017, a draft version of the regulation on the usage and type of civilian drones was released by the CAAC to solicit public opinion.
Rabi Sankar Bosu, Secretary of New Horizon Radio Listeners' Club, West Bengal, India
Opinion articles reflect the views of their authors only, not necessarily those of China.org.cn.