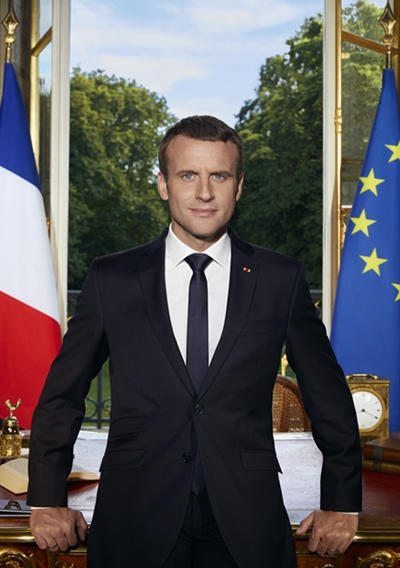 Portrait of Emmanuel Macron: Soazig de la Moissonniere / Presidency of the French Republic
The President of France Emmanuel Macron will be visiting China from January 8-10. This will be his first official visit in Asia since his electoral win over Marine Le Pen last May.
His selection of China shows the importance he attaches to the country. Recalling some of Macron's public comments during his pre-election campaign, it was clear he is favorably disposed towards the country.
In his view, "bilateral relations between China and France have historical meaning" and he is prepared "to further friendly ties," with a focus on many issues of common interest such as climate change, energy, trade, terrorism and the preservation of world peace. Macron is also knowledgeable about China's history as he has positively referred to both Mao Zedong and Deng Xiaoping.
From another perspective, his visit has additional symbolic importance. That is because it will be the first visit to the country by a European Union leader since Xi Jinping, the chief of the Communist Party of China, secured a second five-year term at the Party's 19th National Congress.
Hence, the strengthening of Sino-European relations cannot but be a priority for both sides despite some concerns about Chinese investments in Europe, reinforced after President of the European Commission Jean Claude Juncker gave his 2017 State of the Union speech.
Numbers show why China and France are committed to enhancing economic contacts. The bilateral trade volume was approximately €10 billion in 1995 but has achieved an impressive increase since. In 2016, for example, it reached €62.4 billion.
According to the French National Institute, China was then the eighth most important destination for French exports and sixth biggest supplier of French imports following countries such as Germany, Spain, Italy and the U.S. What is even more significant is that – through the years – the Sino-French economic relationship has gone beyond a straightforward buyer-seller collaboration, adopting the form of a solid, long-lasting industrial partnership.
Of particular importance is nuclear energy. The French energy company EDF, for example, has been active in China for decades. Specifically, it has been working with nuclear operator China General Nuclear Power Group (CGN) on the Daya Bay and Ling Ao power plants since 1984.
Ten years ago, the two companies set up the Taishan Nuclear Power Joint Venture to construct and operate two nuclear reactors based on European pressurized reactor technology in Taishan, Guangdong Province. EDF and CGN are also partners in the development of the Hinkley Point C, the first new nuclear power station in the U.K. for a generation.
Chinese investments in France are equally welcomed in the words of former French Prime Minister Bernard Cazeneuve. Examples include e-commerce giant Alibaba, which has opened branches in Paris and recently announced its agreement with French luxury group Kering. Huawei is also dynamically active and has – inter alia – opened a mathematics research center in the French capital.
Moreover, cooperation at the regional level should not be ignored. In the summer of 2015, Chinese Prime Minister Li Keqiang paid a visit to Marseille and hailed the growing ties between the CMA CGM Group and Chinese enterprises in container purchases, maintenance of vessels, logistics and other businesses. And the Chinese dairy group Synutra has transformed the Carhaix-Plouguer city located in Brittany by investing in a local factory.
If there is a new factor, which can certainly contribute to the advancement of Sino-French relations, this is the implementation of the Belt and Road Initiative. France is attempting to benefit as much as it can, and President Macron is expected to discuss this theme in Beijing.
The Belt and Road Initiative is a relative new term for French public opinion, which is slowly familiarizing itself with its meaning. During a high-level conference in Paris last November, Director of the French Institute of International and Strategic Relations (IRIS) Pascal Boniface said he expected "multilateral benefits."
At the political level, Beijing and Paris seem to be on the same page on several issues. As permanent members of the UN Security Council, they insist on international law and multilateralism in global governance. France is generally seen an international power not always agreeing with American foreign policy choices and this goes in line with China's calculations on peace, prosperity and a shared world community.
Last but not least, the U.S. withdrawal from the Paris Agreement on climate has brought the two sides together in cooperating to uphold this deal. In mid-December, for instance, Macron met with Chinese Vice Premier Ma Kai, who was in Paris to attend the One Planet Summit as the special envoy of President Xi.
Xi Jinping and Emmanuel Macron have already met once on the sidelines of the G20 Summit in Hamburg and have held various telephone conversations. Their Beijing meeting will give them the opportunity to better set the agenda of Sino-French and Sino-European relations for the coming years. The tone of their communications until now is generating optimism.
George N. Tzogopoulos is a columnist with China.org.cn. For more information please visit:
http://www.china.org.cn/opinion/GeorgeNTzogopoulos.htm
Opinion articles reflect the views of their authors, not necessarily those of China.org.cn.