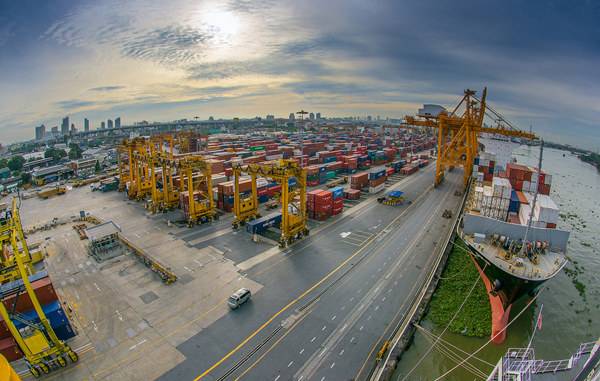 The overall economy of Asia-Pacific is making progress with a stable performance, a sign of further recovery from the 2008 financial crisis. The region remains a major world economic powerhouse.
Despite the end of high-speed growth, the Chinese economy, under the "new normal," will continue to be the most promising in the region, with an expected growth rate of 6.9 percent for 2018. Given a significant increase in consumption, investment and trade, the American economy is delivering an excellent performance with an expected growth rate of more than 3 percent. The ASEAN economy is growing steadily with an expected growth rate of over 5 percent. However, Japanese economic growth is expected to be slow, with a rate of about 1 percent.
Generally, the main drivers of growth in Asia-Pacific are rising investment and domestic demand as well as rebounding international trade.
Asia-Pacific economies are highly interdependent and interactive. The 2008 U.S. subprime crisis broke the industrial chain of the whole region, throwing almost every country into recession. Its influence was so powerful that the Chinese economy, though very resilient, shifted from a sustained period of high-speed growth to a more moderate medium-to-high rate.
In the aftermath of the crisis, the economy of East Asia entered a period of structural readjustment, characterized by improving the development environment, boosting internal driving force, promoting innovative industries and changing the export structure.
The adjustment now has considerable momentum, evidenced by deepening structural reform, accelerating investment in infrastructure and the rapid development of emerging sectors led by information technology. All these are building up energy to power sustainable development in the future.
The economies in Asia-Pacific are closely interconnected. Maintaining and promoting market openness is essential to future development and prosperity.
To this end, APEC members agreed to the Bogor Goals, a set of initiatives for realizing free and open trade in the Asia-Pacific, but the inaction of developed members created difficulties in achieving them. President Donald Trump's "America First" policy, opposition to regional openness and cooperation as well as emphasis on "Indo-Pacific" over "Asia-Pacific" also cast a shadow.
However, there is a bright side – APEC leaders reached consensus on enhancing openness and cooperation in the region, advancing the achievement of the Bogor Goals, promoting interconnectivity as well as advocating multi-lateral trade regime during their meeting in Da Nang, Vietnam, on Nov. 6, 2017.
Joint Leaders' Statement on the Negotiations for the Regional Comprehensive Economic Partnership (RCEP) stressed the importance of progressive openness, special and differential treatment for underdeveloped members as well as enhancing cooperation and development.
As a major country taking the world center stage, China is contributing to economic growth, openness and win-win cooperation of the entire region and the world as whole. The Belt and Road Initiative it proposed is developing into a platform for deepening a new type of cooperation, and the concept of building a community with a shared future for humanity will strengthen the interdependence as well as identify interests and values between different countries.
Political and security outlook
There are many issues to worry about concerning the political and security situation in Asia-Pacific. Among them, the most disturbing is the Trump administration's policies and their potential long-term influence. The U.S. is trying to regain its old military advantage, based on which it will maintain its regional and global security layout, and expand its strategic deployment.
The U.S. containment policy toward China and the strategic competition between the two countries remain unchanged. However, with the joint efforts of both sides, Sino-U.S. relations have been generally stable under the principle of non-conflict, non-confrontation and win-win cooperation.
The South China Sea, once a source of regional tension, has become much quieter. The Philippines and Vietnam have changed their policies toward China, shelving disputes and pursuing bilateral cooperation. President Xi Jinping's state visit to Vietnam further enhanced the mutual consensus on cooperation. Thus, we have every reason to expect growing stability in the area and fresh progress in resolving issues.
In 2017, the DPRK conducted nuclear tests and ballistic missile tests, exacerbating tension in Northeast Asia. Trump's tough reaction increased the danger of war. Safeguarding the peace of the Korean Peninsula requires concerted efforts of all relevant parties.
China intends to maintain its determined opposition to the DPRK's nuclear program, and take due responsibility to implement U.N.-imposed sanctions. Meanwhile, as a close neighbor of the DPRK, China plays a special role in breaking the stand-off and preventing war, and it is necessary to have this influence fully exerted.
The China-Japan-ROK trilateral summit has resumed, marking a step forward in the development of Northeast Asia. All three countries have a new political environment: Xi Jinping was re-elected the general secretary of the Communist Party of China (CPC) Central Committee at the 19th CPC National Congress; Shinzo Abe started his fourth term as Japanese prime minister; Moon Jae-in was sworn in as new South Korean president after a regime change.
So, the development of Northeast Asia is bound to see a new phase if the three countries further enhance cooperation.
Asia-Pacific has entered a new period of development. Despite severe challenges, aspirations for peaceful development and mutually beneficial cooperation are the mainstream, and the multilayered cooperation mechanism is still operating.
In particular, China has become a central pillar of strength for openness, development and win-win cooperation. Therefore, the region has high chance to maintain peace, stability, cooperation and its position as a world economic powerhouse.
Zhang Yunling is a researcher with the Chinese Academy of Social Sciences.
The article was translated by Zhang Liying. Its original unabridged version was published in Chinese.
Opinion articles reflect the views of their authors, not necessarily those of China.org.cn.