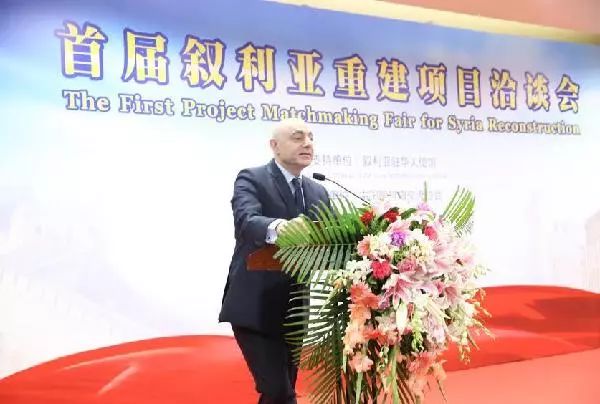 Syrian Ambassador to China Dr. Imad Moustapha delivers a speech at the First Project Matchmaking Fair for Syria Reconstruction on July 9, 2017. [File photo]
China's contribution to the international humanitarian aid architecture, which has recently taken on a more extroverted dimension as part of the "outgoing China" approach, has found a new venue in Syria.
Events in the Arab country have drawn increasing attention from China since the outset of the crisis in 2011, allowing the rising superpower to further carve out its place in the political and diplomatic landscape in the Middle East region.
No longer willing to let other major players – namely Russia and the United States – dictate its policies on large-scale international issues, the leadership in Beijing has opted to play a more leading role in managing the conflict in Syria, acting upon its responsibility to help preserve world peace and stability, while maintaining long-standing principles of sovereign equality and non-interference.
Tending to events in Syria also falls within China's own interests in the conflict-torn region, given Syria's key geopolitical position as one of the countries where the massive Belt and Road Initiative is to pass through, meaning China will have a direct role to play in the construction of trade routes there.
China has already vetoed six United Nations Security Council draft resolutions that could possibly lead to foreign intervention in Syria and boost cross-border terrorist organizations fighting there. Meanwhile, it has also backed the Syrian peace process by maintaining mediation channels with the two opposing sides.
In fact, Beijing's foreign policy gives primary importance to the fight against international terrorism. Extremist-provoked instability and military escalation in the Middle East would pose a serious threat to China's energy supply, which depends upon energy sources from that region.
Therefore, China's response to the humanitarian crisis in Syria is an effective means to aid in mitigating the international repercussions and defusing further escalation.
The Syrian arena has witnessed China's recently unfolding pragmatic approach to humanitarian aid, one that matches its position as an increasingly major international player.
In addition to direct donation, China is actively using a multilateral system for humanitarian cooperation, exploring cooperation with international institutions and channeling aid through U.N. organizations.
In a reviewing of China's humanitarian aid contributions, the Chinese Embassy in Damascus said in a statement on November 5 that China donated US$1 million in 2017 to the World Health Organization (WHO), the World Food Programme (WFP) and the International Committee of the Red Cross (ICRC) respectively, to improve food security and health conditions in Syria, as well as to provide special assistance to internally displaced people and returnees.
The statement also revealed that in the first half of 2017, the Chinese government signed three assistance gratis agreements with the Syrian government, worth over US$40 million, to support the sectors of electrical devices and transportation and to fund other humanitarian aid operations, in addition to donating 5400 tons of rice.
These contributions followed an early 2017 announcement by Chinese President Xi Jinping at the U.N. Office in Geneva that China would allocate approximately US$29.3 million in aid to help Syrian refugees and all those who have lost their homes due to the conflict.
A similar precedent was set during a Middle East tour in January 2016, when President Xi also promised US$36 million in aid to the people of Syria, Jordan, Lebanon, Libya and Yemen, while Foreign Minister Wang Yi announced at a major international donor conference in London in the same month that China would donate 10,000 tons of food to help ease the food shortages among Syrian refugees.
In November of the same year, Chinese Ambassador to Syria Qi Qianjin pledged that China would continue to provide Syria with US$70 million in humanitarian aid, during a meeting at which the embassy also granted a batch of computers to the National Commission for the Syrian Science Olympiad.
Prior to this, in 2015, Xi announced at the G20 summit an additional US$100 million would be given to help improve the living conditions of refugees and displaced people across multiple countries and international organizations, including the WFP, the ICRC and the United Nations High Commissioner for Refugees.
By December 2015, China had contributed nearly US$36 million in humanitarian aid to Syria from the beginning of the crisis.
More can be expected in this regard from China, as the world's second largest economy overtly increases such contributions worldwide, thus signaling its growth into an internationally recognized proactive humanitarian provider.
Haifa Said is chief editor of the English Department at the Syrian Arab News Agency.
Opinion articles reflect the views of their authors, not necessarily those of China.org.cn.