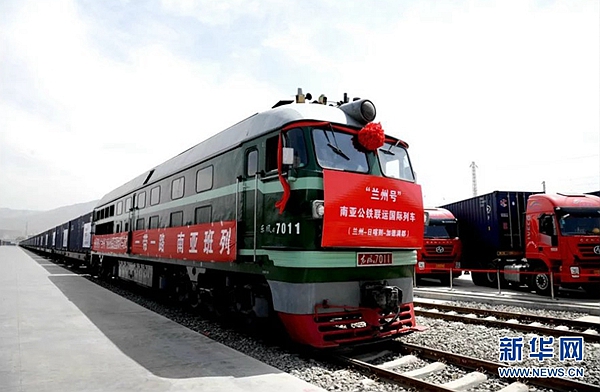 China opens its first combined transport service to Nepal on May 11, 2016. [Xinhua]
The Xi Jinping Thought which has been incorporated into the constitution of the Communist Party of China (CPC) has gained traction with Nepali politicians and intellectuals. They see the evolution of Xi Jinping Thought as a big opportunity to rebuild Nepal, which has been buffeted by a decade-long insurgency and the 2015 devastating earthquake.
Named after CPC General Secretary and Chinese President Xi Jinping, China has embraced Xi Jinping Thought as an ideological instrument to construct a strong, prosperous and advanced socialist nation by the middle of this century.
"The Xi Jinping Thought has stressed peace, stability and development in the neighboring nations, too. So we also find the articulation of our aspirations in the vision of Xi," said Yuba Raj Gyawali, vice-chairman of CPN-UML.
Gyawali said that President Xi has committed to non-interference and mutual respect for each other's sovereignty and social system. "Though China is a big country, it has never interfered in the internal affairs of small neighbors. So we very much appreciate this foreign policy envisaged by Xi Jinping Thought," added the UML leader. According to him, Xi's ideology has put China on the path of socialist reconstruction resolutely and unambiguously.
The Xi Jinping Thought on Socialism with Chinese Characteristics for a New Era has aroused further interest among Nepali politicians, journalists and intellectuals with thematic briefings of the 19th CPC National Congress in Nepal. Last month, the president of the Chinese Academy of Social Sciences Wang Weiguang held extensive interactions with people from different walks of life in relation to the key strategies, policies, programmes and visions of the 19th CPC National Congress in Kathmandu.
"The 19th CPC National Congress was a historic event to develop China into a prosperous and modern socialist nation. China has witnessed unprecedented economic development only after the adaption of Marxism-Leninism to China's reality," said Wang, adding that the Xi Jinping Thought would play an important role in further advancing Marxism-Leninism based on the socio-economic context of China.
Upon attending the briefing, Nepali Congress leader Sobhakar Parajuli said he was impressed by the visions and strategies put forth by the Chinese leadership. CPN-Maoist Centre leader Lekhnath Neupane expressed his belief that China would continue to promote world peace and develop a new type of international relations.
With the success of the three-tier elections, Nepal will have a strong government led by the Left Alliance that has promised to implement the Belt and Road Initiative (BRI), a signature project of President Xi. Nepal had already singed a trade and transition treaty with China. Both countries are working to build the trans-Himalaya railway.
Peace and stability is the key to execute projects under the BRI framework. The new communist government is expected to deliver much-needed stability and a predictable environment.
In his political report presented to the 19th CPC National Congress, Xi underlined the need for establishing cordial and friendly relations with neighbors based on mutual respect and reciprocal benefits. Since the BRI puts emphasis on win-win economic development, Nepalis are upbeat about the prospect of rapid economic growth by implementing the BRI projects and the trade and transit treaty with China.
"The Xi Jinping Thought carries vital importance for reconstruction, poverty alleviation and prosperity at home and abroad," said UML leader Bedu Ram Bhusal, adding that Nepal should devise plans to build hydropower plants, infrastructure, road and railways to boost connectivity, trade, commerce and people to people ties.
Xi said that China would deepen relations with its neighbors in accordance with the principles of amity, sincerity, mutual benefit and inclusiveness and the policy of forging friendships and partnerships.
Against this backdrop, it can be widely believed that Nepal-China relations will grow to newer heights with the Chinese government vigorously applying the Xi Jinping Thought as its guiding principle to achieve shared prosperity for the entire human community.
Ritu Raj Subedi is an associate editor of The Rising Nepal.
Opinion articles reflect the views of their authors, not necessarily those of China.org.cn.