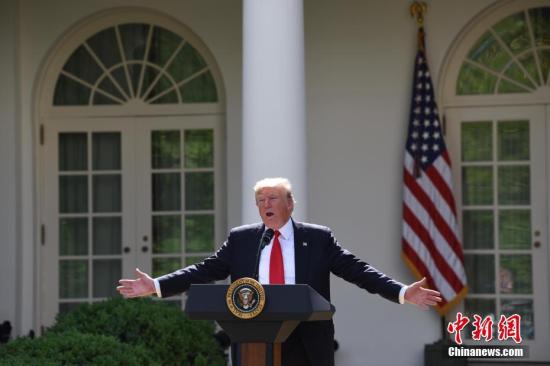 U.S. President Donald Trump [Chinanews.com]
President Donald Trump's first State of the Union address may have given the White House a rare reason to lift its hopes. It might also have raised the spirits of the 45th U.S. president's support base across America. But beyond the U.S.' borders, it has probably more hindered and harmed than helped how the U.S. is seen in the eyes of the rest of the world under his watch.
Clearly aimed at the domestic U.S. audience at a time when the current occupier of the Oval Office has the lowest poll ratings of any U.S. president in history, the tone and content of the January 30 speech aimed to assure and reassure Americans that their current president is serious about implementing his campaign promises of "Putting America First" and "Making America Great Again."
However, the address has only reaffirmed that President Trump is strengthening and deepening America's growing global isolation.
Playing to the domestic political gallery on issues ranging from immigration and infrastructure investment to trade protection and national security, the president might have looked and sounded good at home.
But identification of China and Russia as America's global foes and the placing North Korea, Cuba and Venezuela within the same brackets as "rogues and terrorists" were more a reflection of the prevailing effects of Cold War attitudes on White House policy under his watch than any understanding of the urgent and growing need for more global cooperation and consensus on issues affecting the world.
There's also an even deeper disconnect between the reality of U.S.-China business ties today and what the speechwriters inserted in the foreign policy sections of the president's major address.
Just ahead of the speech, no less than the U.S. Chamber of Commerce in China confirmed in a joint survey of American business interests in China that confidence within the U.S. business community there is increasing. That confidence has indeed doubled in the beginning of 2018 over 2017, with the vast majority of American businesses surveyed not only reporting more revenue growth than in the past three years, but also projecting clear intentions to expand their China investments in 2018.
Not that U.S. businesses don't have their concerns – particularly about China's regulatory environment and what they see as unclear laws and overly-rigid enforcement. These real concerns have also been expressed. But U.S. businesses obviously see their experiences in China differently than how their president does.
Domestic U.S. businesses are also becoming increasingly concerned about the effects of the Trump administration's continuing efforts to deepen its trade disputes with China. Washington recently imposed crippling tariffs on Chinese exports of solar-driven products and steel and aluminum exports to the U.S., but the result is that American consumers will end up paying more for the domestic equivalents.
Similarly, the U.S. president's continuing threats are only worrying U.S. companies that depend heavily on China trade and supply for essential raw materials and more profitable labor.
President Trump and his economic advisors only needed to look at how other large trading nations are dealing with China, especially since his early withdrawal of the U.S. from the Trans-Pacific Partnership (TPP).
Even as he delivered his major address in Washington, British Prime Minister Theresa May was visiting China with the largest British business delegation ever, comprising over 60 major companies.
PM May's visit took place at a time when UK-China business is booming both in terms of trade and investment aspects. Her choice of cities visited – Wuhan, Shanghai and Beijing – also spelt volumes about her intentions for the future of trade and business ties between China and its second-largest trading partner in the European Union (EU).
China and Russia have both indicated – before and after the Trump address – that despite the tough talk and imposition of new sanctions, Beijing and Moscow are both still very interested in smoothing ties and strengthening relations at all levels.
China has appealed for less use of Cold War rhetoric and more cooperation between the world's two largest economies, especially as their common interests outweigh their differences.
The global signposts are up and the directions are clear. It all depends on how they are read in Washington.
Earl Bousquet is a contributor to china.org.cn, editor-at-large of The Diplomatic Courier and author of an online regional newspaper column entitled Chronicles of a Chronic Caribbean Chronicler.
Opinion articles reflect the views of their authors, not necessarily those of China.org.cn.