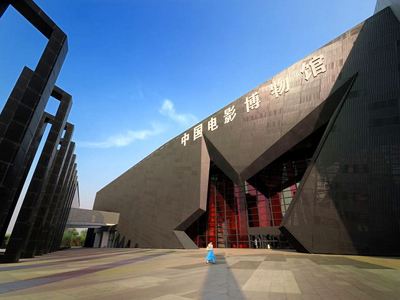 China National Film Museum [File photo]
At least four of the biggest film releases in China from December to February are either remakes, sequels, or commercial spinoffs. Three of the films are American blockbusters including Star Wars and Jumanji, with January also witnessing the release of a remake of a legendary Hong Kong film: A Better Tomorrow.
A Better Tomorrow, released in 1986, tells the story of an ex-gangster who reconciles with his brother, a police officer, to atone for the hurt his life of crime has caused their family. With skillful acting and intense gunfights, it was one of the most highly acclaimed and influential films in the Hong Kong heroic bloodshed genre. In 2005, the Hong Kong Film Awards named A Better Tomorrow as the second best Chinese film ever.
The question arises, as it does with so many other remakes of legendary movies, why is this necessary? How can it live up to the original? One commenter on Douban, a Chinese review site, wrote, "Wang Kai is no Di Long, Ma Tianyu is no Leslie Cheung, and Wang Dalu is no Zhou Yun-fa."
In short, the original actors cannot be topped. That's not to say that actors in the remake necessarily did a bad job. It's just that the original is so beloved – and rightfully so – that it is almost impossible to be equaled. Comparing oneself to the original is both a recipe for inevitable disappointment but also a good way to get attention for a new movie and evoke fond memories.
This is a lesson Hollywood has learned well. They find it easier to leapfrog off past successes rather than thinking of new and original ideas. Star Wars endlessly recycles the plots of its 1970's originals, adding nothing of value, and Jumanji's new innovation is simply to take the board game from 1981 and turn it into a video game for 2017. As China becomes the world's largest box office market, the question has to be asked if it is adopting some of Hollywood's worst practices?
To be sure, remakes can often add new dimensions and re-imagine familiar stories. Christopher Nolan's portrayal of Batman (The Dark Knight series) as a tormented soul in a gritty, philosophical Gotham was an artistic and original and very worthwhile conception. Director Tian Zhuangzhuang did a cinematographically beautiful retelling of the 1948 film Spring in a Small Town in 2002.
There are some TV and film stories and characters that are seemingly made to be re-filmed again and again. Wong Fei-hung, a kung fu hero loosely-based on a historical figure, has been presented in over one-hundred films since 1949. The TV series The Return of the Condor Heroes, a martial arts series that has seen many iterations between 1976 and as recently as 2015 on Hunan TV, might be another example. Wuxia gods are like the superheroes of Chinese popular media.
Unfortunately, all too often it seems the idea of making a quick and cheap buck precedes the idea to make a good film. The result is too many international blockbusters – now including many co-productions between U.S. and Chinese companies, which even include in-film advertisements – with weak, watered-down plots catering to the lowest common denominator of mass audiences.
On Feb. 2, 2018, My Little Pony: The Movie, opens in China. It's a movie based on a children's toy first produced in the 1980s that millennials have strangely become attached to in recent years. It wouldn't be the first or most famous movie based on a toy – Transformers has been one of the highest grossing franchises in history. Unsurprisingly, yet another spinoff, Bumblebee, is already in the works for a Christmas season 2018 release.
For movie viewers who like generic action sequences and don't care about deep stories, such productions can be a blandly amusing way to while away two hours. The product quality is well known and passable, just good enough to make the average movie-goer come back for the next sequel. Ultimately, it is up to the audience voting with our ticket purchases to determine what kinds of movies are made.
Mitchell Blatt is a columnist with China.org.cn. For more information please visit:
http://www.china.org.cn/opinion/MitchellBlatt.htm
Opinion articles reflect the views of their authors, not necessarily those of China.org.cn.