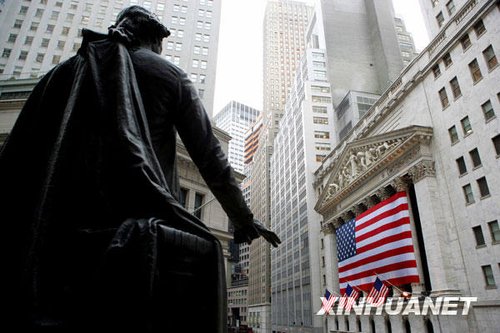 Wall Street [Xinhua]
Trumpian protectionism. Brexit uncertainty. Income inequality and global nationalism on the rise. With all of this doom and gloom, it seemed as though the only optimists left were the stockbrokers and speculators – but not this week. No, this was not a good week for Wall Street. But why? What could have provoked such rapid shifts in the markets?
Over the last two years, we have witnessed real estate entering a new bubble, an auto industry bubble fueled in part by out-of-control subprime lending, and stock market optimism that should have set off alarms in 2017. Only in this kind of uncontrollable market atmosphere could cryptocurrency – an entirely imaginary concept with no value outside of its appeal as a mechanism for unregulated person-to-person transactions, and an ideal tool for tax evasion, money laundering and anonymous dark-web criminals – become a focal point for investors, with Bitcoin prices rocketing to nearly $20,000 not long ago.
The correction was coming, and it may already be here. But will this bring people to their senses, or will they panic?
The global economy has been doing well. As much as the current American president would like to take credit for the recent economic boom, there has been very little evidence to support his self-aggrandizing assertions. The stability in the market brought by his predecessor, an ever-growing European economy and a Japanese economy beginning to pull itself out from stagnation were probably more responsible. In fact, the last three years have seen a strong 3.5 percent average in real GDP growth globally. Nevertheless, there has been very little evidence to indicate any structural reason for the 5,000-point growth in the U.S. stock market under President Trump.
To put this into context, the U.S. stock market required nearly 100 years to grow to its first 5,000 points. In President Trump's first year, it has already grown another 5,000 points. So, to state the obvious, the stock market is overvalued. The positive outlook for corporate earnings notwithstanding, stock prices are far too high. And while corporate earnings have been encouraging, growth is already beginning to slow. Furthermore, the USA and U.K. are now at near full employment, and overall unemployment in the EU is falling as wages steadily increase.
While all of this may seem good on the surface, the market must respond to these increases, and it can only do this by raising prices. But price increases will not necessarily translate into higher costs to consumers. This will depress margins and slow growth even further.
Moreover, with decreasing unemployment and increasing wages and price burdens, the U.S. Federal Reserve will inevitably feel pressure to raise short-term interest rates more consistently. With the recent market instability, this is likely to be delayed, but only temporarily. This leaves little room for market enthusiasm, as cheap money starts to dry up.
The situation we are in today is no surprise, and a correction is inevitable. But exactly how serious this readjustment will be is dependent on whether the markets begin to panic. What is required now is a steady hand at the helm, a voice that can reassure the notoriously anxious brokers and speculators. With a new, apparently quite competent chairman in the Federal Reserve, we may have someone to help calm these waters.
But the "Trump card" remains in play. Is the U.S. president level-headed enough himself to be able to reassure others? For a man who notoriously lashes out at any critic, and makes spur-of-the-moment decisions and off-the-cuff remarks, this may be a challenge. And can other markets around the world rally in the midst of their own difficulties to establish some certainty in an otherwise uncertain time? These are the pivotal questions that will be answered in the coming days and weeks.
Michael D. R. Long is PhD candidate at the University of Cambridge Department of Social Anthropology with seven years of experience in China.
Opinion articles reflect the views of their authors, not necessarily those of China.org.cn.