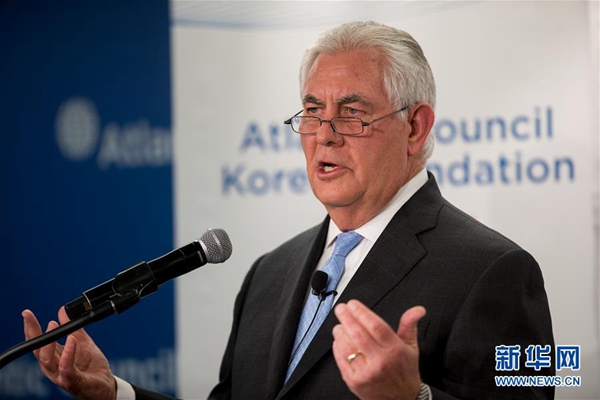 U.S. Secretary Rex Tillerson [Photo/Xinhua]
The Monroe doctrine is back in American grand strategy, with serious significance for geopolitics. To be fair, one can argue that it never went away, just wasn't talked about much. Secretary Rex Tillerson started his trip to Latin America with a speech that praised this 200 years old foreign policy doctrine, which formed the backbone of American grand strategy. Talking about Latin America being American preferred trade partners, Tillerson praised the 1823 Monroe Doctrine saying that it was clearly a success.
So, what is the Monroe Doctrine? It was a doctrine issued by President James Monroe in the early 19th century, once the U.S. has consolidated its frontiers, signed a treaty with the British Empire on trade, and agreed with Russia on demarcating borders in Alaska. "Separated as we are from Europe by the great Atlantic Ocean, we can have no concern in the wars of the European Governments nor in the causes which produce them," Monroe wrote to Congress, saying that "It is impossible for the European Governments to interfere in their concerns … without affecting us."
To put it simply, the U.S. under James Monroe made it clear, that while America is interested in the external affairs in other parts of the world, the primary interest of America is in the Western hemisphere. It is in the Western Hemisphere, American hegemony must be guaranteed, and in the same sphere of influence, no other great power, from Europe or elsewhere, must be allowed to lay a stake. It warned European great powers of the day, that the U.S. was a great power and would not tolerate any European puppet governments in Latin America or anywhere in the Western hemisphere.
It was subsequently used several times to justify intervention. In 1865 in Mexico, as well as in Santo Domingo in 1904, Nicaragua in 1911, and Haiti in 1915. Most famously it was used by Kennedy during the Cuban missile crisis in 1962 against Soviet missile installations in Cuba.
For a great power that extolls the values of a liberal world order all the time, the Monroe doctrine remains the foundation behind U.S. grand strategy. John Kerry said in 2013 that the era of the Monroe doctrine was over, and that Russia was acting as a 19th century great power, right before Russia scooped up Crimea. Kerry also simply refused to either acknowledge the reality, prevaricating or saying a half-truth. The U.S. grand strategy remains mired in geopolitics, regardless of the lofty rhetoric of the liberal order. Tillerson stated that Latin America should be wary of "Chinese imperial ambitions" and restated that the Monroe doctrine is in fact alive and well. "I think it's as relevant today as it was the day it was written," Tillerson was quoted in the Foreign Policy magazine.
So, what is the significance of this? Cynics might say nothing new. It only highlights what everyone knew so far anyway. In a way, it is at least honest; as this latest narrow geopolitical aim isn't cloaked under some high-sounding rhetoric of democracy or human rights. It calls a spade a spade, and clearly states that America believes in spheres of influence.
There is also no doubt about American red lines, which clearly demarcates what is non-negotiable from an American geopolitical perspective. Tillerson's statement might be trade related. "Latin America does not need new imperial powers that seek only to benefit their own people," he was quoted to say. But there's no doubt the geopolitical logic behind this. It is an area, where the U.S. doesn't want other powers to have any base. In times of crisis, clear communication is always good.
It also highlights, that regardless of the rhetoric, great powers decide world affairs. Which brings about an interesting thing. If the U.S. really only understands great power politics and spheres of influence, then surely it would understand the spheres of influence of other great powers as well. Whether that's in Europe, or Asia. This is a new reality, of a time, which needs a Concert of Europe type major power understanding.
Sumantra Maitra is a columnist with China.org.cn. For more information please visit:
http://www.china.org.cn/opinion/SumantraMaitra.htm
Opinion articles reflect the views of their authors only, not necessarily those of China.org.cn.