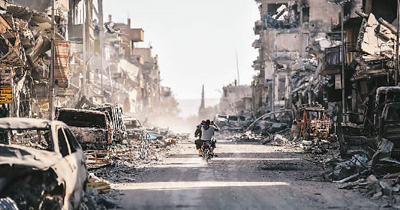 Ar-Raqqah, Syria [Photo/Xinhua]
The Syrian conflict is getting nastier instead of calming down. It has become a hotbed of overlaying regional rivalries and international power struggles. The tussle between Israel and Iran is one of these streams of competitive politics and strategic interests.
This was visible after Israel lost one of its fighter aircrafts, which had bombed "targets" inside Syria. The debris of the aircraft fell in northern Israel, with the two pilots surviving by ejecting before the crash.
Israel did not declare that the F-16 was brought down by "enemy" fire. But indicators show that Syria's anti-aircraft defense system was involved in the incident.
Israel has undertaken several intrusive missions to bomb various targets in Syria during the deadly civil war, but this is the first time that one of its warplanes has been destroyed by Syrian forces.
The destruction of the jet was a serious jolt to the pride of the Jewish state. Reports suggest that it might be the first such incident of an Israeli fighter plane being shot down by enemy fire since the 1982 Lebanon War.
Israel's main concern is the presence of Iran in Syria and the support it provides to both the Syrian regime and Hezbollah fighters. The downing of its jet is also linked with Iran, as Israel claimed that it intercepted a drone sent by Iran and bombed the site used to launch it in retaliation.
Israel's Minister of Intelligence Yisrael Katz reportedly said on Sunday that his country sent a clear message to Iran by hitting key Iranian sites in Syria. Katz also stated that his country would not tolerate an Iranian military foothold on its doorstep.
The minister further warned about increasing Iranian involvement along its borders with Syria and Lebanon. Israel fears that Iran could create a direct land corridor to link up with Hezbollah, which has sworn to destroy Israel.
Another worry for Israel is reporting that Iran might be interested in a permanent base in Syria. Such reports could be exaggerated, because any such facility would risk a direct confrontation with Israel and even the United States. Iran would not like to be involved in any such situation.
The fact is that Tehran has stood firmly with Syrian President Bashar Assad and provided resources in terms of men and materials. Its help was crucial to tilt the balance of war in favor of Damascus despite massive opposition by regional powers backed by the U.S.
The destruction of an Israeli jet by Syrian anti-aircraft fire is indicative of changes in Syria's tactics. Previously, Syrian responses to numerous provocations by Israel were limited to empty warnings and vows of retaliation.
But the counterstrike at the aircraft shows that Syria has upped the ante, with a strategic shift in the Syrian military's calculations. Under the new rules of engagement, Israel could now face a calibrated response to any future aerial intrusions.
Syrian security forces are apparently more confident after a series of recent successes against rival groups, including Islamic State fighters. The armed forces are getting bold enough to challenge aerial violations by their opponents, no matter how powerful they are.
President Assad is also getting the political and diplomatic support of Russia apart from Iran. Israeli Prime Minister Benjamin Netanyahu spoke with Russian President Vladimir Putin after the jet was shot down to seek support, but Russia's Foreign Ministry later rebuked him by saying that Syria's sovereignty should be respected.
If Russia is siding with Syria, Israel has the unflinching support of the United States. U.S. State Department spokeswoman Heather Nauert, in a loaded remark, said that Iran was involved in "calculated escalation" and threatening regional peace.
This shows that the Syrian conflict could easily escalate to a full-scale regional war or even direct conflict between the great powers. Any such occurrence would further destabilize the region; the situation demands care and caution.
In the prevailing environment of mistrust and tension, even an unremarkable incident can spiral into a major showdown. However, the shooting down of the Israeli jet is not an ordinary incident. It will have serious implications, as Netanyahu has warned that Israel will continue its attacks in Syria.
But Israel's increasing involvement is playing into the hands of Iran. By sucking the country into the conflict, both Syria and Iran will be able to contend that Israel is the main culprit. This will only garner them more support from the rest of the Muslim world.
Sajjad Malik is a columnist with China.org.cn. For more information please visit:
http://www.china.org.cn/opinion/SajjadMalik.htm
Opinion articles reflect the views of their authors, not necessarily those of China.org.cn.