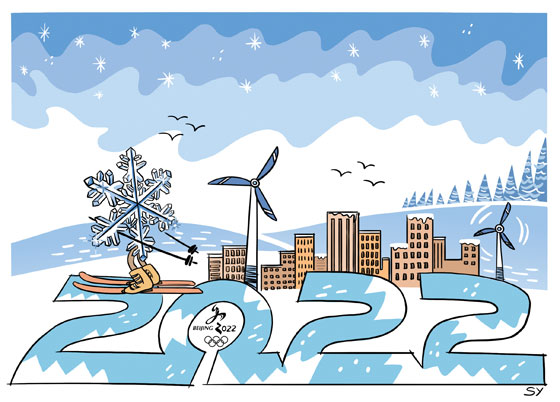 In 2022, Beijing will become the first city to host both Winter and Summer Olympics. [Photo/China Daily]
As Olympic torch is moving toward emerging economies, it is time to come up with innovative solutions and appropriate cost controls to finance the games.
To avoid cost overruns, South Korea's 2018 Winter Games was located in Pyeongchang, the smallest city to host the Olympics since Lillehammer 1994 in Norway. Nevertheless, South Korea is expected to spend $13 billion on the games; nearly double the $7 billion originally projected, which has again ignited public debate about Olympic cost overruns.
In 2022, Beijing will become the first city to host both Winter and Summer Olympics. Can the costs be contained?
Rising economic costs
Hefty price tags and cost overruns have become all too common in Olympic Games. The $15 billion costs of London 2012 Summer Olympics (76% cost overruns) and the $22 billion Sochi Winter Olympics (289% cost overrun) contributed to heavy indebtedness in the pre-Brexit UK and economic erosion in Russia.
In Brazil 2016, costs were projected to be less than $5 billion, yet reportedly more than doubled amid economic, political and security challenges.
Moreover, the Olympic building frenzy has left too many cities with decaying stadiums and empty transit systems, as evidenced by Athens's dilapidated venues and $11 billion in debt that contributed to the Greek debt crisis; and the recession that swept Nagano, Japan, after the 1998 Winter Olympics.
Nevertheless, there are positive examples as well. In the Los Angeles 1984 Summer Olympics, budget awareness showed that the games can generate actual profit. Moreover, in summer games, only few hosts - including Beijing in 2008 – have managed to keep cost overruns reasonable.
In the 2022 Winter Olympics, the estimated budget in Beijing will be $3.9 billion, less than one-tenth of the 2008 Summer Olympics financing. That illustrates the new objectives.
Preconditions for success
Cost control is the first economic precondition for Olympic success. In 1984, the L.A. Summer Olympics committee rejected the idea of new sporting structures and focused on modified and upgraded existing venues. Other success stories involve new structures that have been repurposed after the Olympics.
The second precondition is environmental sustainability. In 2014, the International Olympic Committee (IOC) introduced the Olympic Agenda 2020, which promotes sustainability and cost control to control economic and environmental damage. The quest for sustainability requires new competition venues to be built with renewable technologies, as well as energy saving and environmentally-friendly materials.
The third precondition rests on successful media deals to finance the games. In 1984, the L.A. Olympics sought to make the games a global TV event; an objective that was supported not just by Hollywood and the industry mecca, but efforts to sprinkle more than 40 venues throughout almost 500 square kilometers. It was Olympic branding that fostered continuity across very different locations.
Fourth, to promote sports economy, China is rolling out a national campaign to encourage 300 million people to participate in winter sports by 2022. The venues will be distributed in three zones which will foster winter sports in and around Beijing after the Olympics. If successful, this would be an important investment in long-term human capital: "Healthy mind in a healthy body," as educators put it.
Fifth, Olympics can provide critical "seed funding" to local tourism in need for sustained investment. Even though Brazil's Olympics suffered from cost overruns, it did attract a record 6.6 million international tourists. To avoid waste of resources, local governments and property developers should consider a sustained focus on local tourism and infrastructure, accommodations and environmental protection.
The final precondition involves a lasting legacy. Under a 1979 agreement, 40 percent of the surplus created in the 1984 L.A. Olympics would stay in Southern California. As the surplus amounted to $233 million, the local share was $93 million. Thanks to the great seed fund for the future, the LA84 Foundation has awarded more than $230 million in grants to youth organizations ever since 1984.
Olympic scenarios for the future
In the future, the probable scenarios for Olympic Games include three basic trajectories. In the Dead-End Scenario, the Olympics will continue as before in which case the historical pattern of soaring costs and cost overruns are likely to contribute to major economic losses, social divides and environmental damage.
In the Cost-Control Scenario, a track-record of successful planning, rigorous cost-control and ability to repurpose the Olympic facilities will play the key role. Despite noble goals, Pyeongchang 2018 failed to achieve such cost-consciousness. Beijing 2022 seeks success in such efforts.
The Regional Scenario could be an option for smaller emerging economies. Today, Olympics take place in several cities but one country. Why not organize the games in multiple cities across borders? If countries seek scale economies through regional trade agreements, why couldn't they celebrate sports regionally as well?
It is not the size of the stadium that matters but the audacity of our dreams in our quest for excellence.
Dr Dan Steinbock is the founder of Difference Group and has served as research director at the India, China and America Institute (USA) and visiting fellow at the Shanghai Institutes for International Studies (China) and the EU Center (Singapore).
The original, slightly shorter commentary was published by China Daily on February 22, 2018.
Opinion articles reflect the views of their authors, not necessarily those of China.org.cn.