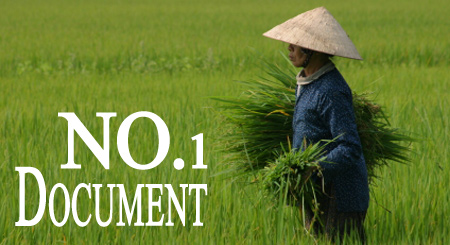 On February 4, 2018, China releases a package of policies in the "No. 1 Central Document."
On February 4, 2018, China released a package of policies in the "No. 1 Central Document," which calls for greater-than-ever attention to rural vitalization, put forward by President Xi Jinping at the 19th National Congress of the Communist Party of China in October last year.
Without doubt it can be said that focusing on modernizing China's rural and agricultural sectors is quite forward thinking for rural well-being in order to reduce China's growing inequality between rural and urban areas. It is also expected that the No.1 Central Document will encourage people to live in rural areas rather than migrate to big cities, which will boost the livelihoods of rural farmers who produce sustenance for their urban counterparts.
Seen as an indicator of policy priorities, the No. 1 Central Document is the name traditionally given to the first policy statement that the CPC Central Committee and China's State Council release each year. This has been the 15th consecutive year that the No 1 Central Document has been devoted to agriculture, farmers and rural areas. Undoubtedly, the 2018 document will play an important role in modernizing and rejuvenating the whole of China.
Han Jun, director of the Office of the Central Rural Work Leading Group, said that the 2018 document was "problem-oriented" and a "top-level design" for the country to achieve prosperity in rural areas. It's a fact that China's vast rural population has not fully enjoyed adequate development opportunities in comparison to urban China. The Chinese Dream cannot be realized without realizing the dreams of the Chinese farmers. There is a lot to be accomplished in rural areas where opportunities for development have arisen as the country enters a new era, according to the document.
Chinese leaders are pragmatic enough to set reasonable goals, which make sure that the rural poor will at least have food to eat, clothes to wear, and places to live in by 2020. The 2018 document has provided a comprehensive roadmap for the reform and development of China's agriculture involving hundreds of millions of farmers.
Notably, the importance of timetabling is stressed in the latest document aiming at a strong agricultural sector, a beautiful countryside and well-off farmers. The document states that by 2020, there will be an institutional framework established for rural policy. By this time, poverty will be eliminated, and rural productivity as well as agricultural supply will be enhanced. By 2035, China will have embarked upon modernization of the agricultural and rural areas, and that both urban and rural residents will have access to basic public services. By 2050, farmers will be well off and rural areas will enjoy a strong agricultural sector.
According to the rural vitalization strategy, more capital will be channeled into rural areas through steadily rising public finance inputs, broadened financing, and providing better financial services. The package of policies also includes better education and medical services, green development, improved infrastructure and facilities such as toilets, and more training and incentives to build a workforce to support rural development.
Victor Gao, chairman of China Energy Security Institute and vice president of Center for China and Globalization rightly pointed out: "Chinese farmers will become new farmers, with greater empowerment and incentives; better training and education; higher income and more benefits; greater protection of their legitimate rights. Their voices will be better heard, and their dreams become more and more within reach."
It is planned that villages will be clean and tidy with better garbage sorting, sanitation facilities, residential sewage treatments and village management that will ensure farmers' basic quality of life. It is anticipated that the rural vitalization program and the ongoing land reform will contribute mightily to raising the standard of living in rural China.
Rabi Sankar Bosu, secretary of New Horizon Radio Listeners' Club, West Bengal, India
Opinion articles reflect the views of their authors only, not necessarily those of China.org.cn.