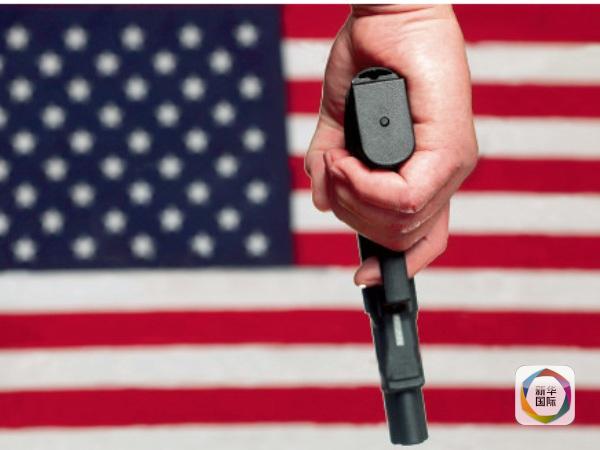 Despite the protestations of conservative politicians, the recent school shooting in Florida has made it harder than ever to deny that stricter gun legislation would save American lives.[Photo/Xinhua]
The shooting at Stoneman Douglas High School in Florida has brought the debate over gun control back to the forefront of American politics. The students of the high school are now publicly pushing lawmakers to take action.
However, there is far from a consensus on what is to be done.
Republican legislators, who typically oppose gun control, say that increasing regulations on guns won't do anything.
Florida Sen. Marco Rubio expressed the point thusly on the Senate floor: "You could pass a law that makes it hard to get this kind of gun in a new condition. But you're going to struggle to keep it out of the hands of someone who has decided that's what they want to use." He continued, "If someone's decided, 'I'm going to commit this crime,' they'll find a way to get the gun to do it."
With only a cursory assessment, it might seem gun rights advocates like Rubio have a point. A black market for guns already exists, and illegal products such as drugs continue to be sold.
But following Rubio's logic, heroin and prostitution should also be legal. After all, if criminals don't follow the law, then why would they follow one against selling crack cocaine to toddlers?
Rubio and other Republicans who oppose restricting gun rights also openly support passing new laws to restrict abortion rights. Yet even where abortion is illegal, some still go through the trouble of ending their pregnancies with clothes hangers.
While no law can be 100 percent effective at eliminating a behavior, laws can surely have some effect at preventing most of the public from engaging in a behavior.
Indeed, gun control laws have been successfully implemented in nations around the world and have decreased the crime and murder rates in many places. We should learn from their experiences if we want to fashion effective policies in America.
Some countries, including Japan, South Korea, Singapore and India, ban the entire populace from owning firearms with very few exceptions. Many more countries allow gun ownership only for those who pass a test and obtain a license. In France, Hungary, Spain, Italy and Germany, the process for obtaining such a license requires that applicants pass a mental health check. Germans must obtain an additional firearm license for each individual gun they purchase. Finland, New Zealand and South Africa require that applicants pass tests to prove their aptitude and gun safety knowledge. Many places require that applicants have a rational reason for purchasing a gun, and firearm use is restricted to hunting and target practice in countries like Canada.
While specific laws vary from state to state, there is no federal requirement in America to obtain a permit in order to own a gun. Americans rarely need to enroll in gun safety programs before buying their first firearm. One must pass a background check in order to buy a gun from a licensed firearms dealer, but the scope of the check is limited.
In America, any person who has been involuntarily committed to a mental hospital or declared mentally incompetent by a court or government body is barred from owning guns. But the scope of such a population is extremely small. There is no federally mandated check for mental health issues before buying a gun. It's no wonder that many people who pick up a gun and kill a dozen strangers and acquaintances, like the Stoneman Douglas High School shooter did, are mentally ill.
America's Constitution, which protects gun rights, does limit the scope of possible firearm regulations, barring a constitutional amendment. But there are measures that would be compatible with the Second Amendment that could do some good, even if not solving the problem entirely. Banning modifications like bump stocks, which allow semi-automatic rifles to function almost like fully-automatic machine guns, for one, would cut down on the number of shots a killer could get off in a given time frame.
Banning semi-automatic rifles, for that matter, is almost certainly in accordance with the Constitution. A ban on assault weapons was indeed in place from 1994 to 2004, and constitutional challenges against it were rejected by courts.
Tracking and maintaining a database of gun purchases, as the state of California does, wouldn't interfere with one's lawful right to own a gun, but it would make it possible for authorities to track down the owner in the event that a gun is used in the commission of a crime.
There are already laws on the books in some American cities and states, as well as in foreign countries, that have been shown to decrease crime and casualties. These could be expanded to other states or even adopted on the national level.
The problem clearly isn't that effective gun control can't be done; politicians just don't want to do it.
Mitchell Blatt is a columnist with China.org.cn. For more information please visit:
http://www.china.org.cn/opinion/MitchellBlatt.htm
Opinion articles reflect the views of their authors, not necessarily those of China.org.cn.