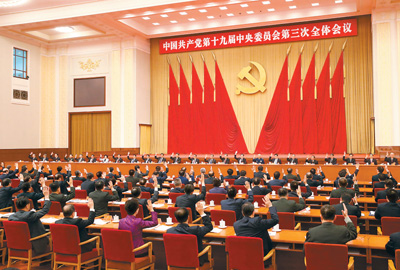 The third plenary session of the 19th CPC Central Committee [Xinhua]
Held in Beijing from Feb. 26 to 28, 2018, the three-day third plenary session of the 19th Communist Party of China (CPC) Central Committee, concluded with a communique placing strong emphasis on deepening institutional reform of the CPC and enhancing Party leadership across all areas. Undoubtedly, the third plenum has provided a necessary roadmap for China's further development in the "new era," an aspiration shared by the whole Party and the Chinese people.
The suggestions put forth at the conference hold special significance, as they will be the focus of China's two most important political gathering, the upcoming first session of the 13th National People's Congress (NPC), the country's top legislative body, and first session of the 13th National Committee of the Chinese People's Political Consultative Conference (CPPCC), China's top political advisory body, which kicked off on March 3.
The plenum informed the Chinese people and the world where China is heading over the next five years. It approved two lists of candidates for state leadership positions that are reshuffled every five years: one for the presidium of the first session of the 13th NPC and the other for the presidium of the first session of the 13th CPPCC National Committee.
Another important decision put forth in the meeting was to deepen reforms of the CPC and national institutions. Relevant suggestions for reform plans were offered as well and will be reviewed during the upcoming NPC session in accordance with legal procedure. There is no doubt that deeper reforms of the CPC and state institutions will increase China's governance capacity.
Since the 18th CPC National Congress in November 2012, China has launched over 1,500 reform measures. Chinese leaders are now vowing to comprehensively extend those reforms and further open the country to the world. And indeed, these are the only path to fulfill the "Chinese Dream" of national rejuvenation.
Rabi Sankar Bosu, Secretary of New Horizon Radio Listeners' Club, West Bengal, India
Opinion articles reflect the views of their authors only, not necessarily those of China.org.cn.