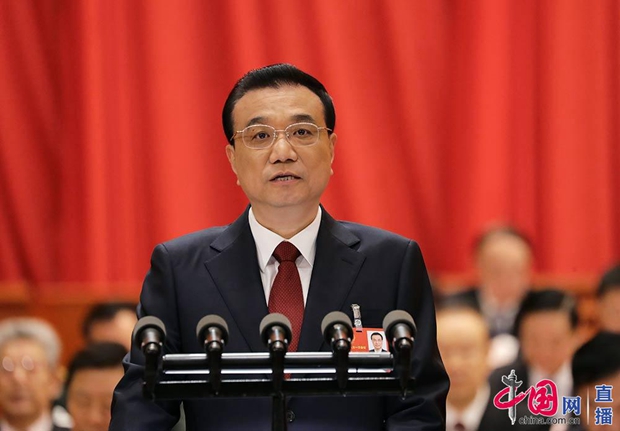 Chinese Premier Li Keqiang delivers a government work report at the opening meeting of the first session of the 13th National People's Congress at the Great Hall of the People in Beijing, capital of China, March 5, 2018. [Photo/China.org.cn]
Premier Li Keqiang Monday delivered the Government Work Report to the 2018 session of the 13th National People's Congress. The report reflects on China's progress in the past year and sets priorities and targets for 2018.
Economic growth
China's economy grew at 6.9 percent last year, surpassing the goal of 6.5 percent. The same target is set for 2018, a figure some argue is unduly conservative given recovery seen in the U.S. and elsewhere. Nevertheless, a conservative approach is wise given continued instability in the global economy and signs of return to trade protectionism by the Trump administration.
Economic emphasis on quality
A major theme of the 2018 report is the need for quality over quantity – for China's economy to shift away from being a leading manufacturer merely by volume towards being a leading producer of higher quality goods and services.
The move goes hand-in-hand with the call for continued growth in the tech sector, building on existing success. China is already a leader in mobile telecommunications, with the greatest number of mobile phones and use of services such as mobile payment in the world.
The global competitiveness of Chinese companies has also increased, with e-commerce companies being welcomed by customers all over the world. The "China" brand is one increasingly associated with quality.
Still, China needs to continue to develop its technological innovation and research, and to reform its finance, education and other systems in order to meet its future goals. Such developments will require capital, including foreign investment.
Managing economic risks
The government report also identifies risks to be managed, chiefly the need to maintain prudent fiscal controls. The report notes that China will focus on conservative investment in the right industries, will remain wary of high levels of debt, especially in local governments, and will resist excessive quantitative easing as seen in the West.
China's conservative approach further involves a serious crackdown on illegal fund raising, financial fraud, corruption and illegal shadow banking. China will strengthen coordination and oversight to improve financial regulation on the whole.
Infrastructure
Continued economic growth also requires investment in infrastructure of all kinds, from internet access to improved education, transport and housing. Relevant legal reforms are also needed, which will continue with a draft revision of China's Constitution. Tax reforms will aim to provide greater business incentives with less bureaucratic red tape. China will also boost its legal protection of intellectual property, recognizing its growing importance in a digital economy. Moreover, in an effort to open up China's industry to increased domestic and foreign competition, enhanced access will be granted in several manufacturing sectors such as telecommunications, medical services, education, green vehicles and provision of services for the elderly.
Rural development and inequality
The report also indicates a commitment to ensuring that the Chinese Dream works for all people in China. It intends to further reduce poverty from 30 million to zero, to further support the poorer rural areas and to advance urbanization.
Environment
Another major issue mentioned in the report is the environment. Notably, in the last five years efficiency has improved, with both energy and water consumption per unit of GDP falling more than 20 percent. China has also significantly reduced the production of major pollutants and heavy air pollution in key cities has fallen substantially. High tech plays an important role here as well, as China redoubles its efforts to become a leader in green technologies, including solar and electric cars.
National defense
China's greater presence on the world stage means its military must adapt to these new and larger roles to ensure peace within the region and national security. In addition to strengthening its own defense, China will take a proactive and collaborative role in developing peaceful relationships to promote stability and economic development, particularly with neighboring countries in the Asian region.
Conclusion
It is significant that 2018 marks the 6th year of Xi's leadership. Under his leadership China's share of the world economy has grown from 11 to 15 percent, and China has accounted for 30 percent of the world's economic growth. China' s GDP has risen from 54 trillion to 82.7 trillion yuan, indicating average annual growth of 7.1 percent. More than 68 million people have been lifted out of poverty, personal income has increased and more than 66 million new urban jobs have been created. This year's Government Work Report shows that China is on track for continued and steady growth as it moves forward towards achieving the "Chinese Dream."
Eugene Clark is a columnist with China.org.cn. For more information please visit:
http://www.china.org.cn/opinion/eugeneclark.htm
Opinion articles reflect the views of their authors only, not necessarily those of China.org.cn.