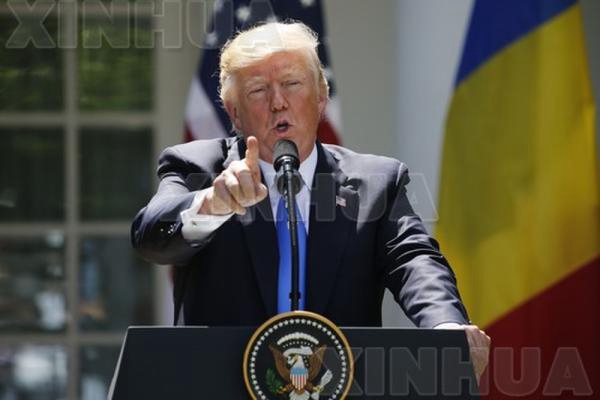 U.S. President Donald Trump [Xinhua]
Late last week, Donald Trump made what was undoubtedly one of his most controversial announcements as President: He said, rather unexpectedly, that he intended to place a 25 percent tariff on steel and a 10 percent tariff on aluminum imported into the United States.
His statements have been widely condemned by figures on both sides of the political aisle and have drawn a strong and negative reaction from many of America's trading partners. Trump said that he would be signing the relevant measures sometime next week, but given how much controversy they've already drummed up both domestically and internationally, things likely won't play out as simply as he's planned.
For one thing, Trump's understanding of economics, outlined in the following Tweets from Mar. 2 and Mar 3., respectively, has been called into question by many, many outlets:
"When a country (USA) is losing many billions of dollars on trade with virtually every country it does business with, trade wars are good, and easy to win. Example, when we are down $100 billion with a certain country and they get cute, don't trade anymore-we win big. It's easy!"
"The United States has an $800 Billion Dollar Yearly Trade Deficit because of our "very stupid" trade deals and policies. Our jobs and wealth are being given to other countries that have taken advantage of us for years. They laugh at what fools our leaders have been. No more!"
To begin with, very few economists think that trade wars are either "good" or "easy to win." Indeed, many have pointed out that the Tweets demonstrate Trump's zero-sum approach to trade and his belief that if two countries have a trade relationship one must be winning while the other is losing. His emphasis on the word "win" in relation to trade wars makes this fairly clear. The truth is that trade can be, and most often is, beneficial to both countries involved.
Second, Trump's painting of the yearly trade deficit in a negative light is misleading, as explained by Paul Krugman in the New York Times:
"It's true that trade deficits can be a problem when the economy is depressed, and unemployment is high… But the case for worrying about trade deficits, like the case for running budget deficits, has largely evaporated now that unemployment is back to 4 percent."
Trump also, according to many commentators, isn't looking at the long-term draw backs of imposing steel and aluminum tariffs. One obvious example is that by taxing imports, the prices on the taxed products rise for the consumer – e.g., if steel costs more to import into the U.S., American consumers have to pay more for products that contain steel. Furthermore, if Trump imposes the tariffs, there's a significant likelihood that they could lead to other countries raising their tariffs on American imports and that, before long, tariffs worldwide would spin out of control and the global supply chain would be thrown into chaos.
It's also reasonable to think that Trump believes the tariffs will have a big effect on China, a country whose economic policies he's criticized in the past. But in 2017 China was only the tenth leading importer of steel to the U.S., with the top five being Canada, South Korea, Mexico, Brazil and Germany. If Trump thinks he'll make some meaningful impact on the Chinese economy with the tariff, he's dreadfully mistaken, and with the annual session of the National People's Congress, China's legislative body currently underway, the Chinese leadership will no doubt be discussing how to react to Trump's belligerent trade policies.
So now we have to wait and see if Trump really does impose the tariffs. He's already received a lot of blowback just for mentioning his plans, so it seems likely, to me, that he'll at least alter them, if not cancel them altogether. If the past is any kind of indication, Trump's rhetoric isn't always to be taken at face value.
Jesse Anderson is a writer and translator originally from Seattle. He is currently based in Mexico City.
Opinion articles reflect the views of their authors, not necessarily those of China.org.cn.