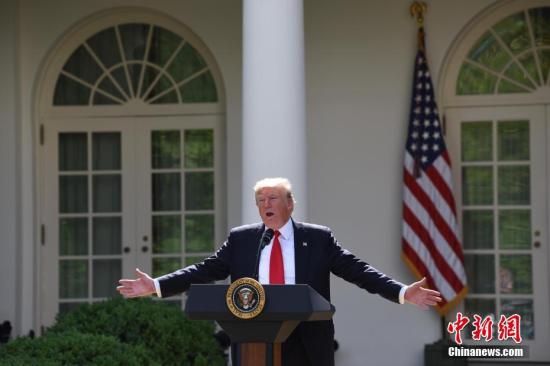 U.S. President Donald Trump [Chinanews.com]
Donald Trump is facing an economic decision: either enact protectionist tariffs to help steel maufacturers, or promote manufacturing of American exports. He can't do both.
The proposal by the Trump administration to raise tariffs on steel imports to 25 percent and on aluminum to 10 percent, if approved, will likely have devastating consequences for American exports.
Toyota has stated that raising taxes on steel will "substantially raise costs and therefore prices of cars and trucks sold in America." Campbell's Soup has said aluminum taxes will raise the costs of their cans. Boeing will also be hurt.
The economic logic is clear. Companies have to price goods at or above the marginal cost of production. If the cost of production increases, so too will the price. That would be bad enough for American consumers purchasing steel-intensive products at home. But the costs to the broader economy and to manufacturing workers who could face job losses add a double whammy. The last time the U.S. imposed such high tariffs, under the Bush administration, a study commissioned by the multi-industry CITAC organization reported that 200,000 jobs were lost.
Trump promised to help American exporters and to even out the trade deficit. The importance of the trade deficit is itself questionable, but this certainly won't help. The United States exported $144 billion just in manufactured transportation equipment, including automobiles, in 2016. By comparison, the country exported $62.9 billion in all categories of metal and aluminum, according to data from MIT's Observatory of Economic Complexity.
America-made cars under a high-tariff system will be competing against foreign-made cars that use much cheaper materials. By raising prices for American manufacturers, tariffs in effect serve as an unfair trade barrier applied by America to its own industries. Even in the unlikely event that every auto-maker switched to America-made steel, the cost of metal would rise due to simple laws of supply and demand.
That's only one industry, but the auto industry already employs many more workers than the steel industry. According to the Bureau of Labor Statistics, 212,000 Americans are employed in car manufacturing, and another 585,000 in production of auto parts. By comparison, according to the American Iron and Steel Institute, a trade group that has an incentive to cite a high number, a mere 140,000 Americans are employed in steel production.
These economic damages do not even take into account the inevitable retaliation by countries hit by these tariffs. Foreign countries aren't going to let the U.S. stifle their steel exports without response. The EU and China have already been vocal in saying that they will take countermeasures. Reportedly the EU has plans for tariffs on $3.5 billion worth of American exports, including motorcycles and bourbon.
So why is the Trump administration apparently taking actions that will hurt more Americans than they will help? Trump has expressed admiration for some industries that are romantically associated with America's mythicized past. Indeed, if he were in the biblical story about Moses returning from Mount Sinai, he might have built the fabled calf out of steel or coal instead of gold.
On top of this, a good deal of China-bashing is clearly at play as well. Trump is keen to blame China and other Asian countries, as well as Mexico, for any trade grievance. Xenophobia aside, the facts just don't add up here either. In 2016 the U.S. only imported 0.07 percent of its cold-rolled iron and 0.2 percent of its hot-rolled iron from China. China, meanwhile, exported 57.3 percent of its cold-rolled iron to other Asian countries and only 0.2 percent to the U.S.
The vision of an America driven by mining and manufacturing of mineral products is ancient history. However great the nostalgic version of the 1950s was, that economy isn't coming back, if it ever truly existed. And in fact, there's nothing to mourn. Why should anyone privilege employment in one sector (say, steelmaking) over employment in another? From an economic perspective, money is money. In fact, it's actually a good thing that solar panel production and wind turbine maintenance are rising industries compared to coal mining.
Mitchell Blatt is a columnist with China.org.cn. For more information please visit:
http://www.china.org.cn/opinion/MitchellBlatt.htm
Opinion articles reflect the views of their authors, not necessarily those of China.org.cn.