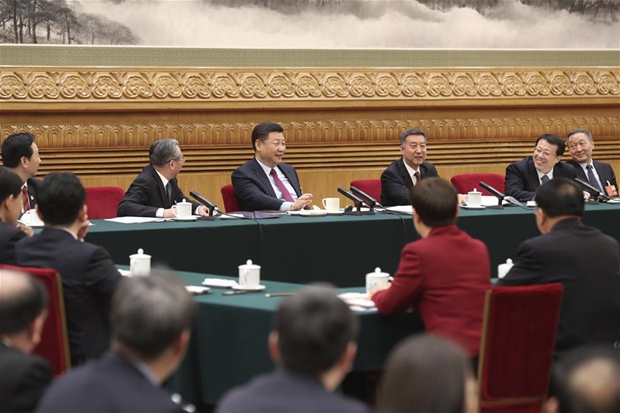 Chinese President Xi Jinping, also general secretary of the Communist Party of China (CPC) Central Committee and chairman of the Central Military Commission, joins a panel discussion with deputies from Shandong Province at the first session of the 13th National People's Congress in Beijing, capital of China, March 8, 2018. (Xinhua/Sheng Jiapeng)
It's the "two sessions" time – the high point of China's important political gatherings, comprisng of th National People's Congress (NPC), China's top legislative body, and the Chinese People's Political Consultative Conference (CPPCC), China's top advisory body.
Every year's two sessions witness senior state leaders take part in panel discussions with deputies of the NPC and members of the CPPCC National Committee. These panel discussions offer an opportunity for the Chinese central leadership to listen to opinions of grassroots deputies and then express their own thoughts in a face-to-face manner.
Ever since President Xi Jinping took office in 2013, he has put great emphasis on socialist democracy which features politial consultation, participation in the deliberation of state affairs, and democratic supervision.
This year Xi's panel discussions with the deputies touched upon an array of topics, including poverty alleviation, rural vitalization strategy, social governance, the people's livelihood, ecological environment, industrial optimization, innovation and employment, as well as the amending of the Constitution. It is anticipated that all these issues will be finalized during the ongoing two sessions and will contribute to Xi's pledge to build a "beautiful China."
The eradication of poverty is one of the key areas of Xi's panel discussions with the deputies from Inner Mongolia Autonomous Region. President Xi called on officials to make greater efforts to help poverty-stricken people get out of the poverty. He said that "the focus of high-quality economic development should be placed on transforming and upgrading industries. Efforts should be made to strengthen and improve the real economy."
It should be noted here that the Communist Party of China has made a solemn promise to lift all remaining poverty-stricken people out of that status by the end of 2020. The impoverished population has been declining from more than 80 million in 2013 to about 30 million in 2017.
While joining a panel discussion with the delegation from south China's Guangdong province on March 7, Xi stressed economic restructuring, scientific innovation, opening-up and better governance. Guangdong has been at the frontline of China's reform and opening-up drive since the policy was introduced forty years ago. The southern province has become a dynamic innovation hub that has given birth to many Chinese high-tech giants, such as Tencent and Huawei.
While attending discussions with NPC deputies from east China's Shandong province on March 8, President Xi re-emphasized the importance of revitalizing rural areas in order to build a moderately-prosperous society. It is anticipated that China should embark upon modernization of the agricultural and rural areas and will balance growth between urban and rural areas.
Overall, in China, democracy means "the people are the masters of the country." In China's political framework, the NPC system, the system of multi-party cooperation and political consultation led by CPC and a national minority's regional autonomy system, etc. are all democratic forms with Chinese characteristics. In this perspective, Xi's panel discussion with the deputies has surely enunciated the vigor and vitality of the people's democracy in China.
Rabi Sankar Bosu, Secretary of New Horizon Radio Listeners' Club, West Bengal, India
Opinion articles reflect the views of their authors only, not necessarily those of China.org.cn.