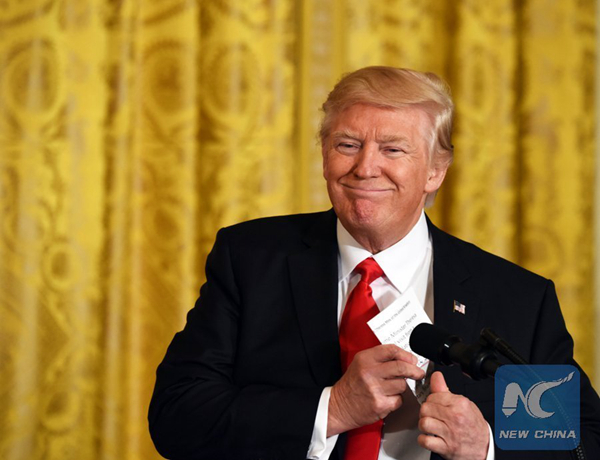 U.S. President Donald Trump [Photo/Xinhua]
Trumpian diplomacy – It's like the diplomacy you know and love, just backward.
In a fast-moving series of events over the past several days, the United States President seems to be turning decades of foreign policy precedent on its head. And when up is down, and down is up, the world should be nervous. These are not just any negotiations – these are negotiations between two nuclear powers, who just months ago were comparing "button" sizes.
A time-line of the key events is as follows: On March 8, U.S. Secretary of State Rex Tillerson expressed pessimism regarding U.S.-North Korean negotiations when he stated bluntly that the U.S. was "a long way from negotiations" with North Korea – but it seems the President didn't agree. Within less than 24 hours, the United States seemed to take a U-turn and went on to set an international relations precedent when it seemingly agreed to accept an unconditional meeting with the North Korean leader "by May."
This announcement was ostensibly made by the president. But in yet another unprecedented move, the announcement was made, not by the authority of the United States itself, but rather a South Korean envoy in front of the White House. This was, in a word, unexpected.
The U.S. diplomatic corps seemed to be caught unaware. In the aftermath, the White House couldn't seem to keep its message straight, where within minutes White House Press Secretary Sarah Huckabee-Sanders seemed to backtrack when she appeared to add conditions to the meeting, demanding "concrete" and "verifiable" actions from North Korea.
What is more surprising still is how either the President doesn't seem to understand how diplomacy works, or he is upending generations of diplomatic procedure. It is very rare for a President to meet with a Head of State for negotiations with consequences of this magnitude without intense on-the-ground negotiations beforehand. Weeks of planning and months of diplomatic demands and deal-making are required simply to make sure that negotiations don't blow up, ending as an embarrassment for both sides. This should lead us to ask two key questions regarding this whip-lash inducing Trumpian Foreign Policy:
First, was this announcement secretly months in the making? Or done on a whim?
It would seem more likely that this was a spur of the moment decision on the President's part. Although the U.S. State Department has indeed been gutted since President Trump took office, with the once powerful position of Secretary of State weakened, it doesn't seem likely that Secretary of State Tillerson would have been kept in the dark had this been a well planned and deliberate diplomatic response.
The implications of this sort of seat-of-the-pants international relations can be far reaching. While some analysts claim that keeping the enemy "on their toes" is a tried-and-true military tactic, it is clear that this is no way to implement a global strategy. Tactics are individuated and keep an eye to the present, whereas strategy must focus on long-term interests that often have implications far beyond a single presidency.
Second, is this a bold new hands-on foreign policy? Or just hyperbole?
Regarding the former, President Trump has not shown that he is capable of recognizing either the short-term nor the long-term implications of his foreign policy decisions. His recent decision to recognize Jerusalem as the capital of Israel is one such example. The President and his advisors seemed to understand this act in extremely two-dimensional terms, where he would at once receive support among Jewish and conservative political circles, whilst simultaneously improving an already happy relationship with Israel.
The international implications of Middle East peace, relations with Middle East partners, and the overwhelming global backlash were grossly underestimated. However, if this is merely hyperbole or political positioning on the part of the President, Mr. Trump will indeed find it difficult to backtrack on this pledge without severely damaging U.S.-Korean relations and any prospect of de-nuclearization in the Korean Peninsula.
As the events from this past week seem to illustrate, U.S. diplomacy has been turned upside down. Trumpian policy is a reactive policy that lacks strategic focus, and this new Trump style diplomacy seems to fit this mold. How the President reacts next could shape the next decade of U.S.-North Korean relations – with global repercussions.
Michael D. R. Long is PhD candidate at the University of Cambridge Department of Social Anthropology with seven years of experience in China.
Opinion articles reflect the views of their authors, not necessarily those of China.org.cn.