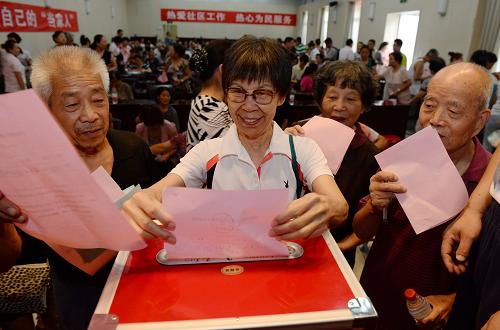 Democracy in China [File photo]
While the West draws sharp differences between the ideology of democracy and Communism, we are less familiar with how they differ in terms of structure and operation.
A different political system
In a democracy, the ability to vote for who is in charge of policy is a pressure relief valve, endemic to the continuity of the system, which allows parties and individuals, absent serious scandals, to "live for another day."
Under the Chinese Communist system there is no pressure relief valve, and few second chances, so while individuals can fail, the Party as the responsible entity cannot.
The difference is important because it shapes the way both systems work.
Democracy
Democracy is not one system, and while there are common inspirations, countries draw heavily on their own history and culture to create their own versions. From Parliamentary systems in Great Britain to previous colonies like India, Canada, Australia, etc.… all claim the same lineage, but seem in practice to be very distant cousins. The same is true for those countries that have drawn on the American version of democracy.
But, while there are stark differences, what they share is a base of professional civil servants who serve policy makers who are most often not professionals. Their tutelage is generally at the political party level where they learn the art of blending their ideas with those of their constituents and special interests.
The primary purpose of political parties in a democracy is to rule or question, so political parties in democracies float ideas to attract votes and gain position; once in charge, they take on the difficulties of trying to implement what they promised. Donald Trump is going through this as we speak. What was easy to say on the campaign trail is more difficult to implement, once you are in power, especially if you are a newcomer to politics and government. As Trump is learning, being an enthusiastic amateur and Tweeting about change does not make it happen.
Another issue is that those who take power do so based on their opposition to the existing policies of the previous administration, the results, as can be seen today, are massive policy shifts which scuttle years of civil service planning and resources. The economic displacement within government is in turn reflected in winners and losers among the populace and business.
China's version of communism
In China, the government has taken a unique path, which has no comparable, which reflects its Marxist Socialist revolutionary and ideological beginnings as well as its historical and cultural roots. It has therefore challenged many political assumptions made by those, especially in the West, who believe liberal democratic capitalism is the only stable social political economic form of government.
From the outside, China appears to be run like a corporation for the public good, in the sense that both the civil service and policy makers are about 98 percent trained experienced industry (policy making and implementation) professionals, who have dedicated their lives to "serving the people."
Problems are treated like case studies; the issues are identified, researched, discussed and prioritized. Proposed solutions undergo the same process. Decisions are based on a consensus model, involving various government departments, and their respective Party counterparts, hashing out recommendations over numerous long meetings. Keep in mind that while they all uphold the government, they are separated by function (this means someone who was a Governor yesterday, will see things differently if he is the Party Secretary today). However, once a consensus decision is reached, everyone is expected to support and implement it, not like Great Britain's Parliamentary party system.
In comparison to democratic systems, China's approach results in less economic displacement, things tend to be more about emphasis, rather than change. The changes, which can be observed, are most apparent in terms of implementation, so, for example: the goal was to implement a real estate property tax aimed at cooling the rampant speculation in the overheated property markets and as a way of providing a revenue stream for local governments that were too dependent on land sales (which was contributing to increased housing costs), when the law to be introduced ran into resistance, the result is the implementation will be delayed, not abandoned.
To broadcast and implement policies, government and Party officials attend schools and participate in private meetings, file work reports and keep up with Party policies and meetings like the Two Sessions we are currently witnessing. This is a contrast to the time and money political parties, public and special interest groups spend, in democratic countries, on trying to influence and lobby their positions and interests.
On a different note, in terms of communication, one thing which often seems to baffle many is the amount of "official" speak, which accompanies most major changes in the Chinese system. Every pronouncement seems to be cloaked in past ideology, history and policy. It is a glaring contrast to democratic politicians who try to portray their suggestions as being new and unique. The reason is, Chinese policies are the result of a system which emphasizes planning, continuity and consensus rather than ingenuity, novelty and political will (I would stress this is a matter of a difference of emphasis).
In China, to stress the importance of new policies and changes and how they relate to the government's authority and work, every new initiative, pronouncement, law and/or regulation recites a litany of Marxist, Socialist and leadership thought and policies; it is a way of reminding everyone of the basis of the party's role and legitimacy, a kind of catechism, which is used to remind Party members of the government's purpose, and therefore the Party's responsibilities.
In a democratic system, politicians generally try to cast themselves as heroes who have arrived to save the situation, just ask Trump, May, Macron, Putin and others.
In the end the question for China is which system is able to provide for the public safety welfare and continuity for the people it serves.
Einar Tangen is a political and economic affairs commentator, author and columnist.
Opinion articles reflect the views of their authors, not necessarily those of China.org.cn.