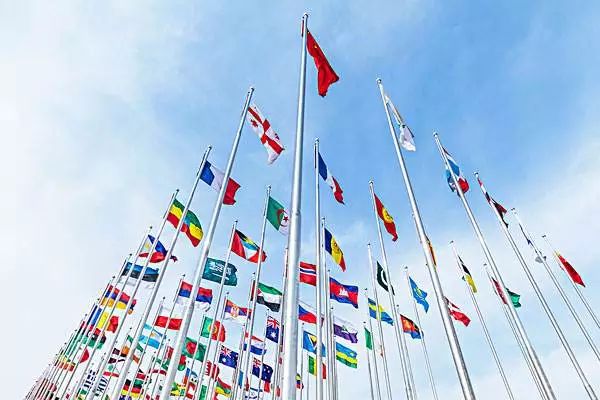 The community with a shared future for humanity is a concept China put forward for the benefit of world peace and development. [File photo]
As a rising power on the world stage, China intends to make its full contribution to maintaining world peace and development by putting forward some eye-catching notions, such as the community with a shared future for humanity.
This is not simply an ordinary phrase, or even a slogan. It was added to both the Constitution of the Communist Party of China, as amended in October 2017, and the Constitution of the People's Republic of China, the draft amendments of which have been adopted at the first plenary session of the 13th National People's Congress on March 11.
It first saw light in a white paper entitled China's Peaceful Development, published by the Information Office of the State Council on September 6, 2011. According to this document: "Economic globalization has become an important trend in the evolution of international relations. Countries of different systems and different types and at various development stages are in a state of mutual dependence, with their interests intertwined. This has transformed the world into a community of common destiny* in which members are closely interconnected. "
President Xi Jinping has mentioned this phrase many times at different occasions. The only difference between his speeches and the 2011 White Paper is that he adds "for mankind or humanity" after the original expression. In his important speech at the United Nations meeting in Geneva, on January 18 last year, for instance, he laid out the requirement in these words: "Pass on the torch of peace from generation to generation, sustain development and make civilization flourish: this is what the people of all countries long for; it is also the responsibility that statesmen of our generation ought to shoulder. And so, China's proposition is to build a community of shared future for mankind, and achieve shared, win-win development."
Of course, fancy ideas, or great visions, can be realized only through tangible actions. In order to build the desired global community, President Xi has outlined an action plan covering five areas:
- Staying committed to building a world of lasting peace through dialogue and consultation;
- Establishing a world of common security for all through joint efforts;
- Creating a world of common prosperity through win-win cooperation;
- Developing an open and inclusive world through exchanges and mutual learning.
- Ensuring a world that is clean and beautiful by pursuing green and low-carbon development.
In the process of writing a paper on this concept, I conducted an informal survey with many of my foreign friends and foreign students via emails, social media and face-to-face interviews. I hope to know what they thought of the proposal, and how such a community could be realized. To my surprise, almost none of them had ever heard of it.
To construct an all-embracing community with a shared future is no easy task. It entails strenuous efforts by every individual and every nation. As a first step, the meaning of the word "community," and the significance of creating it, must be made known as widely as possible.
Over the past few years, Chinese media and the academic community have paid great attention to the Belt and Road Initiative (BRI). There have been so many conferences, symposia and seminars on the concept, and the media has offered wide coverage of various events associated with it. Relatively speaking, not many academic meetings have, so far, been held to discuss the community of shared future for all humanity.
To make up for this shortfall, Chinese academics need to organize more international discussions on this topic, and the media needs to publicize such events.
As the BRI is one of the best paths towards the realization of a community with a shared future for humanity, both have an important role to play.
Indeed, a growing number of Chinese publications have come forth to promote this great cause. Unfortunately, most of them are written in Chinese and have little influence outside of China. It is, therefore, necessary to translate well-written books and papers into foreign languages so as to attract more non-Chinese readers. The Internet can also play an important role in this regard.
Nowadays, in every Chinese university there are many foreign students pursuing graduate or undergraduate studies in different academic fields. They are the future of the world, and it is they who will bear the greatest responsibility for developing the desired community with a shared future. In addition, they can also be a bridge linking China and their native places. Therefore, Chinese universities must seek to offer lectures or even whole courses on the topic.
It is also necessary to point out that, to publicize the concept, Chinese scholars and the media must use appropriate language that can be easily understood by the outside world; otherwise, what they say is likely to fall on deaf ears.
*This is the early-stage English translation of the Chinese concept "ren lei ming yun gong tong ti." It was later changed to the version of "a community of shared future for mankind" and then further to the version of "a community with a shared future for humanity" to better convey the conception of this Chinese phrase. – The Editor
The writer is a columnist with China.org.cn. For more information please visit:
http://www.china.org.cn/opinion/jiangshixue.htm
Opinion articles reflect the views of their authors, not necessarily those of China.org.cn.