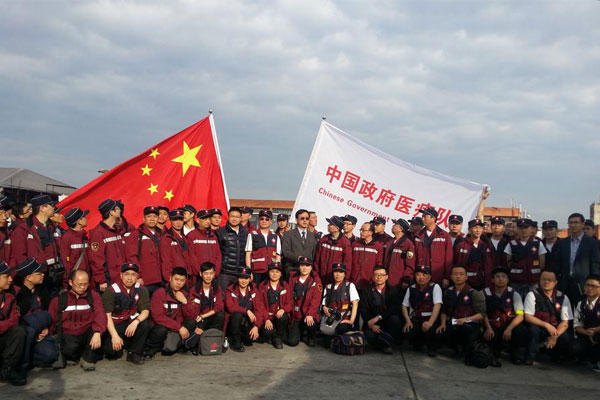 A 58-member Chinese medical team arrives in Kathmandu, capital of Nepal, on April 27, to provide medical assistance to quake-hit Nepal. It is the first medical team sent by the Chinese government to the country after a massive 8.1-magnitude quake shook the country. [Photo/Xinhua]
Nepal and China are set to take their bilateral ties to newer heights as both enjoy a favorable political climate following the installation of strong leadership.
Nepal has a majority-left government that has been seen as "China-friendly," while China has successfully re-elected the incumbent President and Prime Minister entrusted with the responsibility of transforming the second largest economy into an advanced and prosperous socialist state by middle of this century.
Meanwhile, China's foreign policy has evolved under the broad concept of "building a community with a shared future for humanity." The nation has started a series of groundbreaking initiatives aimed at ending poverty, inequality and alienation on a global scale. As an immediate neighbor, Nepal is poised to tap opportunities that come in the form of investment, aid, trade, infrastructure development and connectivity through the Belt and Road Initiative (BRI).
In his recent congratulatory message to Nepal's newly elected President Bidya Devi Bhandari, Chinese President Xi Jinping said that he attaches great importance to the development of China-Nepal relations, and is willing to promote a comprehensive and lasting partnership between the two countries to engender ongoing achievement and friendship.
Xi stressed that China and Nepal are close neighbors and affirmed that "China always respects and supports the Nepalese people's independent choice of social system and development path."
Nepal's Premier KP Sharma Oli, who led the Left Alliance to sweeping victory in federal and provincial polls last year, has expressed optimism that Nepal-China ties will be further cemented during Xi's tenure in office. "Nepal and China enjoy cordial ties. Nepal is committed to a one-China policy and will never allow Nepali territory to be used against China," Premier Oli said in his congratulatory message to Xi on his reelection to the post of President.
Chinese President Xi is expected to visit Nepal by the end of this year, according to Foreign Affairs Minister Pradeep Gyawali, who said that Nepal is working for the visits of both Xi and Indian PM Narendra Modi in a bid to enhance equal and amicable relations with both neighbors. Xi was scheduled to visit Nepal in October 2016 but the trip was canceled for logistical reasons.
The year 2017 witnessed significant bilateral activities between Nepal and China. In May of last year the two nations signed an accord on BRI, described as the project of the century, which is expected to help Nepal overcome its deficit in investment and infrastructure development. China has become the largest investor in Nepal, across diverse fields.
Nepalis have held an increasingly positive image of China since the latter's humanitarian aid was offered during the major crisis of the Indian blockade and earthquake in 2015.
With the formation of the Left Alliance government, atmosphere has become more conducive to implement the BRI in earnest. Nonetheless, Nepal can make even better use of the economic opportunities provided by China. For instance, China has granted duty-free access to Nepal on its 8,000 products but the Nepali side has been so far unable to cash in on this opportunity in the absence of appropriate export items.
Nepal and China have already signed a memorandum of understanding (MoU) to construct a cross-border Special Economic Zone (SEZ) to facilitate trade and investment between the two countries. They are planning to construct an SEZ in Rasuwagadhi near the Nepal-China border. A team of high-level Chinese officials have also visited the proposed site of the China-Nepal Eco Industrial Park in Damak Municipality-10 of Jhapa district in eastern Nepal. The SEZ is crucial to reduce Nepal's soaring trade deficit with China and create a win-win situation.
The idea of setting up an SEZ debunks the Western myth that the BRI is a "debt trap" for the poor countries participating in the ambitious Chinese project. By helping to operate the SEZ in Least Developed Countries like Nepal, China wants to ensure mutual benefit to all, to see that no country takes advantage of the economic vulnerabilities of weaker nations.
"We will have a broader mind. No matter what stage of development it reaches, China will stand for the equality of all countries, large or small, and will respect different civilizations and systems," said Chinese Foreign Minister Wang Yi.
Speaking at a press meet organized during the first session of the 13th National People's Congress on March 8, Wang noted that China would put the greater good before its own self-interest to help less developed countries achieve better growth.
Ritu Raj Subedi is an associate editor of The Rising Nepal.
Opinion articles reflect the views of their authors, not necessarily those of China.org.cn.