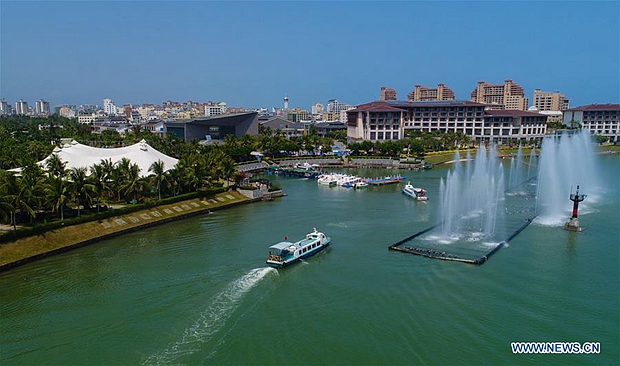 Photo taken on March 23, 2018 shows the Inaugural Ceremony Site of Boao Forum for Asia, Qionghai City of south China's Hainan Province. The 2018 Boao Forum for Asia (BFA) is scheduled for April 8-11 in Boao, a town in the southern Chinese island province of Hainan. (Xinhua/Yang Guanyu)
The importance of Asian countries to the world economy is unquestionable. Their participation in several international conferences such as the Asia Pacific Economic Cooperation (APEC) and the Pacific Economic Cooperation Council (PECC) contributes to enhanced dialogue and a better understanding of their roles. But the Boao Forum uniquely constitutes an intrinsically Asian initiative.
Nineteen years have passed since then Vice President of China Hu Jintao expressed government support for a multi-level regional cooperation network; two years later the inauguration ceremony took place in Hainan province. The Boao Forum for Asia could be compared with the Davos World Economic Forum of the East. The participation of the second largest economy of the world – China – is alone indicative.
This year's event is taking place at an awkward juncture for the world economy. Protectionist moves recently made by U.S. President Donald Trump targeting certain Chinese products, and China's subsequent countermeasures against some American items, are creating questions about the future of globalization and free trade. Against this backdrop, the participation of Chinese President Xi Jinping in the 2018 Boao Forum and the keynote speech he will deliver acquire special significance.
The possibility of a trade war between China and the U.S. is real. Although China is prepared for such a scenario to protect its interests, it would certainly be a "lose-lose" development. Perhaps the determination of the Chinese administration to take countermeasures, might function as a warning signal for the U.S. president to reconsider his approach. It is understandable that Trump is emphasizing the "America First" agenda in view of the mid-term elections of next November, but his actions are having negative repercussions for all sides involved across the globe, the U.S. included.
Xi is expected to reiterate his country's position of support for globalization and opposition to protectionism. Following his keynote address last year in Davos, China has emerged as the key global player in that regard by passionately advocating for relevant values in the public sphere. For their part, the U.S. and the EU are challenging this approach and complain of limited opportunities for their companies wishing to do business in China. The German Chancellor Angela Merkel has set this tone in recent months. Therefore, the 2018 Boao Forum might be a good opportunity for the Chinese president to concentrate on measures already taken by his government – or to be applied in the near future – in order to open the Chinese market to foreign investors.
Symbolically, this year marks the 40th anniversary of China's reform and opening-up. The process is ongoing, but progress monitored over the previous months is impressive and has been acknowledged by Western media. In November 2017, for example, Bloomberg published the piece "China makes historic move to open market for financial firms," while Reuters and Financial Times produced new items of similar content. Needless to say, however, Western criticism on Chinese policies has not disappeared. The results of China's opening-up need more time to be realized on a practical level, and more sectors of the economy need to become part of it in the process. Xi's commitment to further opening-up will not be reversed and goes in line with the so-called "New Normal" policy implementation.
Meanwhile, the Belt and Road Initiative (BRI) is on the Forum's agenda and will likely figure in the Chinese president's keynote. A remarkable achievement under Xi's leadership is that China is becoming a contributor to the growth of other countries through the active presence of its state-owned enterprises in numerous infrastructure works. Despite the broad scope of the BRI and its impact in different continents, Asian economies are largely benefiting.
Critics – there is no shortage in Western media – are focusing on delays in the execution of some projects and note that the initiative has not met initial expectations. Of course, it is natural for some delays to occur. There is no precedent for simultaneous investments of that scale to take place in different regions. High-ranking officials set to speak in the Hainan province cannot but elaborate on the win-win concept presenting tangible results.
It is the third time Xi is attending the Boao Forum as Chinese president. In a period during which fears for the future of the national economy of his country have been appeased and signs of stabilization are becoming apparent, it is perhaps China's growing responsibility in world economic affairs which matters more. And this is what the international audience expects to hear. Xi is expected to provide specific answers and present future perspectives.
George N. Tzogopoulos is a columnist with China.org.cn. For more information please visit:
http://www.china.org.cn/opinion/GeorgeNTzogopoulos.htm
Opinion articles reflect the views of their authors, not necessarily those of China.org.cn.