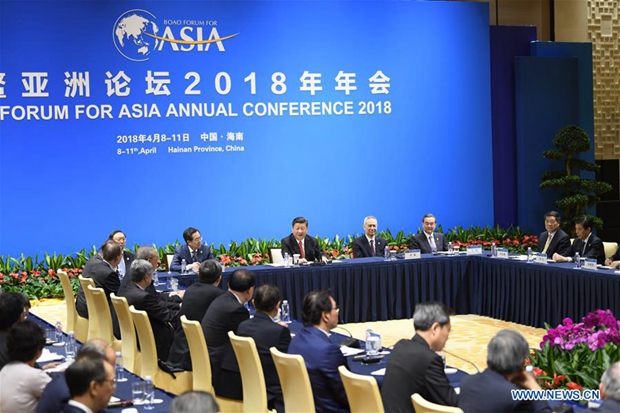 Chinese President Xi Jinping holds discussions with representatives of entrepreneurs from home and abroad, who gather here for the annual conference of the Boao Forum for Asia (BFA) in Boao, south China's Hainan Province, April 11, 2018. (Xinhua/Li Xueren)
Facing the foggy weather of a prolonged trade war with the U.S., Chinese President Xi Jinping delivered a robust defense of globalization, demonstrating China's commitment to opening up in his keynote address to this year's opening ceremony of the Boao Forum for Asia on April 10.
Xi's Boao speech was even more stronger than his speech at Davos 2017, and offered government and business leaders across the world an enthralling vision of China's commitment to economic cooperation through a number of landmark measures for enhancing common development.
In his fourth appearance at the Boao Forum, President Xi focused on the new measures that China is ready to put in place to further open China's economy to trade and investment.
In a fitting reply to the Trump administration's tariff war, Xi charted the right course for economic globalization. Though he did not directly mention the current Sino-U.S. trade dispute in his speech, he said that opening brings progress, while closure would lead to backwardness. His speech is rich in symbolism: "We must dispel the clouds to see the sun, as we say in Chinese, so as to have a keen grasp of the law of history and the trend of the world."
He also portrayed a global China which will "stay as determined as ever to build world peace, contribute to global prosperity and uphold the international order." Surely, this China very much belongs to his "New Era Thought." Needless to say, new China has already become a great power with the ability to influence the global order.
Xi's speech is especially noteworthy, because it has shed light on how to fulfill the vision of building a community of shared destiny for mankind. This is why he called for the joint efforts of the world to pursue peace and stability, urging that "the cold-war and zero-sum mentality" should be replaced with win-win results.
While the United States has announced a series of unilateral tariffs on imports mainly targeted at China, it's really encouraging to hear that President Xi announced further steps in financial sector reforms, protecting intellectual property and lowering tariffs on imported autos in order to lead China to go further in opening-up.
As 2018 marks the 40th anniversary of China's landmark economic reforms and opening up, which created China's economic miracle, President Xi , in his address, hailed the reform and opening-up policy: "Today, the Chinese people can say with great pride that reform and opening-up, China's second revolution if you like, has not only profoundly changed the country but also greatly influenced the whole world."
Surely, China's reform process has brought enormous benefits to China and its people. About 700 million Chinese have risen above absolute poverty in the past 40 years, and the remaining 30 million are expected to follow suit by 2020. China's GDP has grown 32.3-fold between 1978-2016, ranking it the second biggest economy in the world since 2010. China's stable economic growth has brought more opportunities to the world.
Underlining the Belt and Road Initiative (BRI) as a platform for international cooperation, he emphasized, "China has no geopolitical calculations, seeks no exclusionary blocs and imposes no business deals on others." When the Western media dubbed the BRI as "Debt imperialism," more than 86 countries and international organizations signed the 102 Memorandum of Understanding with the Chinese government to jointly build BRI projects, which is a clear vote of confidence from the international community.
History has repeatedly shown that no country would benefit from a zero-sum game. As such China is inviting more countries to join in free trade, as well as join the Belt and Road Initiative. It is hoped that all countries should aim to build a community with a shared future for mankind and create a better tomorrow for everyone around the world.
Rabi Sankar Bosu, Secretary of New Horizon Radio Listeners' Club, West Bengal, India
Opinion articles reflect the views of their authors only, not necessarily those of China.org.cn.