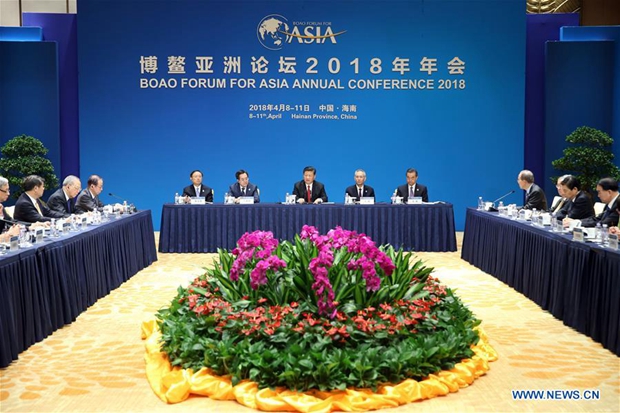 Chinese President Xi Jinping meets with incumbent and incoming members of the Board of Directors of the Boao Forum for Asia (BFA) in Boao, south China's Hainan Province, April 11, 2018. (Xinhua/Yao Dawei)
When economic multilateralism and free trade is under attacks from the erstwhile proponents, the enthusiasts for globalization have found a new hero to espouse their cause both with words and actions. Chinese President Xi Jinping has stepped forward to side with economic liberalism at a critical juncture in history.
There wasn't a better occasion to present his detailed globalist vision than the Boao Forum for Asia that has emerged as a meeting place for leaders, financial wizards, policymakers and practitioners from Asia and the rest of the world. Dubbed initially as "mini Davos," the platform is poised to outstrip other similar gatherings in the coming years.
Both Davos and Boao provide an opportunity for the exchange of ideas and discussions on economic issues. Xi, in his speech to the Davos conference last year, voiced support for free trade and the removal of unnecessary barriers that hamper unbridled economic activities. He further elaborated his ideas at the inaugural speech at this year's edition of Boao Forum for Asia.
The theme of the four-day event – "An Open and Innovative Asia for a World of Greater Prosperity" – resonated with Xi's speech, which spelled out an elaborate idea for the conference which aims to promote consensus-based cooperation for global trade.
Put simply, Xi made a fervent case for globalization in his speech. He said that humanity has a major choice to make between openness and isolation, and warned that those going for isolation will be left behind and ultimately consigned to the dustbin of history.
He spoke at length on the arduous journey of China from a backward nation to the second biggest economy of the world in the last 40 years. He said China embraced the world by opening up and carved out a place through sheer hard work and determination.
The Chinese leader promised that his people were ready to share their expertise and vision with others and announced measures to further open up the economy. This indirectly addressed some of the recent U.S. concerns related to tariffs imposed by China on imports of certain items including cars.
Xi reiterated that the Chinese experience shows that there is more than one path that can lead a nation to the height of glory and progress. The Chinese nation opted to follow the path of "socialism with Chinese characteristics" and it hugely paid off.
Thus, Xi also made a plea for a socialist model of governance practiced in China that is based on democratic centralism and targeted economic liberalism by following the international system and economic norms. Its best example is China's adherence to the WTO regime.
Xi's speech shows that China is an important global player because it has become a key anchor and driver for the world economy. It is also playing role for global peace and development due to a direct link between the progress and growth of China and the rest of world.
He offered a vision for community of shared values based on cooperative structures. China on its part will continue to improve through reform and take steps in innovation to boost development, increase openness, expand cooperation and work with the rest of the world for benefit of all.
For the world visualized by Xi, there is no place for zero sum games and a cold war mentality. When you are aiming for "win-win or all win" goals, then it is only possible through openness and connectivity. Such objectives need a globalist vision that will lead to progress. Conversely, seclusion will result in regression.
When the world is facing profound challenges of readjustments, there is a new round of industrial revolution offering opportunities and challenges. Xi listed threats of war, hunger, poverty, climate change and diseases as formidable obstacles for world cooperation but said that it can be tackled through collective efforts.
Xi didn't forget to highlight the role of 1.3 billion Chinese who have made tremendous progress in the last 40 years since the start of the opening up. The Chinese people have embraced the world with an open heart and played a significant role in contributing to the world growth. China will never shut its door to openness and cooperation with others.
The speech is a plea for coming closer together by shunning differences so that all could live in peace and prosperity. It is a great vision for inclusive model of development and rejection of prevalent exclusive approach that benefits only a handful of the global elite.
Sajjad Malik is a columnist with China.org.cn. For more information please visit:
http://www.china.org.cn/opinion/SajjadMalik.htm
Opinion articles reflect the views of their authors, not necessarily those of China.org.cn.