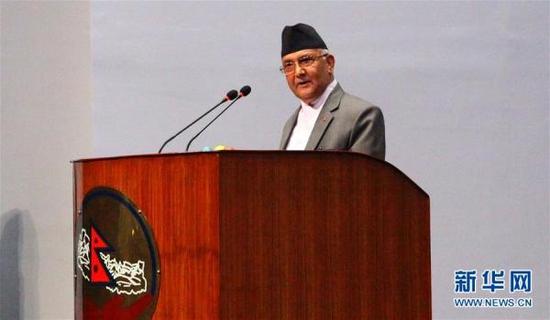 Nepal's Prime Minister KP Sharma Oli [Photo/Xinhua]
Nepal's Prime Minister KP Sharma Oli's three-day visit to India from April 6-8 generated lots of bilateral and geopolitical interest on the both sides of border. Indian PM Narendra Modi apparently sought to correct his domineering foreign policy towards the smaller neighbor by rolling out the red carpet to his former bête noire Oli.
India offered him special treatment for two particular reasons. First, Oli has emerged as the country's strongest premier in decades, commanding the support of more than three-thirds of the parliament. India can hardly shrug off the huge popular mandate Oli secured on a platform of nationalism in the three-tier polls last year.
Second, India is irrationally gripped by Sinophobia by Nepal's growing rapprochement with China, especially after Nepal endured the cruel Indian economic blockade in 2015. India still considers Nepal in its "exclusive sphere of influence" and does not want other powers to intervene. Eager to wipe the slate clean, Modi praised Oli as a leader of "bold vision," and said Oli's motto of Samriddha Nepal Sukhi Nepali (Prosperous Nepal Happy Nepali) matched his own vision of Sabka Saath Sabka Vikas (Collective Efforts Inclusive Growth).
During their one-to-one talks, Oli reminded Modi that many past agreements and projects to be executed with Indian funding have not made any headway to date. The two sides entered new accords on the Raxaul-Kathmandu railway network, inland waterway connectivity and agricultural development in Nepal. The previous two deals are seen as India's response to the proposed Nepal-China railway connectivity from Kerung to Kathmandu, and Nepal's trade and transit treaty with China, which provided Nepal with access to the sea.
For Oli, the visit was a huge success from a political and diplomatic point of view though he attempted to turn the spotlight on the agenda of development and prosperity. Both Oli and Modi mended their fences. Moreover, Oli effectively maintained his nationalist stand on Indian soil. He projected himself as the strong leader of a sovereign nation while holding talks with his Indian counterpart and addressing the joint press conference. Nepal's PM consistently emphasized that Nepal pursues independent foreign relations with both neighbors and maintains equidistance between them.
In the 12-point joint statement, the two prime ministers resolved to work together to take bilateral relations to "newer heights on the basis of equality, mutual trust, respect and benefit." Perhaps it was the first time Nepal's internal issues did not figure in the joint statement. This time the Indian side refrained from including Madhes and other domestic matters of Nepal in the statement. During his first India visit in 2016, the joint statement could not be released after he objected to India's attempt to incorporate the contents of Nepal's constitution and the Madhes movement in it.
PM Modi hailed the successful conduct of local, provincial and federal elections held as per the roadmap of the new constitution, which he refused to recognize in 2015. He assured Oli that "India remains committed to strengthening its partnership with Nepal as per the priorities of the Government of Nepal."
Oli's visit took place due to the frantic initiatives of India, and the way the date of the visit was unilaterally made public raised the eyebrows of many observers. This forced Oli to cancel his participation in the Boao Forum for Asia held in south China's Hainan province from April 8-11.
"I can't speak for India's intention, but it succeeded in stopping Oli from participating in the Boao Forum," said former Nepali ambassador to China Tanka Karki.
Oli lost a good opportunity to meet with top Asian leaders, including Chinese President Xi Jinping at the Boao meeting.
Before and after Oli's visit, Indian media had published reports and opinion pieces full of anti-China caveats. Prior to his visit, one media outlet claimed Modi would tell Oli that India would not buy power from the Chinese-aided hydro projects.
In his commentary, Prof S D Muni said, "The Indian side has gone along with Oli's sentiments in all public pronouncements, but has quietly conveyed the message subtly, yet firmly, that undue warming up with China and Pakistan will not go down well with New Delhi." This sort of hegemonic attitude goes against the grain of independent and balanced foreign policy the new dispensation is following resolutely.
He said that India might not purchase electricity, generated from the China-funded projects in Nepal, and re-stoke the Madhes issue should Nepal ignore India's concerns. Displaying his old colonial mindset, Muni even asked the majority communist government not to allow China in the Terai region bordering India. He mistakenly posited that Terai is India's strategic territory, a diabolic viewpoint which undermines Nepal's sovereignty and territorial integrity.
Muni, in another brazen remark, suggested that Oli give up Pakistan's advocacy for activating SAARC. He argued as if SAARC is the sole agenda of Pakistan, rather than a regional forum of eight nations that have pledged to bring common prosperity and peace to their people. Nepal is effortful to revive stalled SAARC process in its capacity of its current chair.
After regaining political stability, Nepal is poised to achieve inclusive economic growth with the support of both India and China. But, a sense of Sinophobia prevalent among the Indian media, former diplomats and ruling elites may also undermine the efforts to redefine Nepal-India relations in the changed context.
Ritu Raj Subedi is an associate editor of The Rising Nepal.
Opinion articles reflect the views of their authors, not necessarily those of China.org.cn.