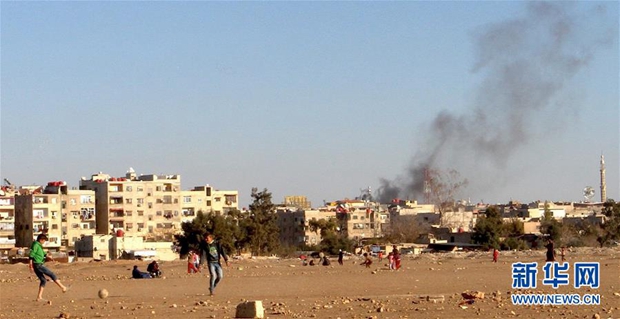 Syria [Photo/Xinhua]
The U.S., with its French and British allies, did hit Syria as the "unleashed" Donald Trump promised when reports emerged on April 7 of an alleged chemical attack against civilians in the Eastern Ghouta of Damascus.
The military option was topmost on the table. But the issue was one of whether the United States could determine and guarantee in advance how things were going to unfold later.
It took the U.S. administration several days to strike since the intention was first announced. While the decision on military action was clearly made, political, military, security and diplomatic consultations, however, were needed on how to proceed and according to what timeline and list of targets. One thing taken for granted is that the reason was never related to the alleged chemical attack.
It is of the least importance to the U.S. and its allies, who rushed to blame the Syrian government for the attack – backed by Russia and Iran – without waiting for the OPCW to conduct a probe.
As Peter Ford, Britain's former ambassador to Syria, put it in statements to Sputnik Radio Loud & Clear, it needs only "half of a brain" to know that Bashar al-Assad would derive no benefit from such an attack, as his forces have been sealing a major victory of controlling Eastern Ghouta, the capital's long-standing weak flank, where thousands of militants and their families are being evacuated.
It would be, of course, bad news for the advocates of Syrian aggression if investigations were to put the blame on the defeated jihadi militants, as they are the ones to benefit from the aftermath of a gas attack to invoke aid from Western backers in the "favorable" form of military intervention.
The fact that the strike took place on the very same day as when Damascus and Moscow-invited OPCW probe mission was to start work shows an intention to disrupt investigations for fear they might confirm Russian specialists' findings that no traces of chemical agents were found at the site, nor alleged victims were admitted at nearby hospitals.
It could thus be verified that no chemical weapon attack took place, especially as the news about it came mainly from the infamous NGO "White Helmets" – also called the "Syrian Civil Defense" – that has been busted for staging chemical weapons attacks and faking victim footages.
Trump's threat on Wednesday to use "nice, new and smart" missiles in his strike on Syria, and asking Russia to "get ready," came just two weeks after his announcement in late March that the U.S. was to withdraw its troops from Syria "very soon," and his freezing of some $200 million in U.S. funding for "stabilization" projects in the war-torn country.
This conflicted with plans devised earlier by the State Department and the Pentagon for the U.S. to keep an open-ended presence in Syria.
There are those in the U.S. administration who are against withdrawal from Syria as they believe it could cause ISIS to reemerge. There are also those who care about the trillions of dollars in military and CIA budgets, where "people" are making so much money from the war industry.
The alleged chemical attack seems a timely trigger for those who are interested in a prolonged presence to shift the balance again and orient Trump back into Syria.
However, the increasingly complicated political and military scene in Syria makes it more difficult for Washington to have a free hand to act in the Middle East region as it does elsewhere in the world.
While the supporters of the war on Syria want to turn the tables in the U.S.'s favor, they are aware that launching an assault to achieve strategic goals, like overthrowing al-Assad, or drawing red lines to stop the continued cleansing of their militant agents, would mean going for an all-inclusive battle with Russia, Iran and Hezbollah, one that would set aflame the entire region, including Israel and Arab allies, with unpredictable consequences.
Therefore, the U.S. needed the "moral" response to a "monstrous" chemical attack without crossing lines with an angry Iran, who lost soldiers in the Israeli airstrike on the Syrian T-4 airbase on April 9, and a powerful Russia, who is more than ready to fight back.
Thus, a "one-time" strike with limited Syrian chemical weapons-related targets, an operation timeline of less than 60 minutes and a warning against any future chemical weapons use was sufficient, at this stage, to save face and put the impulsive Trump back on track.
Haifa Said is chief editor of the English Department at the Syrian Arab News Agency.
Opinion articles reflect the views of their authors, not necessarily those of China.org.cn.