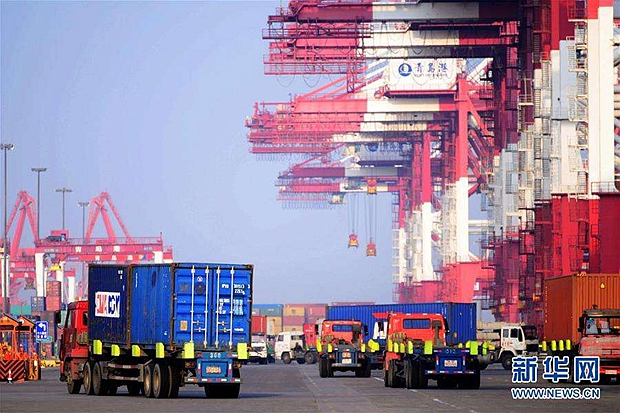 Sino-Japanese trade has undergone a marked recovery since despite sharp fluctuations in the past. [Photo/Xinhua]
Holding their first high level economic dialogue since 2010, China-Japan relations have entered a new trajectory as their foreign ministers endeavoured to find converging factors to further consolidate their bilateral ties. Following this meeting, Premier Li Keqiang will be attending the China-Japan-South Korea summit and later on this year an exchange of state visits between the Japanese Prime Minister Shinzo Abe and the Chinese President Xi Jinping is currently being planned.
Pledging to upgrade relations, the Chinese Foreign Minister Wang Yi and his counterpart Taro Kono agreed on a number of issues. While reciprocating the Japanese goodwill and positive policies, Wang Yi observed, "We are also faced with some complex and sensitive elements, but together with Japan's efforts we would like to bring China-Japan relations back on a path of sustainable and normal development."
Having had a difficult relationship due to maritime disputes and a legacy of war, China and Japan have been working on a rapprochement since a year ago. Being the world's second and third largest economies, there may have been an element of rivalry in the past but if they join their strengths they could exercise more influence.
Several factors have caused the thawing in relations, mainly the ongoing negotiations for the nuclear disarmament of North Korea, Japan announcing its support for the Belt and Road Initiative and finding common ground regarding the prevention of a global trade war.
Firstly, perceiving China's influence over North Korea, especially since Kim Jong-un's recent visit to Beijing, Japan wants to stay engaged with China and participate more actively in ending the standoff by finding a satisfactory resolution. In this regard, the Japanese FM Kono said he and Wang Yi both "confirmed that we will work in close co-ordination, while fully implementing the relevant U.N. Security Council resolutions, to make the complete, irreversible and verifiable abandonment of North Korea's nuclear and missile (programs) a reality."
Meanwhile, President Trump and the South Korean leader Moon Jae-in also plan to have direct one to one talks with the North Korean leader. Notably, Japanese Prime Minister Shinzo Abe is visiting President Trump in Mar a Lago this week to discuss diplomacy with North Korea.
Secondly, achieving the breakthrough was relatively easier ever since Japan expressed support for the Belt and Road Initiative. While China's vision for improving connectivity and trade has been the BRI, Japan's has been the Asia Africa Growth Corridor (AAGC) which symbolizes its "free and open Indo-Pacific strategy."
Similar in nature to BRI, the AAGC is about infrastructural development in two continents, namely Asia and Africa. Though it may have been an attempt to counter the influence of the Gwadar port under the China-Pakistan Economic Corridor, it could however be complementary instead. Endorsing the Belt and Road Initiative, Jin Jianmen from the Fujitsu Research Institute in Tokyo has said, "Japanese enterprises should seize opportunities to cooperate with leading Chinese companies and share the fruits of China's development by joining the initiative." Thus focusing on Belt and Road Initiative co-operation as well as trade and investment has proven a positive turning point for the two neighbors.
Thirdly, back from the brink, Sino-Japanese trade has undergone a marked recovery since despite sharp fluctuations in the past. Though it has foreign exchange reserves worth $2.9 trillion, Japan has remained in economic stagnation for over two decades. In contrast, the Chinese economy will be five times bigger by 2025 and even now it is 2.5 times that of Japan. Reviving the stalled bilateral economic dialogue, Japan and China can be on the same wavelength and effectively contain the global trade war by increasing mutual co-operation.
Additionally, both nations have also been working on a "Maritime and Aerial Communication Mechanism" to prevent unintended collisions in the area so there is going to be more regular and positive engagement in the days ahead.
Finally, 2018 marks the 40th anniversary of the signing of the China-Japan Treaty of Peace and Friendship so there can be no better time to work towards improving relations.
Sabena Siddiqui (Twitter: @sabena_siddiqi) is a foreign affairs journalist and lawyer based in Pakistan.
Opinion articles reflect the views of their authors, not necessarily those of China.org.cn.