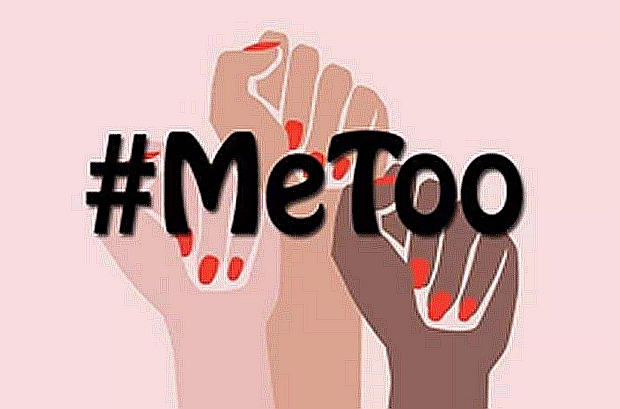 The #MeToo movement [File photo]
The #MeToo movement has inspired women around the world to be more vocal about the harassment and discrimination they face, leaving many men to wonder: What role do we play in fighting misogyny?
Too often, it's viewed as a problem we can do nothing about. As long as we individually don't harass women, what more can we do? This is certainly a prerequisite, but a very basic one indeed. If we really care about ending sexual assault, there is much more we must do.
In today's society, men are afforded more freedom and power in setting social norms. Men have more flexibility in expressing themselves in ways that would have women labeled "unladylike" if they were to do the same. It is for these reasons that men must speak out and take responsibility for keeping our fellow men in line.
Sadly, many men only begin to realize the problem after hearing testimony from women they know personally. I recently spoke with a close female friend of mine about an incident that took place while we were at a bar together a few years ago. One of my male friends had aggressively hit on her that evening, and even followed her to the subway station. I only remembered the beginning of that night, when the guy was speaking intensely with her about a boring topic and she was responding politely, which I wrongly assumed to be genuine interest.
But the social norms that constrain women to "ladylike" behavior have created an asymmetry in communication between men and women.
While men can say whatever they want, many women still feel the need to be viewed as "nice." Why? Because many men demand it of them. A man will often view a woman as a "bitch" if she expresses any thoughts that are disagreeable to him – especially if she punctures his ego. That is what feminists mean by "fragile masculinity."
Rarely do women go on a mass shooting because they had been bullied or frustrated in their dating lives. Yet these factor into the motivations of so many young men who commit these kinds of antisocial acts. Dylann Roof, who killed nine black churchgoers in South Carolina in 2015, most of whom were women, cited "race mixing" as one of his litany of racist motivations. Elliot Rodger, who murdered six people in California in 2014, stated in a video posted before his attack on a sorority, "You girls have never been attracted to me. … I will punish you all for it."
While the vast majority of attacks on women's rights aren't so violent, misogyny often arises from the same sources, and manifests itself to different degrees. Some is unconscious, based on ideas that are so pervasive in society that we absorb them without thinking.
At that bar a few years ago, I had mistakenly thought my female friend was interested in the conversation. I myself wasn't – so I left. My decision to leave, driven both by some selfishness and also a misreading of the situation, resulted in her being alone with him.
It wasn't until this February that I learned what really happened that night. While my female friend could tell me her true feelings, she didn't dare do anything to antagonize my male friend, a stranger to her. When he called her later, she felt the need to express how "busy" she was. That a man will only tolerate a woman turning him down if she has a busy schedule is what feminists call "male entitlement."
Her story dismayed me, and I grappled over what to say to my male friend. I knew I was in a position to do something; if I didn't, I would be shirking my responsibility just to avoid a bit of unpleasantness. If simply telling a friend off was so difficult for me, I imagined how much harder it must be for a woman worrying about a random man on the street, or at a bar, or in the office.
Ultimately, I called my friend and told him. He was accepting, and hasn't contacted her since. There are much worse stories in the #MeToo universe.
For men, taking responsibility will mean having hard conversations like this, and maybe even some fights, with friends. Avoiding such discomfort only ensures that women face greater discomfort day after day. Taking responsibility also means not dismissing women's testimony. Men should listen carefully and non-judgmentally to the stories shared online and by female friends, and then see if we can't spot some of the behaviors they have described in us, our friends and the world around us.
I have struggled over how to present my own growing awareness of this issue. It is still difficult for me to write about, especially for a public audience. But if men are to combat misogyny, we cannot remain silent.
Mitchell Blatt is a columnist with China.org.cn. For more information please visit:
http://www.china.org.cn/opinion/MitchellBlatt.htm
Opinion articles reflect the views of their authors, not necessarily those of China.org.cn.