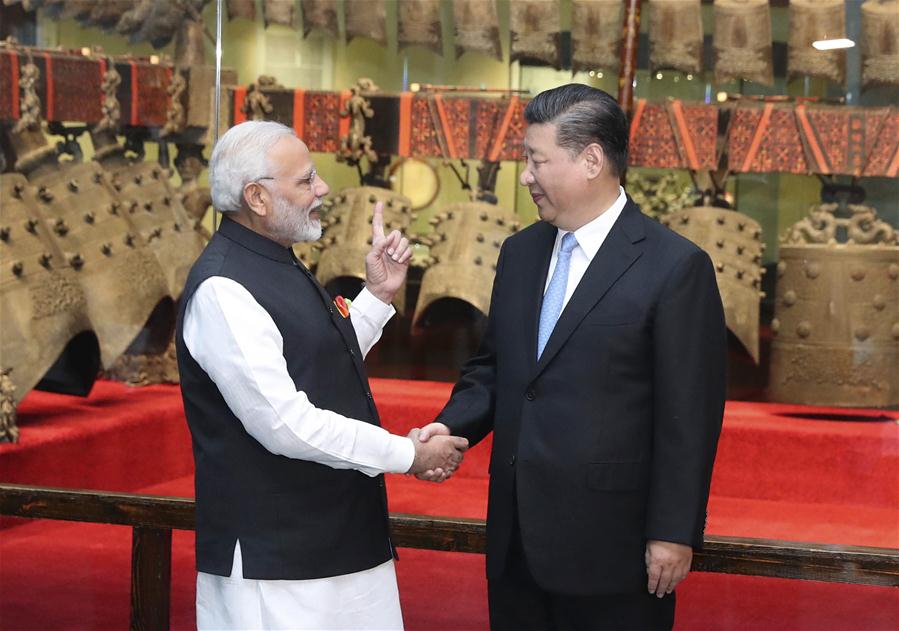 The recent informal summit meeting between Chinese President Xi Jinping and Indian Prime Minister Narendra Modi in the central Chinese city of Wuhan is likely to create a virtuous circle of relations among South Asian nations.
In a dramatic move, Xi and Modi apparently held their fence-mending parleys to leave behind rancorous feelings caused by the Donglang (Doklam) standoff some months ago and make a fresh start. They sought to overcome distrust amidst changing regional and geopolitical circumstances.
Certain segments of Indian society, including conservative political and elite groups as well as the media, were taken aback by Modi's unconventional way of thawing ties with China. But seen from a larger perspective, their rounds of informal meetings will be a milestone in ensuring regional security, development and peace. They will contribute to lessening the enmity between India and Pakistan to some extent. The Indian prime minister is expected to shed some amount of Sinophobia that had arisen from the growing number of Chinese-funded development projects in the region.
A string of South Asian countries, such as Nepal, Pakistan, Sri Lanka, the Maldives and Bangladesh have already joined China's ambitious global project, the Belt and Road Initiative (BRI), to enhance their connectivity, investment, trade, economic growth and people-to-people relations. With a siege mentality, India is still shying away from participating in the BRI, as it sees the modern version of the ancient Silk Road only from a security lens, undermining its greater economic, technological and cultural prospects. It is imperative for India to stop looking askance at the myriad Chinese-funded projects aimed at bridging infrastructural deficits and creating jobs, among other goals.
Sandwiched between the two giant neighbors, Nepal will benefit significantly more from their mutual bonhomie than from their confrontation. The Sino-Indian entente is propitious for the country when it comes to implementing projects under the BRI framework. India has been creating hurdles to the implementation of BRI projects in Nepal. If India's relations with China improve significantly, it won't put a spoke in Nepal's wheel. Nepal and China have been working to bring Chinese rail to the country, much to the consternation of its southern neighbor. The construction of proposed railway tracks from Kerung to Kathmandu will move smoothly as Sino-Indian tensions subside.
Likewise, this will reduce the security threat coming from the south, thereby making more entry points along the Nepal-China border accessible to Nepalis. More importantly, the Sino-Indian entente will be catalytic in realizing the much talked-about trilateral cooperation between Nepal, China and India.
On the geopolitical front, Nepal will feel confidence in dealing with Western powers, especially the European Union, if India and China become friendlier and more cooperative with each other. Of late, the EU has been funding some ethnic, religious and linguistic minorities in Nepal to weaken the state and create grounds for social conflict. Such gratuitous foreign meddling will be checked once trilateral cooperation between the three countries takes a more concrete shape.
Some detractors have warned that Nepal should be cautious as its two big neighbors prepare for a comprehensive partnership. They emphasize a proverb: When two elephants fight or play with each other, it is the grass that suffers the most.
However, there is reason to be optimistic about the positive outcomes of improved Sino-Indian relations. China has repeatedly said that it respects and defends the sovereignty of Nepal. It has also made it clear that it won't enhance ties with India at the cost of smaller nations in South Asia. Modi is visiting Nepal on May 11 to give momentum to Nepal-India relations in the changed context. During the trip, his body language and tone will be closely watched to determine whether or not his surprising diplomatic venture to restore relations with China is motivated by vested geopolitical interest in the region.
Ritu Raj Subedi is an associate editor of The Rising Nepal.
Opinion articles reflect the views of their authors, not necessarily those of China.org.cn.