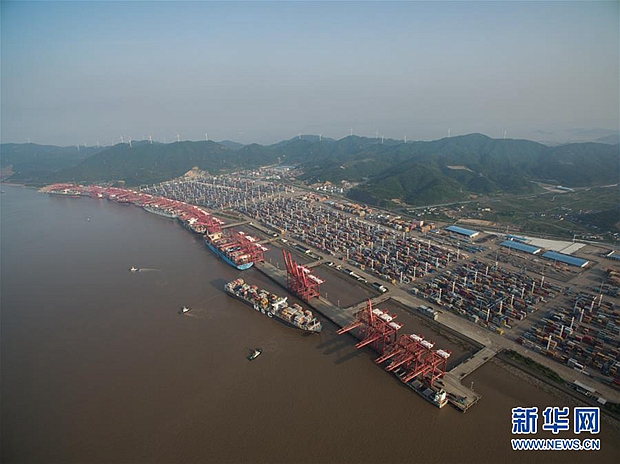 Zhoushan Port, Ningbo, Zhejiang province, China [Photo/Xinhua]

American investors are salivating as a wave of Chinese tech "unicorns" (private startup corporations worth over $1 billion) are set to go public. Lufax, the online entertainment group and lender, Xiaomi, the cell phone manufacturer, and the giant known as Didi Chuxing Technology are all in the process of making an initial public offering. A headline in the Wall Street Journal proclaims: "China's Biggest Tech Unicorns Stampede to Go Public."
While American financial circles are excited about investing in tech unicorns, they overlook that the very existence of these huge, creative, wealth-generating entities disproves a central tenant of free-market ideology. Mark J. Perry, of the American Enterprise Institute, writes: "Socialism has always proven to be a formula for tyranny and misery." He goes on to state: "By their failure to foster, promote, and nurture the potential of their people through incentive-enhancing institutions, centrally planned economies deprive the human spirit of full development. Socialism fails because it kills and destroys the human spirit…"
However, the entire history of the People's Republic of China, led by the Chinese Communist Party, stands as a solid refutation of these cliché statements that are routinely made by Perry and other ideological defenders of neoliberalism. The reality is that China's economy, in which the major centers of economic power are controlled by the state, has resulted in lifting 700 million people out of poverty, the creation of the second largest economy in the world, and now a vast amount technological innovation and creativity.
China, with five-year plans, a large number of state-owned industries, and a leading political party whose ideology is rooted in the teachings of Marx and Lenin, as applied to China by leaders like Mao Zedong, Zhou Enlai, and Deng Xiaoping, has not resulted in "tyranny and misery." Instead, the socialist model has been integral in bringing about many great achievements.
As Xi Jinping leads a crackdown on corruption and re-emphasizes the Communist Party's ideological roots, China's economy continues to improve. A recent article in "The Economist" noted how intervention from the Chinese government has displayed its effectiveness in the city of Wuhan.
It reads: "Just a few years ago Wuhan, a sprawling metropolis in the middle reaches of the Yangtze River, exemplified China's economic woes…These days, the city of 11m stands as a monument to China's resilience. Its economy has accelerated even as the government has controlled debt more strictly. Five subway lines were opened or extended in the past two years alone; they are jammed in rush hour. Investment is pouring into semiconductor production, biotech research, and internet-security companies. The glut of unsold homes is almost cleared."
The article describes how China's government has intervened in order to improve economic conditions. It continues: "The government has started to tackle several ingrained problems. After a long period of overproduction of steel and coal, a campaign to close unused capacity restrained output and pushed up prices. To reduce the property overhang, local governments bought millions of unsold homes from developers and gave them to poorer citizens."
Unlike Western capitalist countries, China has a government of action. When economic problems emerge, the state has no problem taking swift action to resolve them. The People's Republic may have adjusted its economic and political system, but it has never embraced the notions of "laissez-faire" and "the government is best which governs the least."
China remains committed to the principles of statecraft that are largely responsible for the birth of Western civilization. The scientific and cultural breakthroughs of the Renaissance era were a result of governments who worked to cultivate innovation and sought out the skilled and talented among the population. The many technological start-up companies that currently exist are a direct result of the Communist Party's efforts to foster innovation and promote those with a hard-working and innovative mindset.
Much of the rhetoric promoting radical individualism and free-market policies which are rooted in the "survival of the fittest" stand are starkly refuted on the mainland. As China moves forward, its economic successes can be directly traced back to state intervention and a collectivist, not individualist, mindset.
Caleb Maupin is a journalist and political analyst who resides in New York City focusing on U.S. foreign policy and the global system of monopoly capitalism and imperialism.
Opinion articles reflect the views of their authors only, not necessarily those of China.org.cn.