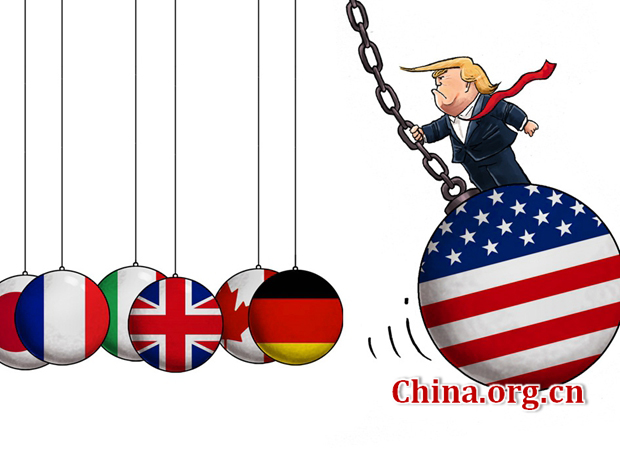 The group of leading industrial nations known as the G7 is feeling the heat of Donald Trump's American presidency. The latest summit in Canada exposed differences on metal tariffs imposed by the United States, and increased fears of an acrimonious trade conflict between the U.S. and its closest allies. Trump has a sense that America is being cheated by none other than those whom the country tried to protect over the decades. In this context, his complaint that America is "like the piggy bank that everybody's robbing" becomes meaningful. Since his first day in the Oval Office, Trump has been arguing that the old ways of relations with his country are over. He repeats the mantra of "America First" because it resonates with many voters who have been left behind in the struggle for a better financial life.
To start with, Trump forcefully asked NATO allies to pay their share for expenses incurred to keep up the alliance. This was shocking for some, who had never before been addressed in this tone and asked to do so. But the businessman in Trump believes that it is a very fair demand, and that every party to the deal should pay their due.
Similarly, starting from June 1, he imposed 25 percent tariffs on steel and 10 percent on aluminum imported from the EU, Canada and Mexico. This reverberated heavily at the latest summit.
Member nations argued in vain to convince Trump to give second thought to the issue. This effort was captured in a widely circulated photo showing a seated Trump surrounded by G7 leaders, including German Chancellor Angela Merkel staring coldly at the American president.
In a scathing tweet, Trump also flayed Canadian Prime Minister Justin Trudeau. Trudeau's crime was announcing retaliatory tariffs to be imposed on July 1, as the rift between the two closely-knit neighbors and economies becomes wider than ever before.
With its member countries commanding more than 60 percent of net global wealth, the G7 is predominantly an economic consultative platform, but also discusses the latest political matters of global concern.
The group suspended Russia's membership in 2014 in protest after the country annexed Crimea. Ahead of the Canada summit, Trump surprisingly advocated for Moscow to be readmitted into the fold, but dropped the idea in the face of stiff resistance by other members.
This failure may have bruised Trump and hardened his stance on the issue of tariffs, as well as stiffened his tongue, as evidenced by the tweet against the Canadian leader. Trump departed early from the summit, obviously not happy with the proceedings.
A joint statement calling for a rules-based trading system had been agreed to at the gathering, but later Trump declined to endorse it. The other members have announced that they will still uphold the joint statement, but that is inconsequential -- Trump's decision has left the group in tatters.
With Canada adamant on the tariff imposition and the EU announcing duties on U.S. goods, the stage is set for more bitterness in the coming months. A feisty Trump is in a combative mood, and instead of flinching, he has threatened to win trade wars "a thousand times out of a thousand."
It is a battle of ideas between unhindered, mutually beneficial trade and the old days of protectionist policies. The issue is not about who is right or wrong, but who has enough financial and industrial power to emerge stronger.
The U.S. is being isolated. The vast majority of G7 members -- as well as China -- think differently from Trump. They want a free and fair trade regime. Trump feels that he can get support of Russia, but this seems unlikely due to domestic constraints.
The G7 summit has also laid bare the deep fissures in the trans-Atlantic system. The Europeans need to think anew about their security and economic issues. When France and Germany opposed the Iraq War in 2003, then-Defense Secretary Donald Rumsfeld dismissed them as "old Europe."
For Trump, the entire European community may be qualified for the label. As far as immediate neighbors are concerned, Trump is clear that his mission is to make America stronger, with or without their support.
There is no harm in pursuing such a mission, but with all other nations adhering to visions of their own, the world will be more chaotic and prone to violence.
Sajjad Malik is a columnist with China.org.cn. For more information please visit:
http://www.china.org.cn/opinion/SajjadMalik.htm
Opinion articles reflect the views of their authors, not necessarily those of China.org.cn.