At the annual National People's Congress (NPC) meeting, China has set its economic growth target for 2019 at 6.0 to 6.5 percent. To put this into comparison with the world's three largest economies, China is expected to grow this year more than twice as fast as the U.S. and more than three times as fast as the EU.

This is particularly significant because China's performance will be set against the background of an overall slowdown of the Western economies. The International Monetary Fund (IMF), in its latest forecast in January, projects that growth in the advanced Western economies as a whole will fall from 2.3 percent in 2018 to 2.0 percent in 2019. In the U.S. it will fall from 2.9 percent to 2.5 percent, and in the Eurozone from 1.8 percent to 1.6 percent.
Even if the IMF's projection that China's growth will be 6.2 percent in 2019 is accurate — and that falls toward the bottom end of the government's target range — this means that not only will China be growing more than twice as fast as the U.S., but the economic slowdown in the U.S. will be much more severe in relative terms than in China. The U.S. economy would slow from 2.9 percent to 2.5 percent, or by 14 percent of the previous figure, while China would slow from 6.6 percent to 6.2 percent, by only 6 percent from the previous figure.
But China, in correlation with its growth target, has simultaneously set internationally leading targets on climate change and environmental issues. To put it in popular Western terms, China is emphasizing "green growth." Both aspects therefore need to be analyzed to understand the significance of the NPC's resolution.
Not just growth — per capita growth
Starting with China's growth target, the issues involved can be seen most clearly if they are considered in per capita terms. China's population growth is slower than other major economies; growth in 2018 was 0.5 percent, compared to 0.7 percent in the U.S. and 1.3 percent in India. Therefore, a part of U.S. and Indian total GDP growth, compared to China, is simply due to their more rapid population growth.
However, the increase in the wellbeing of any country's population is determined not by total GDP but by per capita GDP. In per capita GDP terms, as shown in Figure 1, China's growth in 2018 was the fastest for any major economy — 6.1 percent compared to 5.9 percent in India and only 2.4 percent in the U.S. or 1.8 percent in Germany.
Figure 1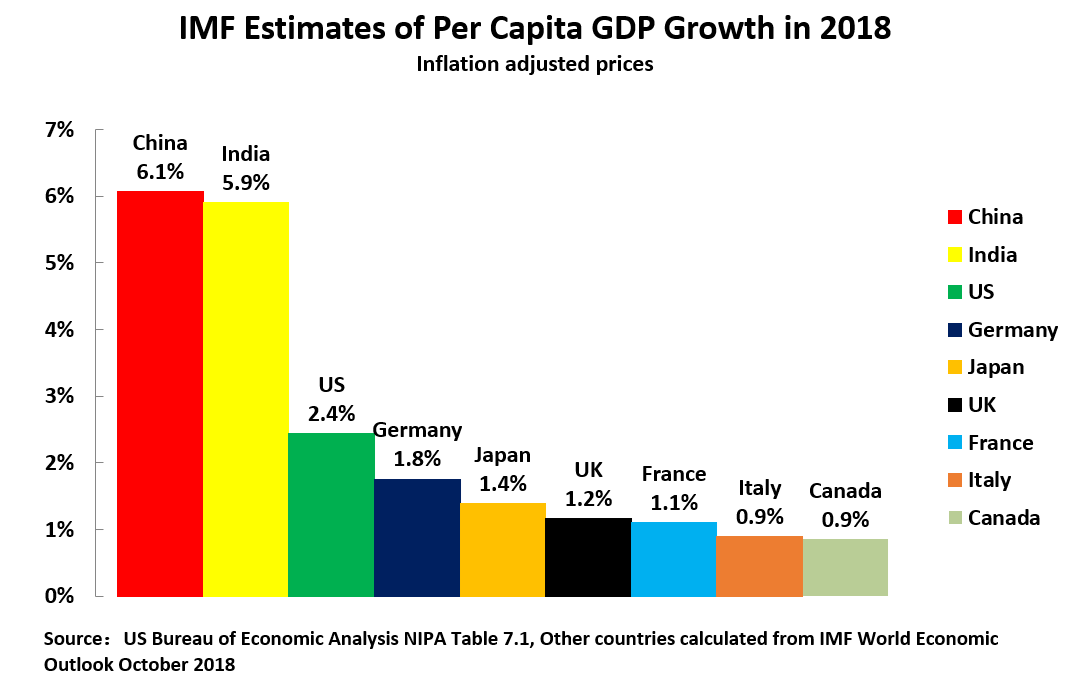 The true target beyond GDP growth
But China rightly emphasizes that GDP growth cannot by itself be the target. The correct goal is "human-centered development" — that is the improvement of the situation of humanity and the overall living conditions of China's population. China has long led the way in raising living standards, faster over the last 40 years than any major economy. It has led in poverty reduction, too — since 1978 China has accounted for almost three out of four of the number of people who have risen out of poverty worldwide, as defined by the World Bank. China's pledge to entirely eliminate absolute poverty by 2020, repeated at this year's NPC, remains an inspiring goal for all humanity.
This illustrates that growth of per capita GDP is not just a question of "concrete and steel," that is physical production. Economists know that average life expectancy is the best indicator of overall human living conditions as it sums up in a single figure all positive (reduction of poverty, education, good health care, environmental protection) and negative (poverty, bad health care, lack of education, environmental damage) trends. Internationally, more than 70 percent of differences in life expectancy between countries are explained by differences in per capita GDP.
But as China develops, its most important targets and methods necessarily have to change. To lift more than 800 million people out of poverty, as China has done since 1978, China necessarily had to rely on overall economic growth — no targeted measures would have been nearly powerful enough. But even with economic growth, the last few tens of millions of people living in absolute poverty in China could be left behind, either because they are in inaccessible parts of the country or for other reasons. Therefore, for ultimate success in eradicating absolute poverty, China has to rely on targeted measures — which require a deliberately directed state policy as set out by the NPC.

Building an 'ecological civilization'
In addition to the immediate struggles to raise living standards, to provide social protection, to extend health care, and to eliminate poverty, in the present world human-centered development must also centrally include the fight against environmental degradation and especially against climate change. The latter, in particular, is literally a deadly threat to the whole future of humanity. These goals require building an "ecological civilization," as President Xi Jinping has called it.
The effects of global climate change are already clear. The world is already seeing record-breaking temperatures, extreme heatwaves, storms, floods, and wildfires leaving a trail of death and devastation — and this situation will become progressively worse as global temperatures continue to rise. As the UN's Antonio Guterres said, scientists have warned the world about global warming for decades, but "far too many leaders have refused to listen [and] far too few have acted with the vision that science demands."
But the effective fight against climate change requires both the correct policies and huge technological and industrial capacities. China possesses both. The emphasis placed by the NPC on becoming an ecological civilization is particularly important in light of the fact that, unfortunately, the Trump administration continues to undermine the Paris Climate Agreement and has made clear that it will withdraw when the rules allow them to do so in 2020.
The NPC decisions go exactly counter to this, and are both in the interests of the Chinese people and increasingly in line with international opinion. In a key target, the government work report projects China's energy consumption per unit of GDP to continue to fall by about 3 percent in 2019. Regarding key forms of environmental pollution, sulfur dioxide and nitrogen oxide emissions will drop by 3 percent, and the concentration of fine particulate matter (PM2.5) will continue to decline in key areas.

The progress made by China in tackling pollution is already remarkable. A few years ago, Beijing and other major Chinese cities had severe smog and pollution. In 2018, Beijing is no longer even in the top 100 most polluted cities in developing countries — a fact that even Ian Bremmer, head of the Western "risk evaluation" Eurasia Group and vocal critic of China, can't dispute. Of course, much still remains to be done to fight against climate change and tackle pollution, as the NPC emphasized.
To sum up, in pursuing human-centered development — combining economic growth, improvement to immediate social conditions and living standards, and tangible steps against climate change and environmental pollution — the NPC has affirmed that China's policies continue to be among the most advanced in the world.
John Ross, Senior Fellow, Chongyang Institute for Financial Studies, Renmin University of China, is a columnist with China.org.cn. For more information please visit:
http://www.china.org.cn/opinion/johnross.htm
Opinion articles reflect the views of their authors, not necessarily those of China.org.cn.
If you would like to contribute and have specific expertise, please contact us at opinion@china.org.cn.