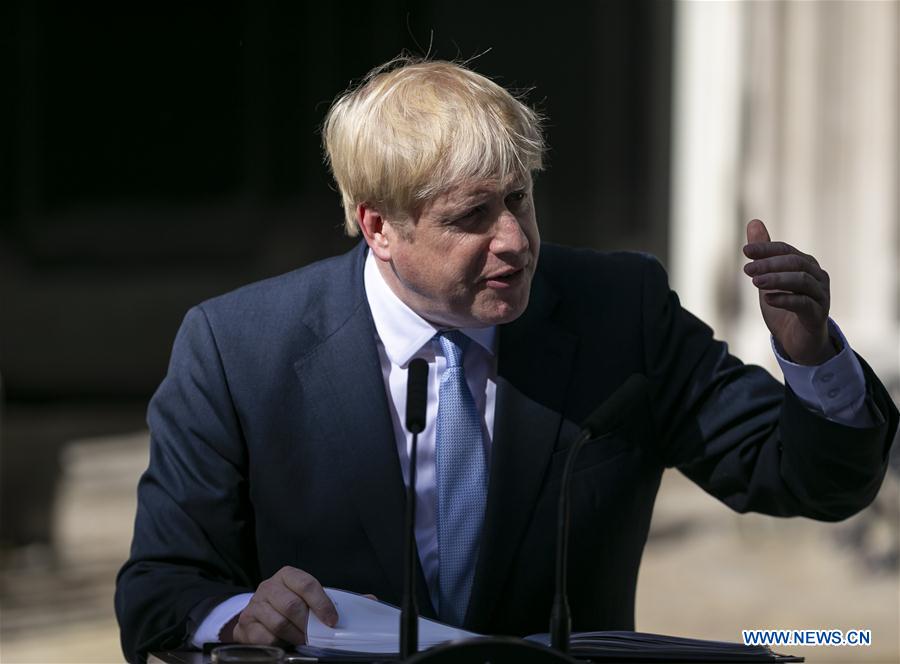 As expected, Boris Johnson easily won the contest for leader of the ruling Conservative Party (also known as the Tories), automatically becoming Britain's prime minister. He secured victory by promising to leave the EU on Oct. 31, come what may.
In his first speech to parliament in his new role, he reiterated this message. Now, he has purged the Cabinet and packed it with MPs from the right wing of the party.
In addition, Johnson brought in Dominic Cummings as his special adviser. He was the mastermind of the Brexit referendum campaign in 2016, and his job now is to gauge public sentiment, design apposite slogans and policies that shape the political agenda and revitalize the party's electoral fortunes.
In the European elections held in May, the Tories hemorrhaged support to the newly founded Brexit Party of Nigel Farage, which gained 31% of the vote while the Tories took just 9%. That defeat finally triggered Prime Minister Theresa May's resignation.
The parliamentary arithmetic does not auger well for Johnson securing a majority to pass any potentially renegotiated deal. MPs rejected May's deal with the EU on three occasions and the majority oppose a no-deal Brexit.
They fear serious dislocation and economic hardship. Furthermore, any renegotiated deal with the EU would also have to be agreed by MPs in the short period available for parliamentary proceedings before Oct. 31. This is almost certainly impossible.
In any case, EU negotiators remain adamant they will not allow any significant changes to the existing deal. So, for Johnson to remain in power, something has to give.
Most Tory MPs are rallying behind Johnson for fear the party will face an election trouncing if Brexit is further delayed. Brexit does not require parliamentary approval, it will happen automatically on Oct. 31. An attempt by parliament to stop it could be used by Johnson to call an election.
The opposition Labour Party will try to prevent Britain leaving the EU without a deal, and this stance is backed by some Tory MPs. However, there is no majority for a new referendum. Therefore, a premature election is the default option to break the parliamentary deadlock. It now seems Johnson is working on this assumption.
Adding to the pressure for a no-deal Brexit, Nigel Farage met with Donald Trump at the White House on Wednesday, July 24. Afterwards Farage said: "Trump wants to see a realignment of British politics. The Remain side is already having a realignment but now the right will have to realign, too."
To this end, he launched a campaign called the World4Brexit in New York. It will raise finance in the USA to promote Brexit. Former White House Chief Strategist Steve Bannon, champion of a multitude of right wing causes internationally, is closely linked to this initiative.
Trump has also offered his support to Johnson and suggests that trans-Atlantic trade could grow by as much as five times, arguing that British membership of the EU had hindered U.S.-U.K. trade.
Therefore, Johnson's team will adopt an increasingly militant posture towards the EU. And, if there is no chance of serious negotiations on matters of substance, what else can he do? Nevertheless, Farage remains skeptical of Johnson's resolve to deliver Brexit on time.
He holds a Sword of Damocles over the government's head. For, if the EU election results were repeated in a General Election, the Brexit party would decimate the Tories. Together, however, they could dominate such a Brexit election.
Farage has said: "If Boris does a Theresa May and drops the ball I will be the worst enemy he (Johnson) has ever had and I will attempt in those dark circumstances to get the Brexit party to replace the modern-day Conservative party."
Liberals and leftists tend to lampoon Johnson's buffoonery; his penchant for being loose with facts, his flippant use of offensive language, his tendency to make foolish mistakes, and his elitist background and outlook. They assume this will be his downfall. However, I suspect this is wishful thinking.
True, Johnson is hemmed in. A significant minority of Tory MPs oppose his plans; he has no parliamentary majority for a no-deal Brexit, the EU refuses to discuss changes to the deal, and the Brexit party can destroy the Tories, if Brexit does not happen on time.
However, it is precisely this narrowness of options that allows Johnson to pursue a no deal Brexit with a single-minded purpose and then call an election. He will be able to blame any economic disruption on EU intransigence and parliamentary opposition. If so, this is likely to enhance Johnson's support and revive Tory fortunes.
Heiko Khoo is a columnist with China.org.cn. For more information please visit:
http://china.org.cn/opinion/heikokhoo.htm
Opinion articles reflect the views of their authors, not necessarily those of China.org.cn.
If you would like to contribute, please contact us at opinion@china.org.cn.