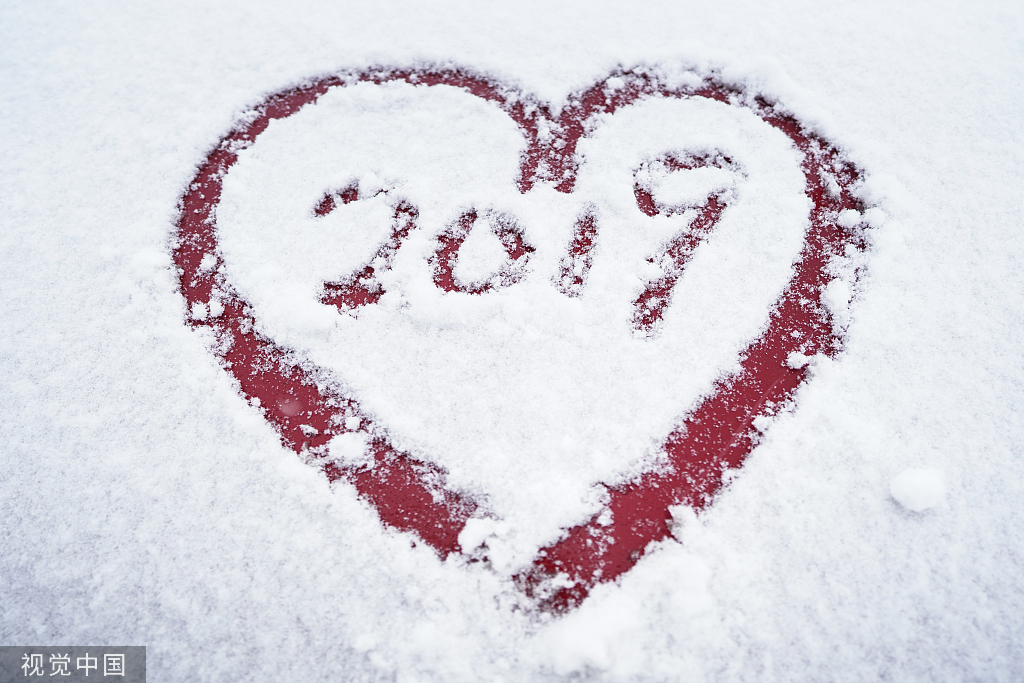 A beautiful winter's morning with the land covered in white snow and over it, a message written by a beloved oozing with love and affection. This sounds like a perfect romantic dream for the young in heart.

And, now, some service providers are turning it into reality by writing love messages on the snow, taking pictures, and sending them to their clients. Such service providers are mainly from the north and serve their clients in southern China, where snow is a rarity.
It's becoming the latest way for expressing one's feelings towards loved ones.
The orders are usually placed on e-commerce websites like Taobao. While some vendors write simple messages on the snow, a few make them even more beautiful by garnishing these love notes with flowers and candles.
Apart from being fun, the snow writing is also quite affordable, as these services can be provided for as little as 2 yuan ($0.28) per Chinese character. At this rate, a typical Chinese confession "Wo Ai Ni" or "I love you" costs around 5 or 6 yuan.
However, one has to pay extra for the garnishing such as a heart, snowman and flowers.
Notably, the proliferation of snow writing and several other services of this sort indicate the increasing demand for personalized services among Chinese. Consulting company Deloitte, in a recent report said 36% of Chinese consumers polled expressed their willingness to buy customized products or services, and one in five are ready to pay up to 20% in premium for even more personalization.
Similarly, research last year by Bain & Company, an American management consultancy, in collaboration with the World Economic Forum, highlighted this as a growing trend for the coming decade.
There are several underlying factors behind this elevated demand for personalized products and services.
Firstly, the high demand can be attributed to the rapid rise in the Chinese middle-income population and the corresponding improvement in the standard of living. Already, China has the world's largest population in the middle income bracket, and the number is estimated to reach almost 550 million by 2022, according to McKinsey & Co.
Besides, the country has had the best-performing wealth market for nearly a decade, causing private wealth to reach $23.6 trillion in 2018. Household wealth is forecast to rise to $51.8 trillion by 2028, a gain of 120%, according to a report from New World Wealth, an international research group, entitled "Global Wealth Migration Review 2019" published early this year.
Secondly, Chinese consumers are becoming more sophisticated and demanding as a result of living in a digitally connected world. They are aware of the latest global trends thanks to the rapid rise in the internet penetration rate and the availability of affordable smartphones in the country.
They prefer customized products and services over mass offerings and value exploration, individuality, and discovery. China is home to the world's largest online community, with more than 800 million people having access to the internet. Out of this population, almost 98% of people achieve this access via smartphones, which makes it much easier for them to acquire information about the latest international fashion trends.
Thirdly, the rapid expansion of e-commerce is also providing customers access to the variety of products and services, including customized items and assistance offered by online stores.
The eMarketer predicted China's e-commerce sales in 2019 would grow by 30% to reach $1.98 trillion. It further forecast that by the end of this year, the country would contribute 55.8% of global online retail sales, and this figure is expected to exceed 63% by 2022.
Already, big brands such as Nike and Coca-Cola have started capitalizing on this emerging trend. Nike, in 2015, launched NIKEiD, an online service that enables customers to create their own gear by customizing colour, design, and performance features. To obtain this option, the customers have to spend an extra $170 per item.
Similarly, Coca-Cola, on its website, has added the feature of creating customized bottles, t-shirts, and other items. The customers can get a whole range of personalized items with extra spending of varying degrees.
These personalized products and services are beneficial for both companies and customers. Companies can improve consumer engagement and strengthen brand loyalty, while consumers can express their individuality by engaging with the company to create unique products.
Therefore, by looking at the current market trends and future forecasts, it seems that the demand for customized goods and services will continue to rise in China in the future. Also, the companies, which can tap into this increasingly popular trend, will reap more profits than those offering mass-produced products.
Rachana Gupta is an active blogger, poet and freenlance content writer. She is also the author of the book "To The Horizon We Indeed Sail".
Opinion articles reflect the views of their authors only, not necessarily those of China.org.cn.
If you would like to contribute, please contact us at opinion@china.org.cn.