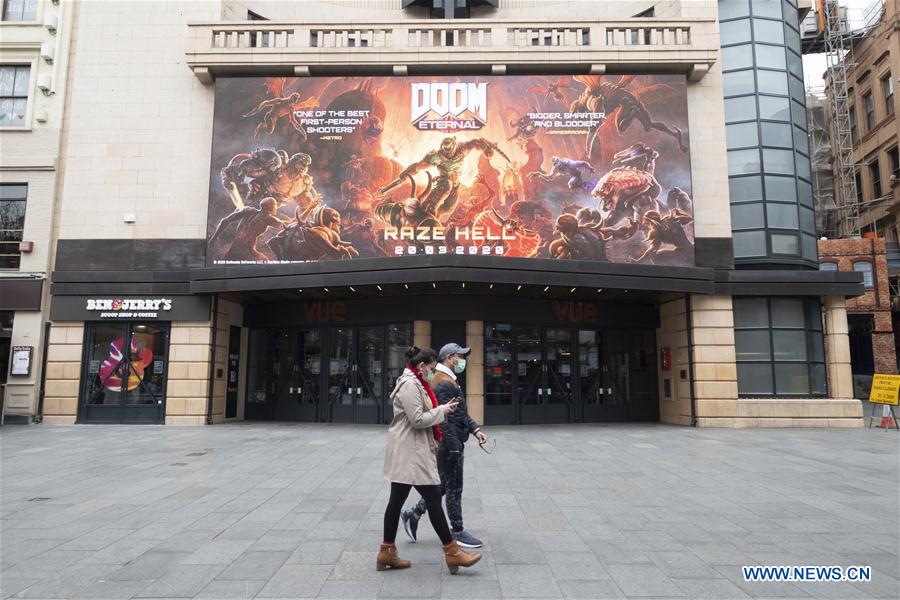 When a crisis as big as the COVID-19 strikes to threaten mortality, civilization gets torn between showing care and compassion for fellow humans and retreating to an instinctive of "look after our own."
Hospitals and medical staff working tirelessly to cope with unprecedented levels of sickness, teachers offering unpaid services to help parents home-school their children, and people shopping for their elderly neighbors, show the compassionate side of a health emergency and our instinct to "work as a pack."
In contrast, empty supermarket shelves poignantly remind that despite the fact we are facing a global crisis that requires working together, there's a priority to take care of ourselves and our immediate family, to make sure our loved ones are sufficiently equipped to "survive" when forced into the lonely home isolation.
As the outbreak escalates around the world, social distancing and retreating into isolation from the "herd" is being touted as the most effective way to delay transmission and reduce the size of the pandemic.
Quarantining tactics challenge the notion of "herd immunity," also known as "herd protection," centered, essentially, on a need for disease to spread enabling a significant infection rate to up resistance, meaning whole communities would be immune to it.
Coming from the field of zoology, herd immunity refers to the ability of a population of animals to resist infection due to the immune system forming antibodies against a specific infectious agent.
This is the theory behind vaccines, which boost specific immunity within a very large proportion of the population, so a contagious disease fails to gain a foothold.
Herd resistance relies on people getting a disease. It is focused on the approach that those who recover from an outbreak will be immune, and so unable to become infected twice. With herd immunity, at-risk individuals are protected from infection because they are surrounded by immune individuals. Consequently, the spread of the virus is reduced.
While the concept of herd immunity sounds like a sustainable way to help protect humanity by building up a co-resistance, it only works if people within a population are vaccinated.
As the University of Oxford's Vaccine Knowledge Project notes: "Herd immunity only works if most people in the population are vaccinated (for example, 19 out of every 20 people need to be vaccinated against measles to protect people who are not vaccinated). If people are not vaccinated, herd immunity is not guaranteed to protect them."
As we attempt to understand the current pandemic we are all wrapped up in and take the best route to recovery, the term herd immunity is being tossed around with some fervor, dividing opinion as to whether such collective resistance is a viable approach to thwart the spiraling COVID-19 crisis.
Maintaining the instinct to "look after our own," countries are closing their borders in an effort to slow the virus spread. Nations that resist adopting the social distancing approach are coming under scrutiny for lack of responsibility.
Shedding light on the concept of herd immunity in relation to the COVID-19 outbreak, Catherine Man, a senior Business Intelligence Solutions developer for the National Health Service in the U.K., told me in an email: "In principle, herd immunity seems to work for protecting the vulnerable, but perhaps only when the behavior of the disease is fully understood and extensively researched. With COVID-19, the disease is still in its infancy and thereby adopting the herd immunity approach may be premature."
After initial resistance, the U.K. government has now announced curbing measures that are more in line with the aggressive tactics of the likes of Italy and France. Addressing the public, Prime Minister Boris Johnson told Britons to work from home, avoid public gatherings and avoid all non-essential travel.
Different countries are implementing their own measures to what they believe to be the best way to tackle and control thedisease. People's understanding of the virus renews every day, and the containing measures change accordingly.
Given such a completely novel pathogen in human history and the contagion of the disease which it has caused worldwide, maybe it is a little bit too early for us to predict whether a certain approach is effective or not. The only right thing to do at this moment is to take the disease seriously and take concrete actions so as to eliminate the virus as soon as possible.
Gabrielle Pickard Whitehead is a British-based freelance writer.
Opinion articles reflect the views of their authors only, not necessarily those of China.org.cn.
If you would like to contribute, please contact us at opinion@china.org.cn.