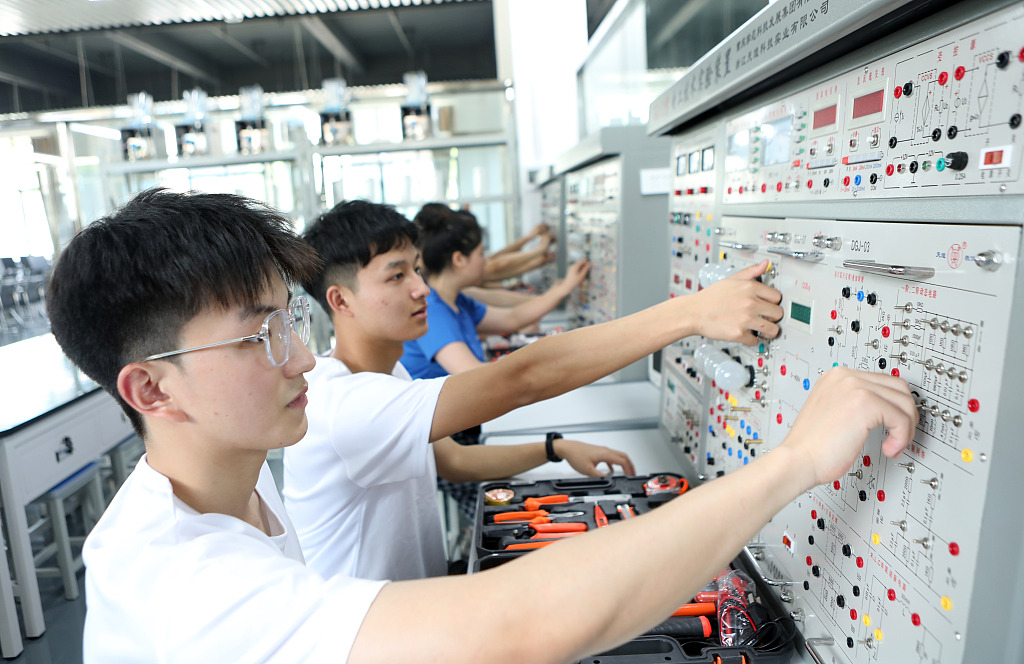 China's newly revised Vocational Education Law took effect on May 1, which is expected to promote high-quality development of the country's vocational education sector. This is the first time the law has been revised since it was adopted in 1996.
According to the revised law, vocational education will enjoy the same importance as general education, thus signifying that the status of vocational education will be further improved.
Over the past four-plus decades since reform and opening-up, China has set up the world's largest vocational education system, establishing over 10,000 vocational schools with over 30 million students. Such a large-scale vocational education system has played an important role in cultivating talents and promoting employment and entrepreneurship in the country.
However, due to ongoing industrial upgrading and economic restructuring, demands for technical and skilled personnel are booming in China, which requires further integrated development between vocational education and general education.
For years, China's general education has received more attention, with those who fail the high school admission or college entrance exams often attending vocational schools.
The newly revised law stipulates that vocational education is as important as general education, and vocational school graduates will have increased access to degrees in higher education than what was previously available.
Moreover, the law also stresses that vocational school students enjoy the same opportunities as students from regular schools in terms of employment and career development.
All these measures will significantly improve the status of vocational education. Likewise, vocational schools will become more attractive for students.
To further integrate vocational education into China's economic development, the revised law also encourages more enterprises to participate in vocational education, such as by establishing their own vocational schools and setting up full-time or part-time trainee posts for vocational students. These are intended to provide vocational school students with more practical skills and abilities. In this regard, more opportunities and access to employment will be offered for vocational school graduates, which will facilitate their career development.
The newly revised law will bring vocational education more attention from all of society. In the years to come, China's vocational education is expected to play a more critical role in meeting people's needs for a more diversified education and better support the country's development.
Xie Bo is a professor with Xi'an Jiaotong-Liverpool University.
Opinion articles reflect the views of their authors, not necessarily those of China.org.cn.
If you would like to contribute, please contact us at opinion@china.org.cn.