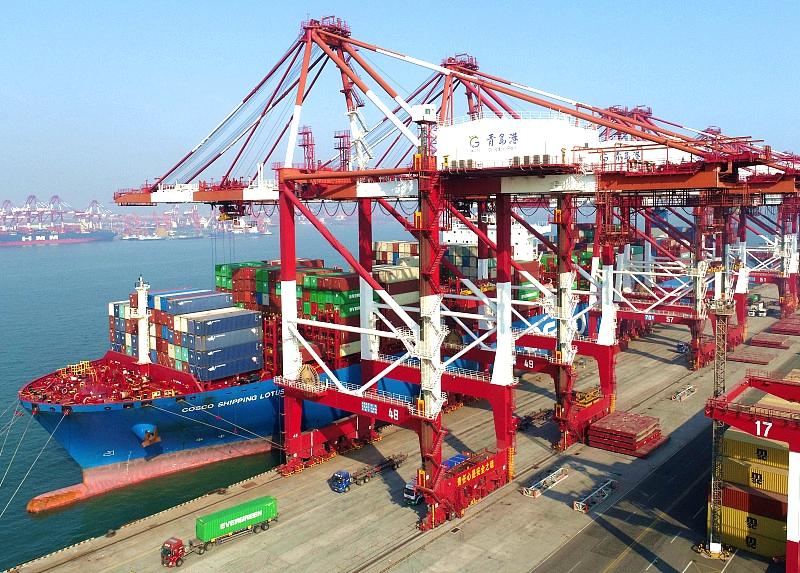 Container ships dock in Qingdao Port, Shandong province, on Jan. 2, 2023. [Photo/cfp.cn]
A new year marks a new beginning, and a fresh start has never been more necessary than in 2023. As the world enters the new year, the global economy is facing a difficult year marked by turmoil and uncertainty. The aftermath of the COVID-19 pandemic, the ongoing war in Ukraine, and the global energy and inflationary crisis have all contributed to a gloomy outlook, with the International Monetary Fund (IMF) predicting a "third year of recession."

However, these circumstances will only improve in line with geopolitical developments, which means the world's countries will need to step up their collective economic cooperation in order to boost global growth and stability, and ensure 2023 is a year of global economic recovery. While this is crucial for all countries around the globe, it has never been more critical for the countries of Asia to achieve this objective. With the region being an engine of the global economy and its largest source of growth, global prospects for the year will be heavily reliant on its performance.
In many ways, economic integration in Asia has been a success. The Regional Comprehensive Economic Partnership (RCEP) was ratified by most of its members in 2022. Meanwhile, China continues to facilitate negotiations to enter the Comprehensive and Progressive Agreement for Trans-Pacific Partnership (CPTPP) and the Digital Economy Partnership Agreement (DEPA). Already, RCEP has significantly expanded trade between China and the nations of ASEAN, creating what is the single largest tariff-free bloc in the world.
However, this does not mean there are no headwinds or challenges. If the region is to prosper, it must maintain unity and stability. One major obstacle is the attempt by certain parties and actors, specifically the United States, to disrupt regionalization and exert geopolitical influence. In an effort to reassert its hegemony, Washington has opposed the regional integration of allies' economies with other countries, which it sees as diluting its own power in a zero-sum game.
This approach was evident in Europe in the previous year. For example, the U.S. has targeted particular countries in the region, increasing its military presence and creating geopolitical conflict and instability. By branding its targets as "aggressors," the U.S. pressures allied or friendly states into supporting it, leveraging security support on compliance with relevant sanctions, and thus sabotaging integration. It sees the events of 2022 in Europe as a model to be applied in Asia, with the goal of reaffirming American hegemony in the region by attempting to force Asian countries to take sides.
Against this backdrop, countries in the Asia-Pacific region must work together and uphold the spirit of multilateral engagement in order to maintain stability, and ensure that diplomacy plays its role in resolving disputes. In addition, emphasis must be placed on relative gains in growing economic interaction and engagement. The RCEP agreement shows that the current geopolitical environment of the Asia-Pacific region does not need to be zero-sum, and countries have no reason to squander development opportunities.
The year 2023 should not be a repeat of 2022. The coming year needs to be one of recovery and openness. To secure their interests and contribute to global growth, nations in the world's fastest-growing region must work together and avoid falling into geopolitical traps. The RCEP agreement can serve as a driver of economic stability throughout the Asia-Pacific region and the world in the upcoming year.
Tom Fowdy is a British political and international relations analyst and a graduate of Durham and Oxford universities. For more information please visit:
http://www.china.org.cn/opinion/TomFowdy.htm
Opinion articles reflect the views of their authors, not necessarily those of China.org.cn.
If you would like to contribute, please contact us at opinion@china.org.cn.