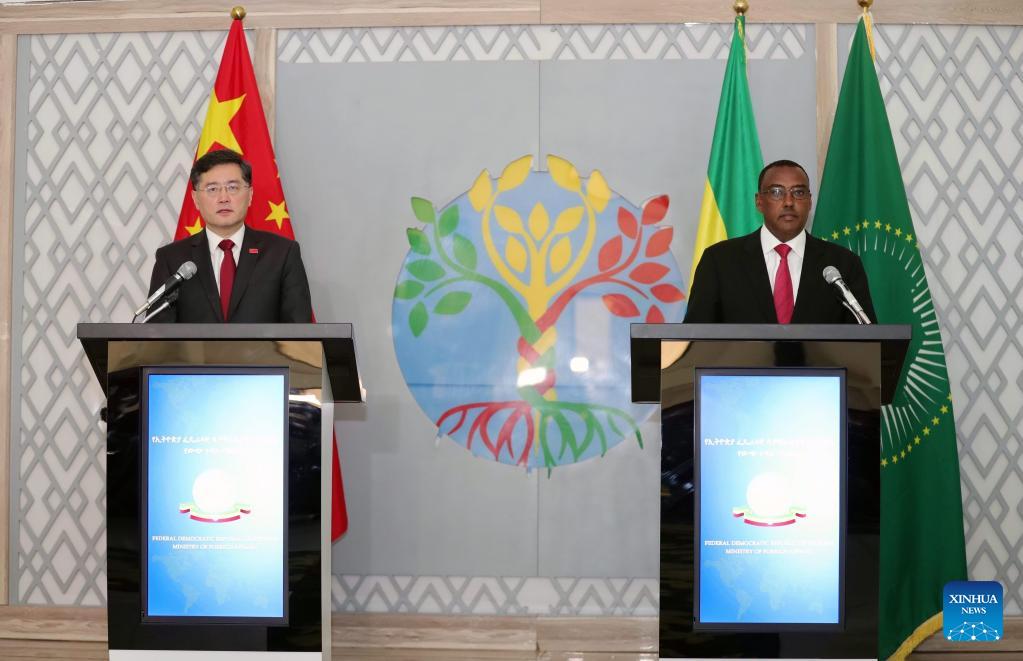 Chinese Foreign Minister Qin Gang (L) and Ethiopian Deputy Prime Minister and Foreign Minister Demeke Mekonnen attend a press conference after their talks in Addis Ababa, Ethiopia, on Jan. 10, 2023. [Photo/Xinhua]
As a popular saying goes, do not be afraid to celebrate a promise when kept. In doing so, you are embracing the potential for a better world. In keeping with its unshakable promise made over three decades ago and following the footsteps of his predecessors, China's new Foreign Minister Qin Gang is beginning his term with a seven-day visit to five African nations - Ethiopia, Gabon, Angola, Benin, and Egypt - from Jan. 9-16. The visit also brought him to the African Union (AU) Headquarters and the League of Arab States Headquarters.

This visit is widely expected to restore momentum in China-Africa cooperation, help China's work in Africa and develop an integrated strategy that does three things: establishing continent-wide objectives for China and African nations with tailored regional strategies, expanding mutually beneficial economic cooperation and investment, and supporting African nations in its independent development and capacity building.
China's leadership in international realm makes it fulfil promises and commitments towards its friends and partners, which ultimately leads to building trust. This is the way to make nations and partners ready to cooperate and bear the burdens and outcomes to move forward together. This is one of the reasons why over the past three decades, China has kept its promise and has been committed to a diplomatic tradition to commence every year with a visit to Africa, which truly proves that China attaches great importance to its traditional friendship with African nations and the development of China-Africa cooperation. It also portrays China as a reliable and true friend that helps in difficult times.
A cherished partnership
China's unshakable willingness and commitment to its diplomatic engagement with the continent of Africa is a privilege that will forever be cherished by African people; this commitment cannot be compared to other partners of Africa. With regard to the reason why Qin visited these five African nations, these five African nations truly reflect China's foreign policy towards Africa. That is why in Angola, China would be looking to solidify its position as the nation's top trading and economic partner. As for Ethiopia, the nation could easily leverage Chinese knowledge of peace and security as well as comprehensive development to overcome its internal upheavals. As for the visit to the AU Headquarters in Ethiopia, coupled with the fact that Chinese contractors would soon finish building the Africa Centres for Disease Control and Prevention in the capital Addis Ababa, Qin's visit shows China's determination of championing multilateralism against unilateralism.
As for Egypt, as a major voice and significant connection between the continent of Africa and the Arab world, Egypt provides China with the opportunity to continue with the ongoing constructive dialogue on how to encourage development collaboration on both sides of the Red Sea. As for Gabon, China is the nation's largest economic and trading partner and top investor, and the visit will help fortify the synergy between the Emerging Gabon Strategic Plan and the Belt and Road Initiative, to diversify the nation's economy. As for Benin, the visit will help to promote the financing pact between China and Benin to support high-impact social and economic projects in the nation.
Likewise, the visit shows the Chinese belief that the continent of Africa should be a place for international cooperation, not for major-power competition or geopolitical gains. Qin's former role as Chinese ambassador to the United States puts him in a good position to promote China-Africa cooperation against the backdrop that the United States is increasing its presence in Africa.
Shared prosperity
In recent years, the Chinese government has extended its presence in Africa by not only building infrastructure, but also providing ICT and Internet services. This makes China's engagement across the continent vital because it is meeting the needs of local constituencies, from the creation of employment to providing required technology and related infrastructure. As such, China's lending, construction, investment, or other business activities are not inherently bad or dangerous for African nations. But rather, these various development projects represent an enormous opportunity for African people to create a continent where no African nation is left behind.
Likewise, China offers financial support and affordable proposals to local economies to build up economic strength to weather challenges. African leaders and citizens have appreciated not just the material help arising from the continent's relationship with China, but also the sense of not being patronised. African people like seeing their economies treated as business opportunities rather than places to run randomised trials for foreign aid with political strings attached. No wonder when the Chinese government conducts negotiations with African nations, it is looking at them as partners with whom it can expand business opportunities, rather than as recipients of charity.
Qin's visit will help to bring fresh impetus and great potential for China and Africa to create more hope in the next decade. That's because the African Continental Free Trade Area (AfCFTA), industrial parks or special economic zones could be a major engine to connect Africa with the international market, and China could focus more on new infrastructure construction in the continent of Africa that would help to propel AfCFTA that has a market of more than 1 billion people and a combined GDP of over $3 trillion.
African nations and China could use this visit as an opportunity to reinvigorate Chinese investments in Africa, and explore further ways to incentivise Chinese government decision-makers and Chinese businesses to use joint ventures more frequently as the vehicle for their investments in Africa.
In conclusion, Qin's visit should be a starting point in the new era for China and African nations to work together to build a high-quality community of shared future for mankind that would grow into a community of collaboration that would help to meet the challenges in people-to-people harmony and safeguard the health of the people, promote social and economic recovery and help both African nations and China unleash development potential in the new era.
The author is executive director of the Centre for Nigerian Studies, Institute of African Studies at Zhejiang Normal University.