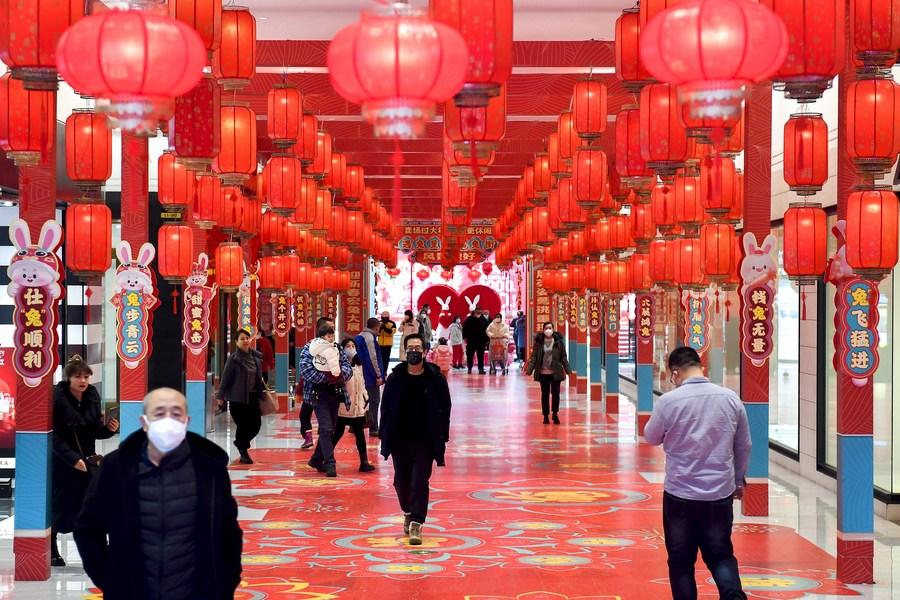 People shop at a shopping mall in Changchun, northeast China's Jilin Province, Jan. 23, 2023. [Photo/Xinhua]

The mounting crowds of people in all the shops, restaurants, cinemas and tourist attractions in all large Chinese cities and tourist destinations during the just past Chinese New Year or Spring Festival holidays have surprised and inspired the world.
In Shanghai, Chengdu, Hangzhou, Changsha and other cities, the restaurants were so over crowded that people lined up after 3,000 table numbers before sitting down. According to the official statistics, total tourist number reached 308 million, 23.1 percent increase over last year, only 11.4 percent lower than the same period of 2019, the pre-pandemic time. During the week-long Chinese New Year holiday season, January 21-27, railways passengers reached 50.17 million, 57.0 percent increase over a year ago, only 16.9 percent lower than the same period of 2019. In the first month of 2023 alone, the box office in China gained 10 billion yuan ($1.48 billion) in revenue, with Spring Festival holiday contributing most of it, reflecting the strong rebound of Chinese film market.
The latest UN world economic report issued on January 25 estimated that China's GDP growth in 2023 would reach 4.8 percent. In contrast, the report estimated 1.9 percent of world economic growth, down from 3.0 percent in 2022, with EU growth rate at 0.2 percent, U.S. at 0.4 percent and Japan at 1.5 percent. Goldman Sachs has updated its estimate on Chinese GDP growth in 2023 to 5.2 percent, capable to pull the neighboring countries growth as well. Mario Centeno, ECB board member, said that, the strong Chinese economy growth momentum in 2023 has brought optimism for 20 Eurozone countries which are currently in a difficult position. Humphrey Mosi, director of China Study Center, Dales Salem University, Tanzania, held that Chinese economy will push the world economy to get rid of the pandemic dark clouds as soon as possible.
Recently, many provincial people's congresses announced their 2023 GDP growth estimates, most varying between 5.0 to 5.5 percent, far higher than the 2022 ebb of 3.0 percent growth and getting back to the previous two years average of 5.2 percent.
The growth prospect for 2023 depends predominantly on the revival of consumption. In 2022, the strict COVID prevention measures and later the outbreak of Omicron variant across China led to a sharp contraction in consumption. It contributed only 1.0 percentage point to GDP growth for the year, compared to 3.5-4.9 percentage points during 2012-2019. During Q4 of 2022, its contribution even fell to 0.2 percentage point. It is anticipated that the strong revival of consumption will persist during the whole year and contribute at least 3.0 percent to GDP growth in 2023.
In order to secure a strong, sustainable consumption recovery, Chinese central and local governments have adopted a series of policies and measures to increase income of low-income groups, relieve small and micro businesses, create jobs, subsidize purchase of new energy vehicles, and stabilize housing market.
Capital formation, which contributed 1.5 percentage points for the whole year of 2022 and even 3.9 percentage points for Q4, will continue its momentum. Fixed investment is one of the top priorities on the government agenda, new project starts, especially in high tech manufacturing and big data services, in new infrastructure and green development, could be spotted in many parts of the country. Capital formation is set to contribute more than 1.5 percentage points to GDP growth this year.
However, there are two uncertainties. First, the probability of the second, third wave of massive virus contagion across the country, and their scope and seriousness. Second, the import and export prospect, due to the deteriorating world economy, trade and market demand. The fast downward trend during Q4, 2022 hit badly the import and export, especially export. As a result, net export, the third "horse" driving GDP growth, contributed negative 1.2 percentage points to GDP growth during Q4, in sharp contrast to the positive 1.1 percentage points contribution during Q2. Net export will have a vital bearing on the total GDP growth rate for 2023.
Premier Li Keqiang, at the State Council executive meeting on January 28, called on the whole country to accelerate consumption recovery and secure foreign trade stability, which is essential for the Chinese economy to get back to the reasonable growth track.
Based on the current conditions, international economic institutions have turned to optimistic outlook on Chinese economy.
The International Monetary Fund (IMF) on January31 projected China's economy will grow by 5.2 percent in 2023, 0.8 percentage point higher than October 2022 forecast. "Growth in China is projected to rise to 5.2 percent in 2023, reflecting rapidly improving mobility," the IMF said in the newly released update to its World Economic Outlook report.
This estimate will be updated during Q2, with the recovery gaining momentum.
Even if China GDP grows at 5.2 or even 6.0 percent growth in 2023, it will not be a high growth, because of the low base in 2022. The two year (2022-2023) average annual growth rate will be 4.0-4.5 percent, lower than the average of 5.3 percent in previous two years (2020-2021), and still lower than the 6.0 percent in 2019, before the pandemic. While making every effort to secure a strong economic recovery, returning to the reasonable growth range this year, we must pay equal attention to the basic problems in economic fundamentals, so as to resume the medium-high growth rate for the next five years and beyond.
The fundamental pathway is deepening reform and further opening-up. To make consumption growth sustainable, there should been a master plan to increase the disposal income of people, and raise its share in GDP from current 43 percent to 50-60 percent, and narrow the income disparity between the rich and the poor, and between developed and backward regions. To make fixed investment growth sustainable, we need considerable efforts to support the private sector, repair private businesses asset-debt balance sheet and make private investment more feasible. The key drive of the economic growth over the next five years and longer term lies in the corporate innovation and investment. To make foreign trade and investment sustainable, China needs to open its door even wider, to businesses not only in Asia, Africa and Latin America, but particularly in Europe and North America. China's vast market opportunities and infinite growth potential are the strong magnetics attracting the world capital and a strong foundation keeping the global supply chain, thus offsetting the geoeconomic fragmentation today.
The Chinese economy is a part of the world economy and the strong rebound of Chinese GDP growth will provide a powerhouse for the world economy. If China realizes 5.2 percent GDP growth in 2023, it will contribute 0.9 percentage point to world GDP growth, or newly half of the UN estimated 1.9 percent growth. China will again play a key role in the world development, not only in 2023, but also in the feasible future, thus fulfilling its obligations as a great power to world development and prosperity, and to the community with a shared future for all humanity.
The article reflects the author's opinions, and not necessarily the views of China Focus.