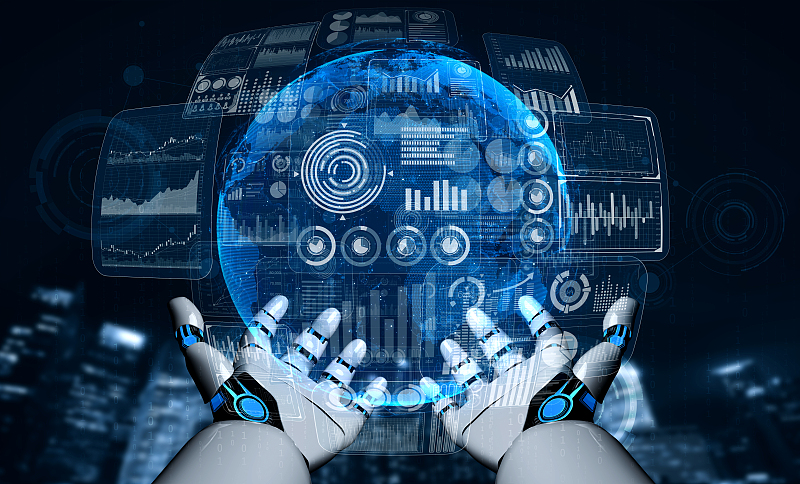 [Photo/VCG]
China now has one of the largest and most developed digital economies in the world, thanks to its rapid economic development and technological advancement over the last few decades. According to a white paper issued by the China Academy of Information and Communications Technology (CAICT), the Chinese digital economy is now worth $7.1 trillion, ranking second after the United States. The country also has many digital economy giants, including Baidu, Alibaba, and Tencent, that are supporting the Chinese digital economic ecosystem.

After the COVID-19 pandemic, with its myriad public health considerations, China's development of online economy has also sped up across many industries, such as education, healthcare, telecommunications, and those that provide daily necessities. Given the digital economy's robust and rapid growth, it is important to further understand the forces driving its success, as well as anticipate challenges ahead.
In recent years, the Chinese government has been highly committed to the development of the digital economy to support its high-value-added and innovative economic transformation. Many cutting-edge and emerging technologies such as big data, artificial intelligence, fin-tech, and 5G now support the digital economy. Moreover, many favorable long-term and strategic policies and initiatives have been put in place to support digital transformation, such as the government's Internet+ Plan project and new infrastructure. All of these outline China's vision and objectives to lay out its digital pathway for economic development. Meanwhile, these efforts are also further strengthening the employment of digital platforms and tools to support the growth of the Chinese economy.
The emergence of the young population is also enhancing the development of the Chinese digital economy. Compared to previous generations, many younger people now come from middle-class backgrounds, granting them the money and opportunities to pursue the purchase of different goods from the online market. The lower threshold needed to launch activities in the digital arena also encourages many of these risk-taking and innovative young people to start up their online businesses and expand their relevant operations. Some are joining the digital economy to earn a quick buck, while others are exploring it as an alternative career path. As a result, online technologies are now becoming more advanced and commercialized under such strong demand and supply.
Nevertheless, the emergence of the digital economy and its collection of consumers' personal information has raised lingering questions as to how to balance the growing demand and development of technology-driven services with the need to ensure public safety. From time to time, there are reports of how online consumers' personal information is leaked onto different online platforms, harming their privacy and interests. Relevant crimes have also developed that revolve around the breaching of private information, especially when companies use this data to develop consumers' virtual identities. It seems that the individual rights and interests of consumers cannot remain at risk as the digital economy becomes more prevalent and developed.
In view of this situation, the Chinese government can further strengthen the monitoring and supervision of online platforms regarding the collection, preservation, use, processing, sharing, transferring, and public disclosure of personal information. There should also be more explicit, clearer, and more detailed and transparent rules and regulations governing the behaviors and interactions of sellers and consumers in the online market. At the same time, an independent commission could be established to undergo stringent compliance checks regarding the use and storage of personal information by enterprises. Furthermore, Chinese companies and investors can hire the professional services of cybersecurity-related institutions to strengthen their information system security measures or employ technical means to ensure the anonymity and de-identification of their users so as to enhance personal information protection and prevent information leakage, damage, or loss.
Another common issue is that some Chinese investors who possess stronger economic power may have more privilege and potential to start up their businesses and expand, giving them more economic returns compared to other small-to-medium-scale enterprises. Chinese investors with more financial resources and capital find it easier to engage in the Chinese online digital economic system. Given the keen competition in the market, these enterprises are able to develop more technology and expand their scope of business to enhance their quality of service and enlarge their market size. Therefore, unfair competition may arise in the online market as time goes by.
As a result, it is crucial to ensure more diverse and equal business opportunities for enterprises, especially among small-to-medium-sized businesses. Additionally, more supporting measures need to be in place to create a favorable environment as a way to fill financial gaps and deal with the challenges. For example, a wider range of start-up funds can be more helpful for small- and medium-sized enterprises when it comes to them raising capital, establishing a presence, and further shaping their brands.
The digital arena has become a strategic economic battleground around the world. As different countries further develop their digital economies, they should find ways to strike an optimal balance between maximizing opportunities while minimizing the challenges ahead. With the concerted effort of different stakeholders in China, it is anticipated that the development of the country's digital economy will become more systematic, robust, and sustainable in the long run.
Mathew Wong is an assistant professor in the Department of Social Sciences at the Education University of Hong Kong.
Opinion articles reflect the views of their authors, not necessarily those of China.org.cn.
If you would like to contribute, please contact us at opinion@china.org.cn.