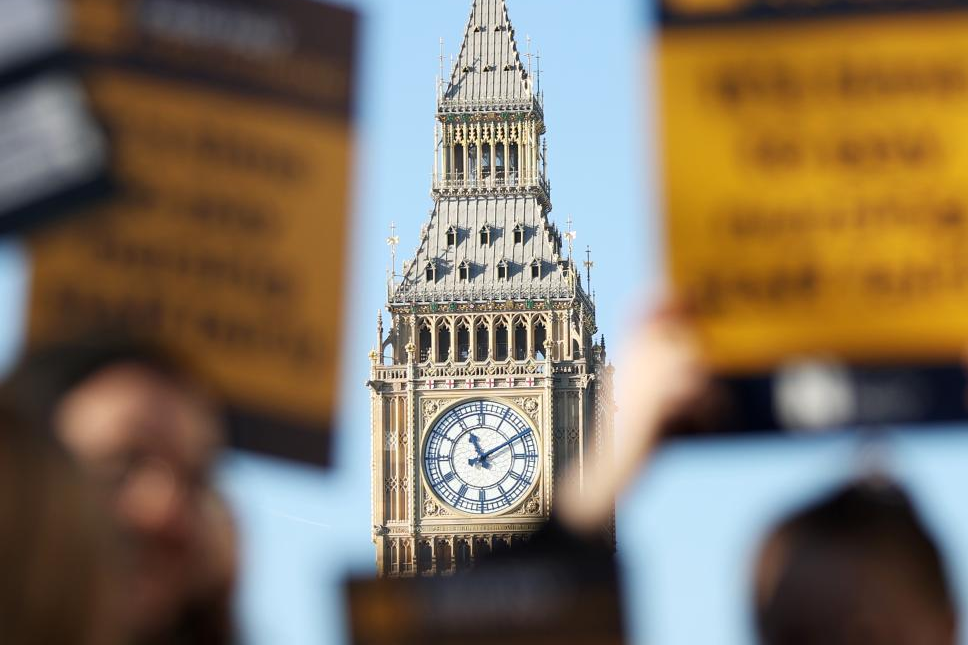 Healthcare workers protest in central London, Britain, on Feb. 6, 2023. [Photo/Xinhua]
Over recent decades, workers in the island nation have been more reluctant to go on strike than their sisters and brothers in many other developed economies. Levels of militancy have been four and five times higher in France, Denmark, and Belgium and around three times higher in Canada, Spain, and Norway.

In Britain, on the other hand, the number of strike days per one million employees had been on a downward trend, almost without exception, since a high point in 2011, when public sector workers took action totaling more than one million days in defense of pensions, pay, and services.
The long retreat came to an end in summer 2022, when 40,000 railway workers from the RMT union walked out after a breakdown of negotiations with Network Rail and 13 private train operating companies. The union sought a pay rise to compensate for years of falling living standards, while the employers wanted to close ticket offices and remove guards from trains.
Subsequently, the main train drivers' union ASLEF and the industry's white-collar staff in TSSA also held ballots and took action.
Since then, hundreds of thousands of workers have launched the biggest wave of strikes in Britain since 1989, accounting for more than three million days of action so far. What is different this time around is that rail and local government employees have been joined by postal and communications workers, civil servants, teachers and lecturers, NHS junior doctors, ambulance crews, refuse collectors, airport employees, and many more.
Even the 100,000-strong Royal College of Nursing – a union not affiliated with the Trades Union Congress – balloted to take action for the first time in its 106-year history.
Alongside the big rolling strikes in the public sector and the privatized rail and bus industries, workers in smaller and privately-owned enterprises have also gone on strike.
The biggest common cause for this eruption of anger is the rapidly rising cost of living. Rising energy, food, transport, and housing costs are contributing to an annualized inflation rate of more than 10%. The Conservative government blames world oil prices and the Ukraine crisis for soaring household bills, but a large slice of public opinion is not convinced that this is even half the real story.
When wholesale energy prices on the world market escalated rapidly in the second half of 2021, before the Ukraine crisis, Britain's giant oil corporations merely passed them on to retailers – who then offloaded them onto customers – while accumulating huge profits for themselves.
Thus, in 2021, Shell (now more British than Dutch by ownership and control) went into the black and posted profits of $19 billion. These then rocketed to an all-time high of $40 billion in 2022. BP's profits – a public sector corporation until it was privatized in 1987 – more than doubled to $28 billion last year.
Likewise, Centrica reaped higher profits from North Sea gas production while also feeding higher wholesale prices to consumers via its retail subsidiary British Gas (privatized in 1986). Centrica's profits more than trebled in 2022 to $4 billion.
As one of the "Big Five" electricity and gas suppliers in Britain, Centrica has benefited from the decisions of state energy regulator Ofgem to allow domestic and industrial tariffs to rocket since January 2021.
For instance, average household energy bills in Britain went up by 54% in April 2022 as Ofgem waved through the increase rather than compel the privatized monopolies to rein in their profits. Faced with an angry reaction from domestic and industrial consumers, the central government then bribed the corporations with up to $60 billion in public money to keep a further increase in October 2022 down to 27%. A price hike of 20% planned for April 2023 has been postponed to July.
But these rises all amount to a doubling of average domestic and commercial energy bills to around $2,900, with the latter feeding into big price rises in the shops. Interest rate rises in response to inflation and government mismanagement of fiscal policy have sent housing costs sharply upwards.
For public sector workers in particular, this cost-of-living (or cost-of-profits) bombshell has hit them after more than 10 years of stagnant wages imposed in the name of "austerity" following the 2008-09 financial crash and economic recession.
Britain's Conservative government has pretended to protect consumers with a household subsidy of $500, now ended, with similar assistance for businesses.
A temporary "energy profits" levy has been imposed on oil and gas producers to discourage profiteering. But a generous 80% tax allowance for capital investment has so far enabled them to pay next to nothing in so-called windfall taxes. The levy has since been extended and joined by an electricity generator levy.
Britain's Conservative central government has been shocked by the extent of public support for the strikers, especially for nursing and medical staff. The customary anti-union propaganda offensive has failed to work as before. This has included the usual attacks on union leaders as overpaid bullies and barons, lies about the wage levels of rail workers and other strikers, and lurid reports of "Communist influence" in the unions themselves.
For months after the public sector unions began their action in 2022, Britain's central government hid behind the findings of various statutory pay review bodies. These "independent" panels take evidence from a range of sources and then advise on levels of pay and other terms of employment in different branches of the public sector.
As union members rejected government pay offers based on these findings, Conservative ministers refused to even discuss any improvements. When talks finally began, it became clear that those same ministers were not in a position to offer more money.
Yet the Welsh Labour and Scottish SNP governments have been prepared to pay more to NHS and other staff in devolved areas of policy. As a result, separate agreements have been reached with some unions.
Meanwhile, more strikes are being announced as some disputes are being settled. In the first two weeks of May, for instance, action was scheduled to take place in the NHS and passport and tax offices, on the railways, and at Heathrow Airport. Other workers likely to take action in May or June include those at Glasgow Airport and Amazon, on North Sea oil and gas platforms, and in England's schools and colleges.
A further strike by RCN nurses was cut short by government action in the courts, angering many members who had already refused a pay offer recommended by their union's leadership.
The Conservative government is rushing a Strikes (Minimum Service Levels) Bill through the Westminster parliament. It aims to force workers in key public services to continue working during strikes even after their union has voted by a majority for lawful industrial action.
This strike wave is now a severe test of the resolve of governments, employers, and the unions themselves. The Conservatives are pursuing their usual 'divide and rule' strategy, trying to buy off individual unions in order to isolate and undermine others. Railway employers are being assisted in this by government COVID-related subsidies, which maintain their profit levels during industrial action.
For their part, the trade unions must overcome traditional rivalries to achieve greater coordination and unity within each sector of the economy, where workers are prepared to fight for pay, pensions, and standards of service.
In particular, the whole trade union movement now has to formulate a united response – beyond action through the courts – to new anti-strike legislation. This bill threatens to turn workers exercising their right to withdraw their labor into strike-breakers, or "scabs" as they have long been known in England, Scotland, and Wales.
In any event, this strike wave gives the lie to claims by many anti-Brexit intellectuals that the British – and in particular the English – working class are docile serfs who are too idle or stupid to think and act in their own interests as workers.
Robert Griffiths is a former Senior Lecturer in Political Economy and History at the University of Wales and currently the General Secretary of the Communist Party of Britain.
Opinion articles reflect the views of their authors only, not necessarily those of China.org.cn.