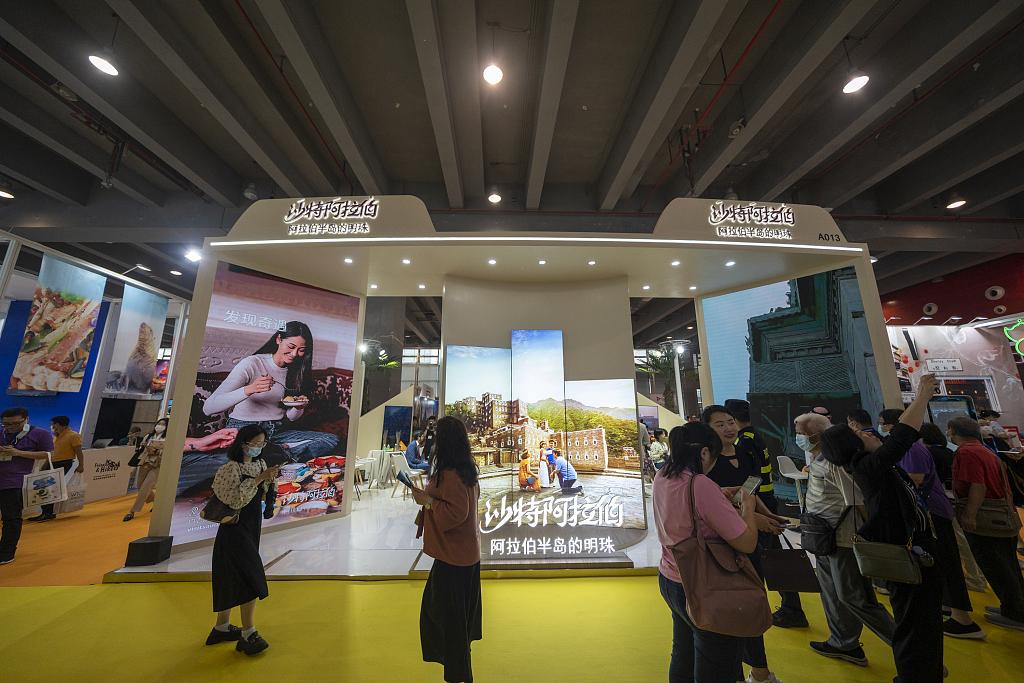 Visitors gather at the Saudi Arabia booth at the 31st Guangzhou International Travel Fair in Guangzhou, Guangdong province, on May 19, 2023. [Photo/VCG]
The 10th Arab-China Business Conference has been a resounding success. Over 3,500 Chinese and Arab dignitaries and corporate officials gathered in Riyadh, Saudi Arabia, as joint understandings were reached on expanding economic and trade cooperation.

Dozens of deals worth billions of dollars were inked, and, once again, policies which polarize, demonize, or sow divisions in the Middle East were eschewed for more constructive and futuristic approaches.
The truth is that the event rejected the zero-sum approach of dividing the region into blocs and pursued a pragmatic and prudent strategy of building solid foundations for the future instead.
The summit followed major developments that took place in light of events such as the 2022 China-Arab States Summit and the China-brokered diplomatic rapprochement between Saudi Arabia and Iran, who have been embroiled in ideological clashes for decades. The resumption of diplomatic ties between Riyadh and Tehran, and the subsequent visit by Palestinian President Mahmoud Abbas to China, suggest that the Middle East is now moving beyond military confrontations and opting for peace and dialogue over dissension and discord.
The voluminous trade deals finalized at the conference also suggest that the relationship between China and the Arab states is moving in the right direction.
A total of 30 investment agreements totaling $10 billion covered sectors ranging from agriculture, real estate, supply chains, tourism, renewables, and technology. Additionally, various activities were put forward to promote greater cooperation in the healthcare sector and mining. These agreements aid existing strategic frameworks in the Middle East, such as the Saudi Vision 2030, which seeks to diversify its economy and develop its public sector, including education, infrastructure, and tourism.
The areas covered at this year's event constitute all-around cooperation where, in addition to traditional cooperation on energy, the two sides mulled over the option of greater technological exchanges. The conference focused on 16 industrial sectors, including artificial intelligence and e-commerce, and drew close to 2,000 Chinese participants, which is the largest-ever business delegation to Saudi Arabia.
What these numbers clearly reveal is that the Arab world and China share a mutual destiny of joint prosperity, economic connectivity, and mutually assured visions for the future. This marks a stark contrast to the toxic U.S. legacy in the Middle East, where both Democrat and Republican governments pressed ahead with gross military interference, wars, and arms buildup, particularly in countries such as Iraq.
As Washington D.C. seeks to sabotage diplomatic ties and pursue its previous "divide and rule" policy that has only resulted in a fractured and polarized region, China-Arab ties point at a clear rejection of a zero-sum policy. This rejection comes after U.S. Secretary of State Anthony Blinken's visit to Saudi Arabia. Blinken made yet another attempt to establish America's footprint in the region by stating that the "U.S. remains the number one partner of choice" for countries in the Persian Gulf region.
It is clear that the Arab states are charting a course for the future, and the comprehensive nature of trading ties between the Arab nations and China, as exemplified in the business conference, has elevated ties to a new level and rejected the binary approach in the region, which has brought nothing but discord and discontent.
Hamzah Rifaat Hussain, a former visiting fellow at the Stimson Center in Washington and former assistant researcher at the Islamabad Policy Research Institute, is an anchor at ThinkTech Hawaii.
Opinion articles reflect the views of their authors, not necessarily those of China.org.cn.