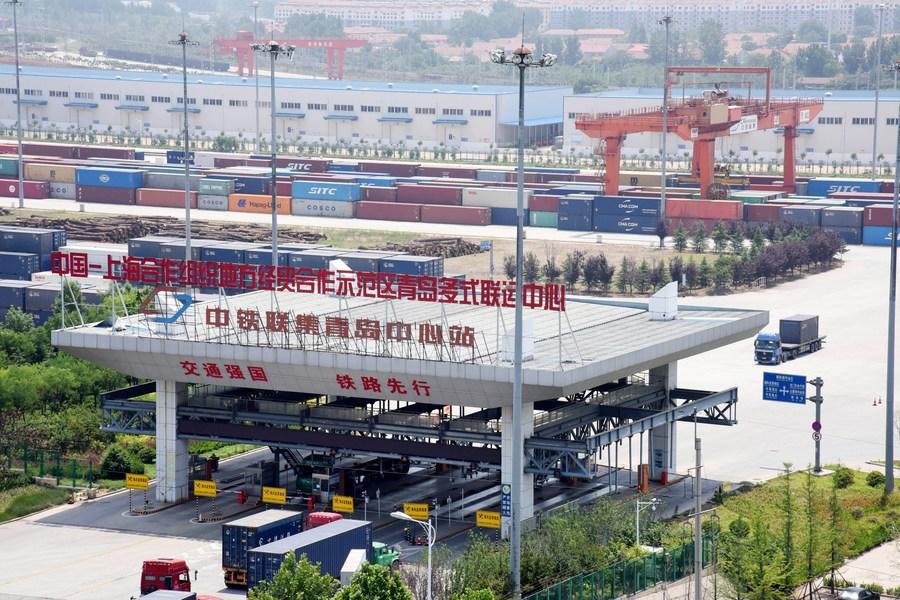 Photo taken on June 12, 2019 shows the Qingdao multimodal transportation center at a demonstration zone for China-SCO local economic and trade cooperation in Jiaozhou city, east China's Shandong province. [Photo/Xinhua]
The 23rd meeting of the Council of Heads of State of the Shanghai Cooperation Organization (SCO) convened on Tuesday. Since its establishment in 2001, the SCO has grown into a comprehensive regional organization, serving as a crucial forum for geopolitical and security dialogue across Eurasia.

The group has steadily expanded in recent years, particularly in light of shifting global political dynamics. Iran ascended to membership, while Belarus has also submitted an application. Similarly, other countries such as Saudi Arabia and Turkey have applied to become dialogue partners with the SCO.
It is worth noting that Eurasia, the world's largest single landmass, is home to the overwhelming majority of the global population. This means that many large and populous countries are situated in close proximity to each other, each with shared interests and concerns. In today's world, many issues – such as terrorism, security, and economic stability – no longer align neatly with national borders and cannot be tackled independently. Therefore, to mitigate risks of miscalculations, conflicts, and instability, the SCO has emerged as a crucial forum for regional coordination.
The SCO is not an ideological bloc and does not attempt to impose any such ideology on its participants. Despite the members' diverse political systems and civilizations, they work together to promote the peaceful development and well-being of regional countries, enhancing the organization's attractiveness. Moreover, as more countries join the organization, the multilateral and inclusive cooperation model adopted by the SCO will be adopted more widely, offering new opportunities and benefits to the entire region and the world.
The SCO's members coalesce around common issues, including fundamental principles like non-interference in internal affairs, respect for national sovereignty, and equality in debate. It functions as a forum for members to voice their views and interests, guided by the "Shanghai Spirit," which emphasizes mutual trust and equality among participants.
Given the geopolitical times we live in today and the demand for new cooperation platforms that reflect the emerging "multipolarity" of global affairs, the SCO is only likely to grow in importance. As the organization matures, it is expected to play an increasingly constructive role in promoting global and regional development while safeguarding the security and stability of its member states.
Tom Fowdy is a British political and international relations analyst and a graduate of Durham and Oxford universities. For more information please visit:
http://www.china.org.cn/opinion/TomFowdy.htm
Opinion articles reflect the views of their authors, not necessarily those of China.org.cn.