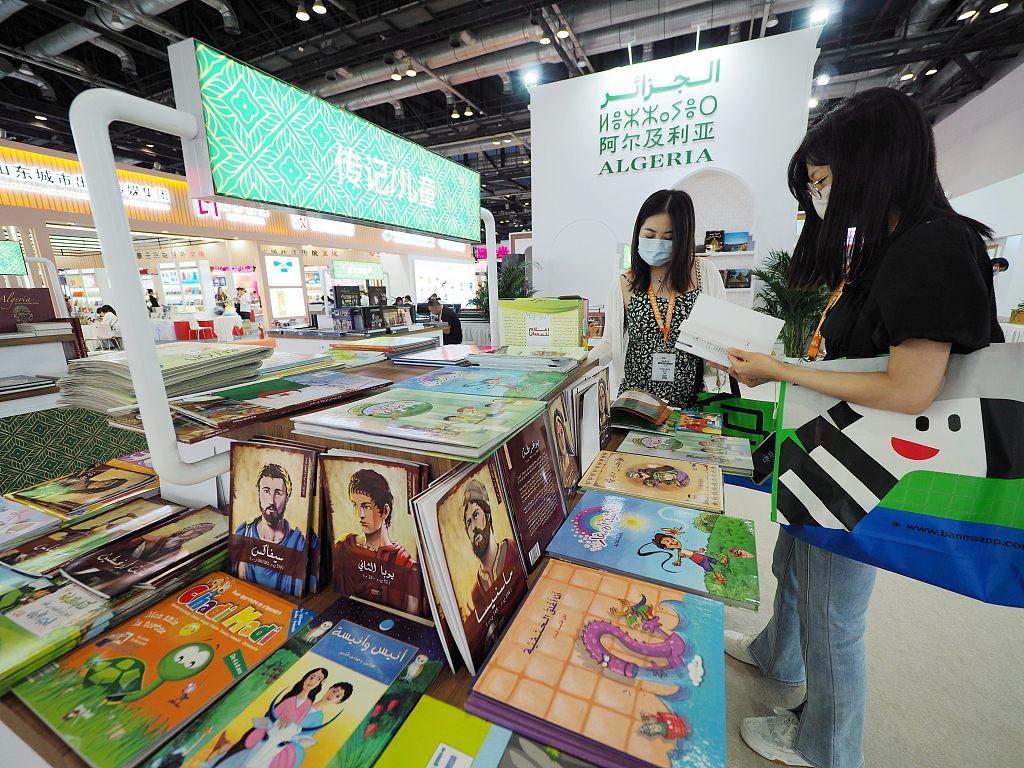 Visitors gather at the booth of Algeria at the 21st Beijing International Book Festival in Beijing, on June 16, 2023. [Photo/VCG]
Algerian President Abdelmadjid Tebboune recently paid a five-day visit to China, agreeing to scale up cooperation in a host of new areas. They also discussed the expansion of Belt and Road Initiative (BRI) engagements into aerospace, telecommunications, and new energy spheres, featuring a shared emphasis on deepening political trust and long-term cooperation with the 65th anniversary of diplomatic relations in view. Moreover, China also said it will continue to provide assistance to Algeria to support economic and social development in the country.

Prioritization of Algeria's economic and social development mirrors its value to China's foreign policy. Algeria became the first Arab nation to establish a comprehensive strategic partnership with Beijing in 2014. Historically, both partners stood united against the forces of imperialism and colonization and remained unwavering in their support for one another's sovereignty at the United Nations.
Tebboune's landmark visit heralds a new chapter in strengthening the foundations of that partnership. Look no further than Beijing's stated support for a more "significant" Algerian role in international and regional affairs, encouragement of more multi-sector investment, and stronger cooperation in areas such as national defense and security.
All this arrives at a time when China and Algeria are demonstrably resolute in their opposition to external interference and envision democratization in international relations. Their joint stakes in accelerating the implementation of the first China-Arab States Summit's outcomes are one example of closing ranks behind meaningful mechanisms for regional security.
Algeria joined the BRI in 2018 and formalized an executive plan for its implementation with China late last year. To date, hundreds of Chinese companies have invested in sectors from trade to energy in Algeria, and China has maintained its status as the country's top exporter for about a decade. Tebboune's trip strengthens the case for greater complementarity between Beijing's all-around modernization and opening-up and Algeria's "new Algeria" vision.
Prospects of new synergies between the two promise meaningful impacts on BRI cooperation, given China's emphasis on fast-tracking progress on important documents related to the connectivity initiative. "Algeria welcomes Chinese business investment in Algeria and will provide a favorable business environment for such investment cooperation," said Tebboune. Bilateral trade stood in excess of $7.4 billion last year, while Algeria maintains its status as one of the largest markets for China's contracted works.
Interestingly, historic relations stand to strengthen further as both sides agree to enhance coordination between their parliaments. China's top legislator Zhao Leji signaled readiness for exchanges "at all levels" between the National People's Congress and the Algerian parliament. In many ways, such multi-tier exchanges can provide concrete legal protection for major bilateral cooperation arrangements reached between their heads of state. Moreover, parliamentary consensus can help reinforce bilateral priorities and align viewpoints on global governance objectives, such as China and Algeria's shared support for evolving the global governance system in a more equitable and rational direction.
In Tebboune's own telling, the current international order is very unbalanced, and China's support for inclusivity and openness identifies as a noble pursuit to a world in wait. Tebboune's landmark China visit provides a compelling foundation for such convergence, evident through stronger South-South cooperation, heightened prospects for Algeria's participation in the BRICS, and a range of bilateral cooperation documents struck from transportation, technology, and telecommunications to sustainable development and trade.
As China reiterated its promise to work with Algeria to carry forward the longstanding friendship and strive for bigger progress in the China-Algeria comprehensive strategic partnership, the presence of requisite groundwork in this ironclad relationship makes the path to all-around progress all the more certain.
Hannan R. Hussain is a foreign affairs commentator, author and recipient of the Fulbright Award.
Opinion articles reflect the views of their authors, not necessarily those of China.org.cn.