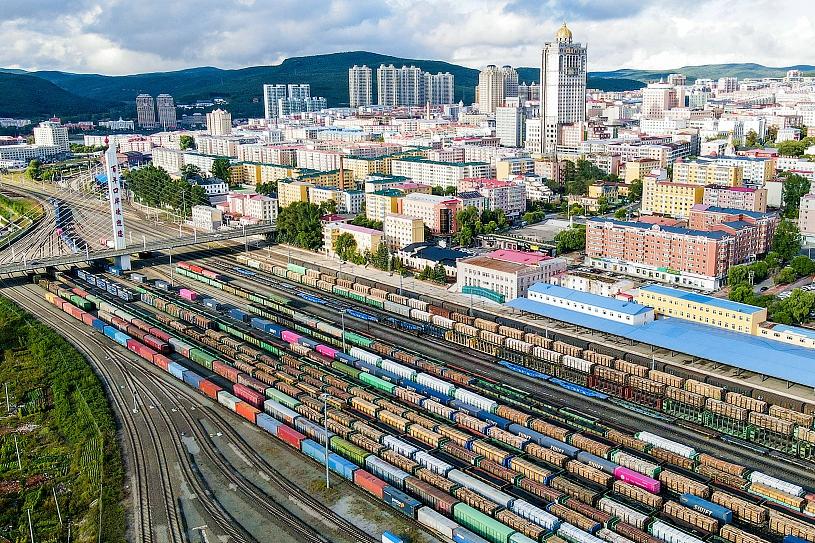 Containers are stored at the railway container freight center in Suifenhe, Heilongjiang province. [Photo/VCG]


China's Suifenhe Port, the largest land port in Heilongjiang province, is located on the China-Russia border. It has recorded 2,290 inbound and outbound China-Europe freight train trips since it opened in 2018. Over the past five years, the number of trains has increased from 20 a year at the beginning to 95 a month at its peak, having carried 212,469 standard-sized shipping containers between 25 cities in China and different cities in five European countries.

These remarkable figures not only represent the growing importance of China-Europe freight trains in world trade but also embody the vision of the Belt and Road Initiative, which aims to enhance economic cooperation and promote win-win results.
The China-Europe freight train service, launched in 2011, has already made over 10,000 trips this year alone, with a typical freight journey from Xi'an to Germany's Duisburg taking only 12 days. The growth of the China-Europe freight train system has built a bridge for cooperation and exchanges between the countries on the Eurasian continent, connecting the East and West and helping them work together for prosperity.
The Eurasian continent, with a population of 5.4 billion, is the largest single continuous landmass in the world. As such, it has always provided ample economic opportunities. The rapid growth of freight trains between China and Europe has provided convenient, fast, affordable, and reliable logistical channels for the countries along the routes. With increasingly diverse and flexible China-Europe routes, more resilient supply chains have begun to form. For example, the freight train service was effective in guaranteeing the flow of goods and averting the disruptions caused by shipping due to the influence of the COVID-19 pandemic.
This also shows that China-EU relations can prosper through the establishment of geographic continuity and subsequently establishes the potential for more European goods to travel in the other direction. It is able to offer gains to every single country involved by creating a more tightly-knit economic community and breaking down the barriers between them.
Central Asian countries, due to their landlocked geographic position, have rare opportunities to carry out international trade or attain prosperity. However, China-Europe railway routes allow them to better reach their neighbors and become hubs for transcontinental trade, which also offers them opportunities to export their own goods. This, therefore, emulates the benefits of the ancient Silk Road.
China-Europe freight trains serve as a vital bridge of cooperation, enabling countries across Eurasia to share business opportunities with each other and bring them closer. In a world that is beset with challenges and uncertainty, Eurasia, with its connected markets and integration, is providing new paths for growth and prosperity.
Tom Fowdy is a British political and international relations analyst and a graduate of Durham and Oxford universities. For more information please visit:
http://www.china.org.cn/opinion/TomFowdy.htm
Opinion articles reflect the views of their authors, not necessarily those of China.org.cn.