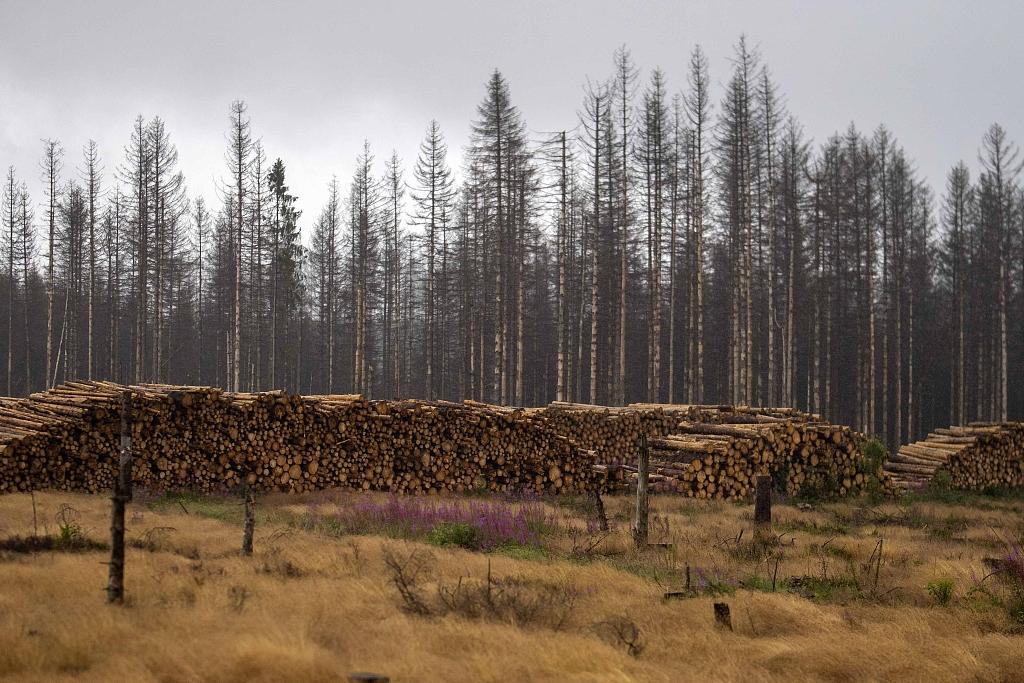 Spruce trees felled due to infestation by spruce bark beetles lie in the Lower-Saxony state forests at the Harz mountains near Clausthal-Zellerfeld, Germany, July 27, 2023. [Photo/VCG]
Summer is here, and with it comes an onslaught of summer pests such as mosquitoes and ticks, which, in addition to causing irritation and pain, are also spreading increasingly serious diseases. Concerns are also growing about the proliferation of spruce bark beetles, a major threat to trees and forests.

The warming climate is changing the behavior of insects and, thus, how the diseases they carry affect humans, something we seemingly hear about in the news almost every day. These alarming consequences are only expected to get worse in the future.
Dengue fever spreads to new places
The European Centre for Disease Prevention and Control (ECDC) warned a few weeks ago that mosquitoes spreading dengue fever moved further into northern and western Europe this summer. There is no effective treatment for dengue, while estimates indicate that around 60% of the world's population could be at risk of contracting the disease by 2080.
Furthermore, Swedish Radio recently reported that there were risks that mosquitoes could bring the tropical disease Nile fever, related to dengue and Zika, to Sweden this summer.
Affects 1.6 billion people annually
With these developments, our summer plagues risk becoming year-round plagues. This is already the case in many places where Médecins Sans Frontières (MSF) works. Several of the diseases we treat are so-called neglected tropical diseases (NTDs), a list of 20 infections defined by the World Health Organization (WHO) that are largely spread by insects.
The list includes mosquitoes that spread dengue fever, tsetse flies that carry parasites that cause African sleeping sickness, sand flies that spread parasites that lead to the immune-debilitating disease kala azar, and worms that destroy the gastrointestinal system.
NTDs affect 1.6 billion people every year and result in 200,000 deaths. Many of the diseases cause severe scarring and deformation of body parts, and patients often face stigma and discrimination, which can lead to isolation.
Lack of effective vaccines
To date, the diseases have mainly affected low-income countries, and very little of the world's medical research is focused on these diseases. As a result, effective vaccines and diagnostic tools for most NTDs are lacking, and the drugs are often old, expensive, and have severe side effects.
Only four new medicines to treat neglected diseases were authorized between 2000 and 2011. This represents 1% of the total number of medicines authorized during this period.
The lack of effective prevention and treatment naturally elevates the risk that the spread of diseases will increase even more as the climate warms.
In 2021, the WHO launched an action plan to reduce morbidity and mortality from NTDs. If this is to be achieved, it is high time to act.
Unknown in Sweden
Many people in Sweden are not even aware of these diseases. Therefore, education and public awareness building must be undertaken immediately. While the diseases are currently hard or impossible to prevent or treat, if sufficient investment is made over a long period of time, it will yield results.
However, the Swedish government has significantly reduced research aid, a worrying development given that there is an urgent need for more research and development to overcome the lack of vaccines, diagnostic tools, and treatments for neglected tropical diseases.
On the contrary, we believe that Sweden, with its long experience as an influential health and aid actor, can work to ensure that tropical diseases are given more attention in global health efforts and thus play an important role in realizing the goals of the WHO's plan.
Leaders in rich countries must act
It is also crucial that aid efforts are focused on improving access to basic healthcare in rural areas of the most vulnerable countries, as this can prevent people from becoming infected in the first place and quell the spread of disease.
Unless leaders in rich countries act more vigorously, there is a risk that the insects and their diseases will continue to spread to new places and increase in scale. This development is likely to affect us all.
Mia Hejdenberg is Medical Humanitarian Advisor at Médecins Sans Frontières (MSF).
Opinion articles reflect the views of their authors, not necessarily those of China.org.cn.