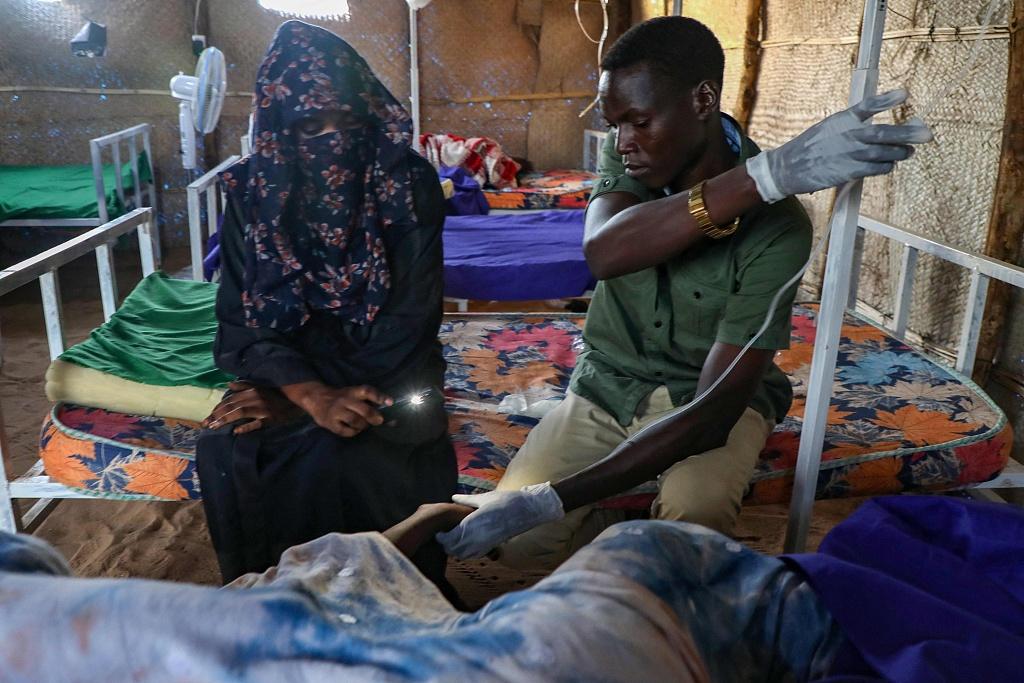 A nurse treats a Sudanese patient inside a ward in a field hospital at a refugee camp near Adre town in eastern Chad on Aug. 14, 2023. [Photo/VCG]
The U.N. High-Level Meeting on Universal Health Coverage (UHC) convened in New York on Thursday, aiming to "renew efforts and accelerate progress toward achieving health for all." The event is the first high-level meeting on UHC since the advent of the COVID-19 pandemic.

This year marks the halfway point towards fulfilling the commitment that by 2030, adequate healthcare must be available for everyone without causing financial hardship. However, Médecins Sans Frontières (MSF) is concerned that the current plans for UHC are leaving behind the very people who are now most excluded from accessing healthcare.
Access to essential care today varies widely depending on an individual's location, identity, and health needs. A resident in a well-equipped city has an entirely different experience than someone from a vulnerable background, whether it's accessing life-saving surgery, prenatal care, a reliable supply of medicine for HIV or malaria, or drugs for diabetes. In that sense, health coverage today is nowhere near universal. MSF teams witness every day the harrowing human tragedies caused by a lack of access to healthcare.
It is quite ironic that the people who need it most often aren't considered in UHC plans: individuals who can't afford essential care, those in crisis situations, and those excluded or discriminated against because they're migrants, refugees, or belong to socially marginalized groups.
Today, more individuals are at risk of falling into poverty due to healthcare expenses than in 2000. Impoverished and vulnerable households are at a higher risk of facing "catastrophic health expenditure." To access healthcare, they sell belongings, borrow money, or reduce other important family expenses, such as food or education. This doesn't even consider those who forgo medical care entirely, knowing they can't afford it. Too many people have to choose between illness or even death versus their family's economic survival.
MSF has already pointed to the increased burden of user fees. Today, patients are forced to pay fees before they can receive care; exemptions from payments are severely limited. Moreover, on the UHC agenda, there is still no concrete action proposed to ensure that those who need it most can access healthcare free of charge.
Most UHC plans rely heavily on domestic resource mobilization. However, countries with the weakest health systems also tend to have the smallest tax bases. In many contexts where MSF operates, public health budgets have been undermined and have suffered from austerity measures since the COVID-19 pandemic and the global economic crisis. Patients already face gaps in essential medical supplies and services. Simultaneously, there is a reduction in international funding for health, with significant cuts in countries like South Sudan, Sierra Leone, etc.
This undermines strategies to ensure essential care is free of charge. How can countries with crippling staff shortages and low stockpiles of essential medicines hope to provide universal health coverage for their populations? To compensate for the loss in healthcare coverage and the increased precariousness of populations, UHC plans urgently need to address financial access barriers.
Another group, often ignored, consists of migrants, including refugees and undocumented individuals. One in eight people today is either a migrant or forcibly displaced. These individuals often have poorer health outcomes, and health systems need adaptation to provide adequate healthcare. However, MSF's experiences in countries such as Belgium, Italy, Poland, Greece, Lebanon, and South Africa indicate that migrants face significant barriers to accessing essential and urgent services, sometimes even when policies explicitly provide for such access. Complex procedures and administrative hurdles impede access to affordable and timely care. National plans to implement UHC must include explicit measures to eradicate the various barriers to accessing healthcare.
Third, UHC plans often fail to foresee adaptations during crisis situations, such as conflicts, disease outbreaks, and natural disasters. During such crises, pre-existing vulnerabilities and health service gaps often worsen, and healthcare barriers for vulnerable groups disproportionately worsen. Continuity of treatment becomes especially challenging in times of crisis, particularly for those undergoing treatment for HIV, tuberculosis, and chronic diseases. Many places lack measures to protect people in such situations. Timely measures ensuring access to essential care, both for existing and new health needs, are missing from many UHC country plans.
MSF's experiences show the barriers that some of the most excluded, vulnerable, and discriminated-against individuals face in accessing healthcare. However, the current UHC agenda and most UHC country plans fall short of the "Leave no one behind" principle. There is not enough attention for people forgoing care, migrants, refugees, and individuals in critical crisis situations. It's urgent to prioritize real change and tangible results in access to care, especially for the most vulnerable. As long as these vulnerable groups are absent from UHC targets, progress toward genuine UHC will fail.
Dr. Huang Yuan is the China medical representative at Médecins Sans Frontières (MSF).
Opinion articles reflect the views of their authors, not necessarily those of China.org.cn.