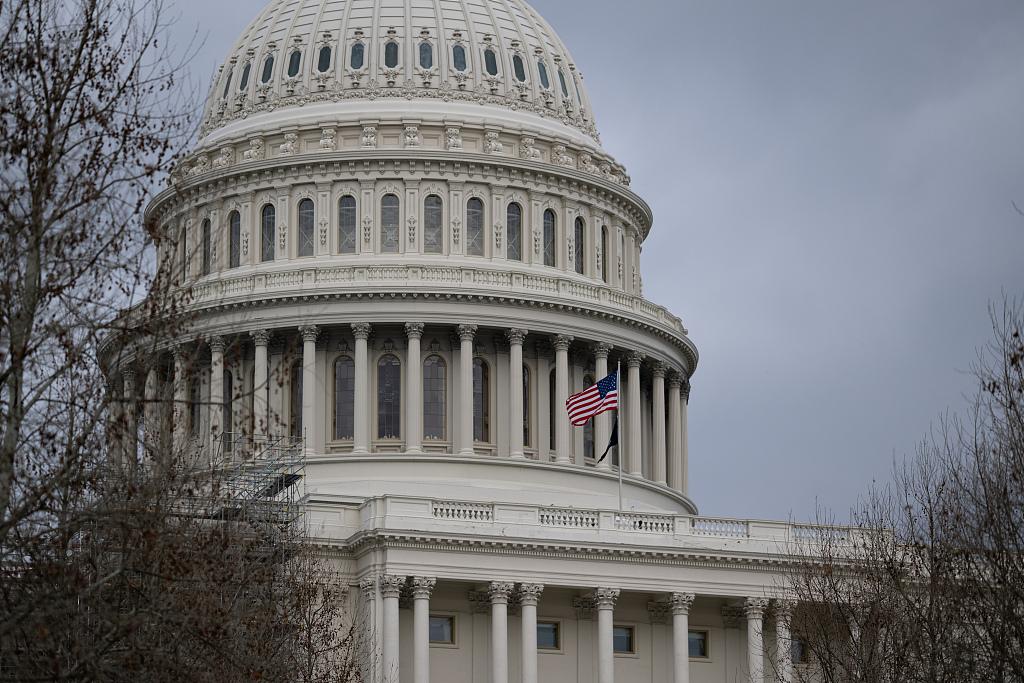 The U.S. Capitol building in Washington, D.C. [Photo/VCG]
Last Wednesday, Louisiana representative Mike Johnson was elected speaker of the House of Representatives. The appointment followed weeks of political turmoil after Kevin McCarthy was overturned by dissent within his own party. The Republicans have been locked in a factional battle between moderates and those who are colloquially referred to as "MAGA" supporters, namely those who subscribe to Donald Trump's populist and nationalist ideology to "Make America Great Again." The newly elected speaker, Johnson, is a member of the Trump faction and backed by Matt Gaetz, who successfully ousted Johnson's predecessor by pushing the line that he was not tough enough against the Presidential Administration.

American domestic politics is currently more polarized than at any point since the Civil War. These "culture wars" over issues such as abortion, LGBT rights, immigration, and religion, among other hot-button issues, have produced vitriolic hostility between the two parties, which has accumulated in a high-stakes political conflict, even going as far as the 2020 election result being challenged and the political prosecution of a number of its proponents. This mode of operation makes compromise in U.S. domestic affairs extremely difficult and is leading to a "race to the bottom" on various issues. The subsequent election of Johnson therefore spells trouble ahead both at home and abroad.
In such divisive times, when the Presidential Administration and the House are controlled by differing parties, it has become a rite of passage for the speaker to engage in a path of confrontation against the White House. The usual aim is to coerce them into making politically humiliating concessions through the power of government shutdowns. In the constitution, it is the U.S. Congress that holds the budgetary power of the United States, not the President, meaning proposed spending bills must be approved by lawmakers at the administration's request.
Now, while it is also customary to follow the President's leadership, the increasingly divisive nature of U.S. politics places preference on an opposing speaker to undermine the White House agenda at all costs. The most recent example of this was when Democrat House Speaker Nancy Pelosi blocked a government funding bill that included Trump's notorious "border wall" and led to the longest government shutdown in American history, suspending payments to federal services. Trump was forced to withdraw his proposal after about a month, which led to a political scalp for the Democrats.
However, when the Republicans regained control of the House of Representatives and Kevin McCarthy became speaker, he provoked the wrath of his party's MAGA faction by being seen as too reconciliatory to the Biden administration's agenda and actively compromised to avoid a government shutdown, conceding on key issues such as immigration. This was deemed unacceptable, especially given that the election is just one year away. Therefore, undermining the administration in favor of Trump is a key objective. McCarthy was then removed by his own party, with MAGA hardliners managing to ride out the turmoil and put their own man in power.
As a Trump follower, Johnson is likely to be more combative toward the administration. And, in theory, while the two branches should eventually come to an agreement for the common good of America, this does not mean the stakes will be heightened on certain issues. For example, Johnson is likely to take a harder line on immigration, as well as to block the administration's financial support of Ukraine, an outlook that has gained momentum across the Republican Party. The result is that we'll likely see more instability in U.S. domestic politics as these conflicts increase.
At the same time, a more hardline House leadership might mean the U.S.'s foreign policy as a whole will be marked with uncertainty and instability, illustrating how the divisive nature of the American political system as it stands is a global problem. It remains to be seen what points of confrontation the new House leadership will pursue against the administration, but with an election looming, we should expect sparks to fly.
Tom Fowdy is a British political and international relations analyst and a graduate of Durham and Oxford universities. For more information please visit:
http://www.china.org.cn/opinion/TomFowdy.htm
Opinion articles reflect the views of their authors, not necessarily those of China.org.cn.